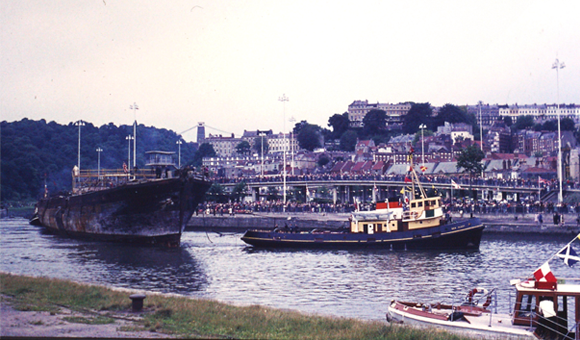 Virtual Zoom meeting: suggested donation £5
Friday 30th April 2021 12pm - 1pm: 
Join the SS Great Britain Trust by attending one of our new virtual Lunchtime Talks.  Each talk will be hosted by one of their volunteer guides, covering topics such as the history of the SS Great Britain and Brunel's incredible life.
Once you have booked your ticket, you will be emailed the Zoom link to attend this talk on the day.
UPCOMING DATES AND TOPICS:
30 April: SS Great Britain: The Incredible Journey
28 May: I Alone am Hung in Chains: Isambard Kingdom Brunel, 1806-1859
ABOUT THIS TALK:
SS Great Britain: The Incredible Journey
Speaker: Philip Unwin
Philip Unwin's talk 'The Incredible Journey' is a more detailed, but no more technical, account of the ship's salvage and recovery from the Falkland Islands, for which there is insufficient time for that to be included in more general talks about the ship and her history. He covers the challenges of sealing and raising the ship and conveying her home, and also the politics which were prevalent at the time in the South Atlantic.
Once you have booked your ticket, you will be emailed the Zoom link to attend this talk.
HOW YOU CAN SUPPORT THEM:
Whilst these talks are free, we're asking for a suggested donation of £5.  The current situation has drastically reduced their main source of income for the charity.  Despite having to close our doors for many months, our duty of care remains.  Care for the ship and the collection comes at a significant and on-going cost, around £1600/day.

This world-wide crisis has affected us all, however, if you find yourself in the position to give at this time, please help them continue to protect an important part of our Nation's history and continue their education programme by making a donation.
Make a donation. Your support allows us them stay open and continue to conserve the ship. You can even make a donation via text - just text BRUNEL to 70450 for a one-off donation of £5 (plus standard rate message charge).
Buy a ticket now, visit later. Your ticket will be valid for a year from the first time you use it to visit, so you can look forward to future adventures with them!
Gift tickets are available to buy here.
Our online shop has plenty of exclusive collections and unique gift ideas, every pound you spend helps support us as a charity and independent museum. 
Follow the SS Great Britain Trust on Twitter, Facebook and Instagram or subscribe to their newsletter.  They are still telling their incredible stories and sharing fun and useful resources online.