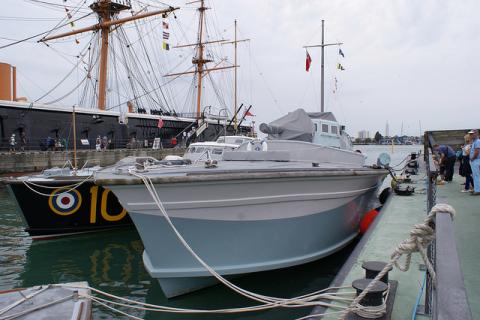 Historic war vessels known as 'Spitfires of the Sea' could become part of a Portsmouth attraction as a tribute to those who lost their lives in 20th century conflicts.
Several original crafts and one replica ranging from the First World War to the Falklands campaign are set to be displayed near the entrance of the Historic Dockyard in time for the D-Day 75 celebrations next year.
If planning permission is granted by Portsmouth City Council, the vessels will be moored behind Boathouse 4 and will be accessible to the public, weather permitting, via a Portsmouth Naval Base Property Trust project.
Peter Goodship, chief executive of the trust, said: "It's part of a wider project to create what we call a memorial flotilla (fleet) to commemorate the vessels that were used in a number of conflicts in the 20th century.  And to pay respect to all those who were involved in those conflicts who made the ultimate sacrifice for their country.
"We want to display them on the water because it is where they belong.  Only when people see them like that can they fully understand their roles."
In total the project, including restoration, dredging and building the replica, will cost around £2.5m with funding secured from Libor.  The next stage of the scheme requires the construction and installation of the pontoons to sit alongside the boats, at a cost of £600,000.
Mr Goodship added: "We hope to get the pontoons in place in the spring so that it will be ready for the 75th anniversary."
"It's more important than ever because most of the Second World War veterans are around 90 years old now.  In terms of what the trust is doing, this is the last big hurrah."
D-Day veteran John Jenkins, 98, from Cosham believed it would be a welcome addition to the site.
"It is a good idea," he said.  "Seeing the boats and touching all these things is a good way for people to learn about them and to help them understand what happened.
"I remember the motor gun boats (MGBs) being based in Belgium.  I never saw them but I know how fast they were meant to be."
The council's head of culture, Cllr Steve Pitt, agreed.  He said: "This is great news for the city.
"The memorial fleet project will really add to our maritime heritage - the restored boats will be a fitting and welcome addition to our D-Day 75 celebrations.
"They will help to create an interest in vessels of this period, ahead of the arrival of the landing craft tank to Portsmouth at the end of 2019."
Planning permission from the council to build the pontoons will be decided at a later date.
----------
Vessels set for D-Day 75 display in 2019
MGB 81 - the only fully restored and operational example of a Royal Navy Coastal Forces motor gun boat which saw active service in WW2.
HSL 102 - a 64ft high speed launch craft used during WW2 for air-sea rescue operations.
ST 1502 - built in 1942, she saw wartime service in various part of the UK and was armed and fitted out for air sea rescue duties.
Green Parrot - was finished as a barge in 1956 on board the HMS Maidstone.
Landing craft 78 - Foxtrot Eight was one of four smaller landing craft used by assault ship HMS Fearless during the Falklands War.
Spinnace Steam 199 - built for the Royal Navy in 1911, she is believed to be the last remaining naval steam pinnace in operation.
Steam Cutter 438 - served aboard the cruiser HMS Falmouth in 1916.  She is one of only two known Battle of Jutland survivors to still exist.
HMS Medusa - a harbour defence motor launch built in 1943, she was one of 480 vessels designed to provide an offshore anti-submarine screen for harbours.
MASB 27 - she served in WW2, first as a motor anti-submarine boat and later possibly as a motor gun boat.
D49 - a diesel Harbour Service Launch built in 1956.
Danae - a class of light cruiser built for the Royal Navy at the end of WW1.
Cyclops - a 42ft rowing launch built in 1915 at Portsmouth Dockyard as a pinnace for the Battleship HMS Royal Sovereign.
This news item was taken from The Portsmouth News.