New wagons in support of the Medway Queen have been commissioned for 2018 in both N and 00 gauges.  
They continue the theme of wagons that might have been worked to Gillingham Pier, had there been a rail link, and they honour the small band of dedicated volunteers who give up their spare time to work on the ship.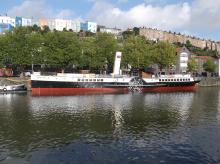 Their current project is to make the interior of the vessel suitable as a function venue to enable a revenue stream to be established.
Details on how and where to purchase the wagons is available via the press release pdf below.
Images shows Medway Queen in Bristol's Floating Harbour in 2013, on completion of her HLF funded rebuild.