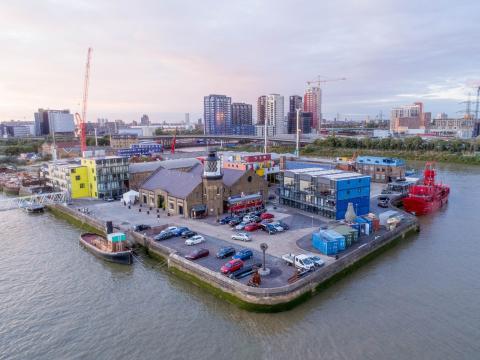 This month we visited Trinity Buoy Wharf, London Docklands unique survivor of an era when London and its maritime shipping, trade, commerce and shipbuilding industries were at their height. As a Thames Estuary Shipshape Network project, Projects Officer, Victoria Wallworth visited the site to meet with Richard Albanese and tour their collection of historic vessels including M.T Knocker White, M.T. Varlet and Lightship 95.
Built and operated by the Corporation of Trinity House from 1803 to 1988, the fine buildings over a 185 year period were used to train lighthouse keepers and to repair and maintain lightships, seamarks and buoyage along the Thames from London to the Suffolk and Kent coasts. More recently turned into a centre for art, culture, maritime history, education and creative businesses, the wharf acts as a beacon within the local community whilst spreading art and culture far and wide.
Richard Albanese, the Maritime Heritage Project Manager, explains:
 'With the rich maritime, industrial and social history of Trinity Buoy Wharf - its buildings, training lighthouse and the Thames, River Lee and their banks nearby - we aim to bring the site's heritage to life in a range of new displays over the next few years. In conjunction with the SS Robin Trust we also hope to bring together a heritage boat collection of vessels directly associated with London and the Thames, its ports, rivers and shipbuilding heritage.'
 You can read more about the Trinity Buoy Wharf project here.