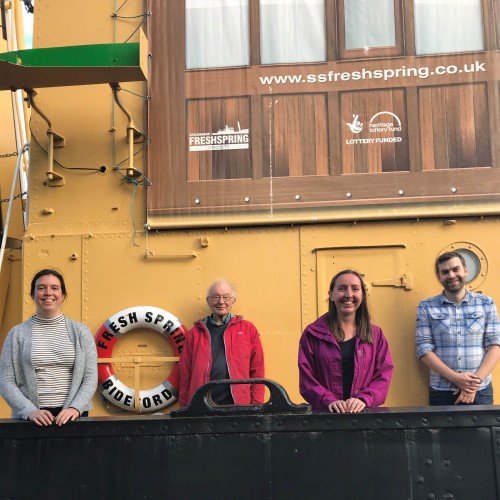 Friday 25th September saw BMT Global visit Freshspring to start filming our Virtual Reality (VR) Tour.
VR will allow visitors to enjoy the ship without having to go into confined spaces, in fact they'll be able to see parts of the ship not accessible by a more traditional tour. 
The Freshspring team are really excited to be working with BMT Global on this project, as they have the cutting edge skills to make this VR Tour something very special.
Photo of BMT on board Freshspring: Left to right: Catherine Ingram, Senior Naval Architect, John Puddy, Chair of The Freshspring Trust, Laura Star and Richard Simpson BMT Global VR specialists.
Find out more about the Steamship Freshspring Trust, one of our Shipshape Network South West Projects here.
Find out more about Shipshape Network South West
Region
South West