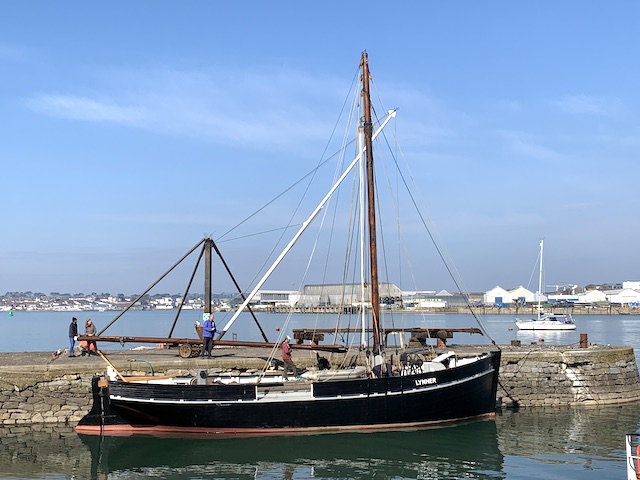 March has been a busy month for Lynher: she has had her spars refitted and the mast is now up. This involved the team bringing her up from Southdown Marina where she is moored to Mashfords in Cremyll.  Her decks still had quite a bit of frost when they boarded making it quite slippery to start with. The warmth of the sun soon shone through.  It was so tranquil as there was no wind and the water was like mirrored glass. 
They came alongside Mashfords North Quay where more volunteer crew were there to greet them.  Approximately 1.5 hours later Lynher was ready to go.  She and her crew motored back to her Southdown mooring having collected quite a few new fans and admirers who had been watching from the shores of Mount Edgcumbe.  She had a second visit and overnight stay at Mashfords at the end of March as the refit continued....
Lynher Gets A New Electric Engine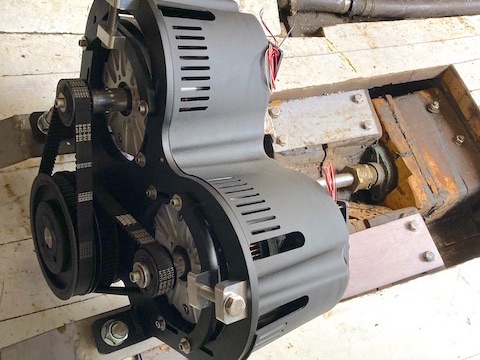 At the ripe age of 125 years old Lynher now has a modern electric engine and has now become a 'Hybrid Barge' as she has both a Beta 75HP Diesel engine and a newly installed 20KW Electric engine.  This new engine has joined the Diesel engine on the opposite side of the engine room.  The team decided to go for this system as it is low voltage and very safe. The batteries are hidden from view and neatly boxed away, located under the main cabin's dining table.  The batteries will be re-charged by means of 5 solar panels placed above on the cabin top.  Having these two engines working together will vastly improve Lynher's manoeuvring ability as each engine will be connected to their own propeller - one on each side of Lynher.  It will also be exciting, as using just the electric engine they will be able to motor silently up the waterways.  It is expected to last, fully charged for 2 hours. More news on this when she completes her sea trials next month.
Plymouth Waterways Maritime Heritage Exhibition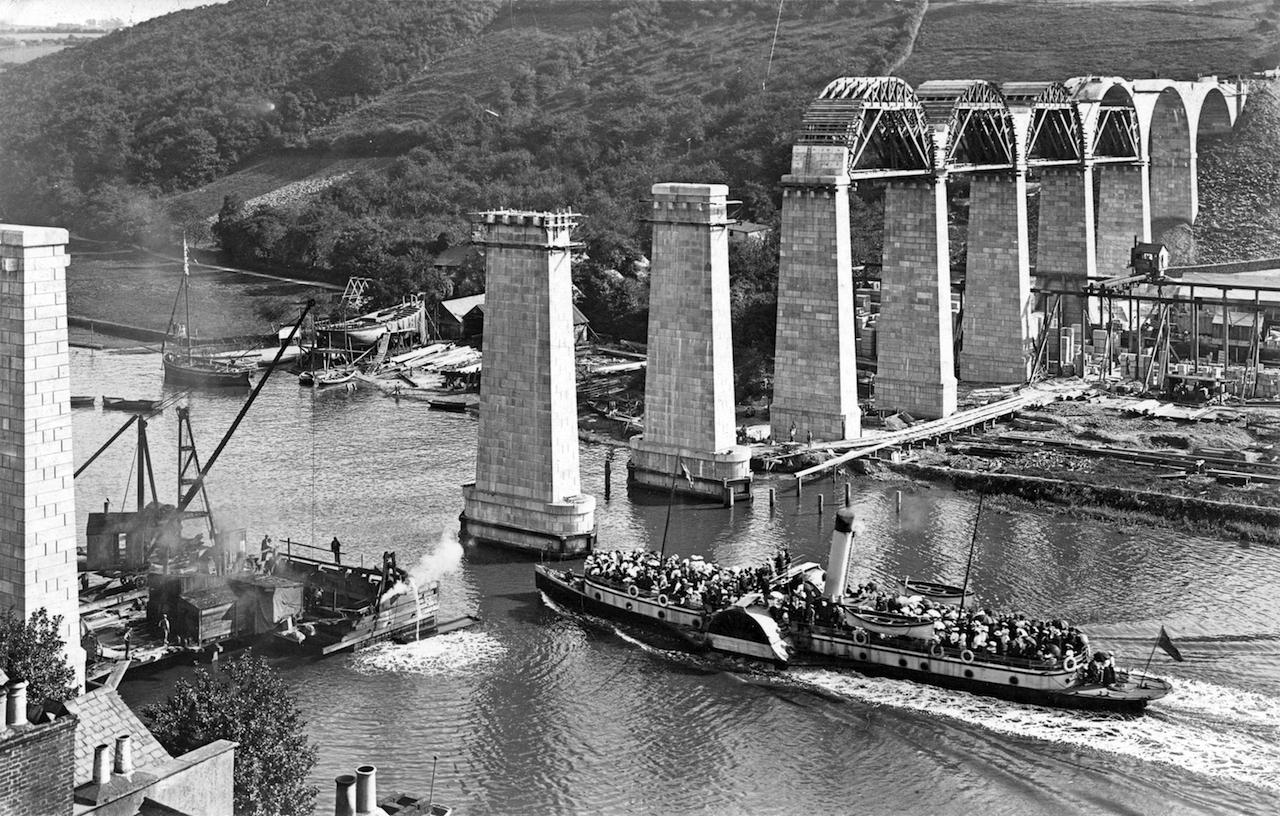 The team are busy collating an exciting and informative Heritage Exhibition which they will be proudly unveiling as part of the Virtual Cremyll Maritime Festival 4th - 6th June 2021.  This display will be in their Gymnasium shore-based reception area and also on Lynher herself and will remain there to continue to help connect and engage their visitors in the future with our heritage.  It will depict the history and tell the story of the Barges and Bargemen of Devon and Cornwall as they toiled and navigated the waterways of the Tamar.   The centrepiece, of course, will be the unique history of Lynher Barge and feature her builder James Goss and the skills of their neighbours, Mashfords Boatyard.   The display will bring the past alive - Plymouth's Maritime History that began over 125 years ago.  In the image above you can make out James Goss' Boatyard on the other side of the unfinished viaduct where he designed and built Lynher. 
Find out more about our Shipshape Network South West Projects here.