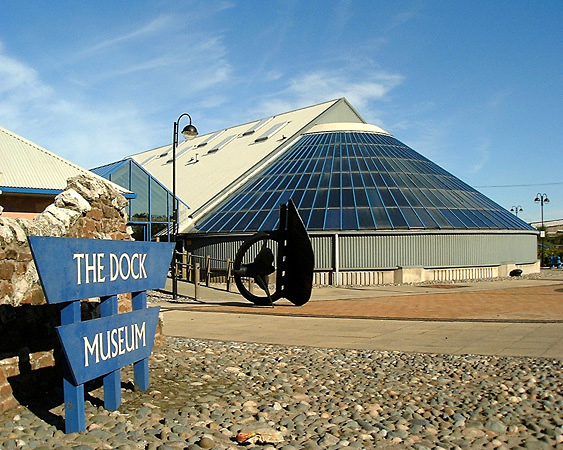 BAE Systems has placed a significant portion of its photographic archive into the safe hands of the Dock Museum in Barrow in Furness.
The donation of what is a historical treasure trove of 3,000 images represents a bit milestone in BAE and the museum's joint strategy to help preserve Barrow's shipbuilding heritage.
With BAE as its project partners, the Dock Museum is in the process of a major National Lottery Heritage Fund (NLHF) application, and the handing over of part of the photo archive is a key piece in the jigsaw.
The museum plans to employ a digitisation officer to scan, clean and catalogue the images so they can illustrate the story of Barrow's rich ship and submarine-building history.
Dock Museum Project Manager Matt Davies said: 'Barrow shipyard has been at the cutting edge of innovation and technology for more than a century and BAE's photographic archive is of national and international importance, but the majority of it is uncatalogued. 
This donation reaffirms BAE's commitment to preserving its heritage collection, and we are very grateful to Beth Kirkby, Mike Vallance and everyone at BAE who has been part of this process.
Neil Doherty, BAE Systems Senior Management Advisor on Corporate Social Responsibility, said: "We are delighted to have made a donation of the BAE Systems images to the Dock Museum, ensuring the preservation of our shipbuilding heritage for future generations.
"Whilst the donation represents a significant milestone, we hope this is just the start of an exciting and innovative project, which will further bring to life the incredible story of our town and shipyard."
The museum wants to develop a range of educational projects for secondary schools and Furness College students.  This is already taking shape, with Furness College Computing students working on a project to develop a Dock Museum app for smartphones and tablets as part of their degree course.
Also part of the NLHF project, the museum has recorded eleven oral histories of past and present shipyard employees.  This will help museum visitors and the Furness community gain a better understanding of the changing working practices and culture of 'the yard' down the years.
BAE Systems is fully committed to its partnership with the museum and wants to see a permanent channel created between the two organisations to help preserve shipyard heritage.
Find out more about the Dock Museum and the Herbert Leigh, one of our Shipshape North West Projects here.
This news item was taken from The Mail (North West), 19th Nov 2019.