The Skylark IX Recovery Project has begun the conservation of Skylark IX, a historic vessel believed to be one of only two 'Dunkirk Little Ships' from World War II's Operation Dynamo surviving in Scotland.
The initial conservation work on Skylark IX, which is listed on the National Register of Historic Ships, centred on preserving her name, a highly significant feature of the vessel and, before now, in danger of being lost.
The two day project to stabilise the flaking paint and timbers and preserve the name was made possible by the support of the National Lottery Heritage Fund and carried out by Conservator Rowan Gillis of AOC Archaeology Group.
The Skylark IX Recovery Project is now finalising a schedule of further repairs to ensure that the historic wooden hulled vessel, which sank in the River Leven in 2010 and lay half-submerged for two years, is stable enough to be transported back to Dumbarton in coming years.
Skylark IX will then be transported by road on a custom-built cradle from her temporary home at the Scottish Maritime Museum in Irvine to the grounds of the Museum's Denny Tank in Dumbarton. There, it is hoped, funding allowing, she will sit at the heart of a new £3m Spirit of Skylark Centre.
Claire McDade, Project Manager at the Skylark IX Recovery Project, explains: "Over the last two years, we've been working hard behind the scenes to build a true picture of Skylark's condition and significance and develop a Conservation Management Plan."
"Although, sadly, we have had to accept that Skylark IX will never sail again, our new Conservation Management Plan provides us with a clear pathway for the short, medium and long term repairs needed to care for such a significant historic vessel and keep Skylark and her nationally and locally important stories alive.
"We started with Skylark's name as it is such a significant and valuable part of the vessel and such a wonderful symbol of our rich social history last century.
"As well as her wartime service, the name 'Skylark' and that famous rallying call 'All Aboard the Skylark' resonates with so many people. It brings to life that period when the train network expanded, we fell in love with trips 'doon the watter' and shiny new seaside resorts sprang up across the country.
"We're grateful to the National Lottery Heritage Fund for supporting us and enabling us to reach this point and begin work on Skylark IX."
The Dumbarton-based Skylark IX Recovery Project currently runs a Boatbuilding Workshop delivering skills training for people recovering from addictions and heritage, textile and arts programmes supporting those in need across the community.
The Skylark IX Recovery Project hopes to begin fundraising for the proposed Spirit of Skylark Centre later this year.
Skylark IX History
The 50 feet long, 30 tonne Skylark IX was built in Poole in 1934 for former fisherman Jake Bolson.  An open deck pleasure cruiser she was one of eleven Skylarks he operated around Bournemouth as the town became one of the country's first seaside resorts.
During World War 2, Skylark IX became one of hundreds of private craft requisitioned by the Admiralty for Operation Dynamo, the rescue of 338,000 Allied soldiers from Dunkirk. She also served as a barrage balloon vessel protecting the strategically important Poole Harbour.
Postwar, Skylark IX returned to work as a pleasure boat.  Subsequent owners operated her in Morecambe, Margate, Portobello, Burntisland and on Loch Lomond, adapting her with passenger cabin and a small wheelhouse as time went on.
In 2010, soon after her working life came to an end, Skylark sank in the River Leven.  She lay half submerged and deteriorating for two years until she was rescued.
After an in-depth condition survey and advice from marine surveyors and maritime heritage experts, the Skylark IX Recovery Project sadly accepted that Skylark IX will never sail again.
Instead, the Project now has ambitious plans to preserve her and give her a bright future at the heart of a proposed £3m Spirit of Skylark Centre in Dumbarton.
Source: Skylark IX Trust newsletter
Read more about the Skylark IX Recovery Trust, one of our Shipshape Network Scotland projects.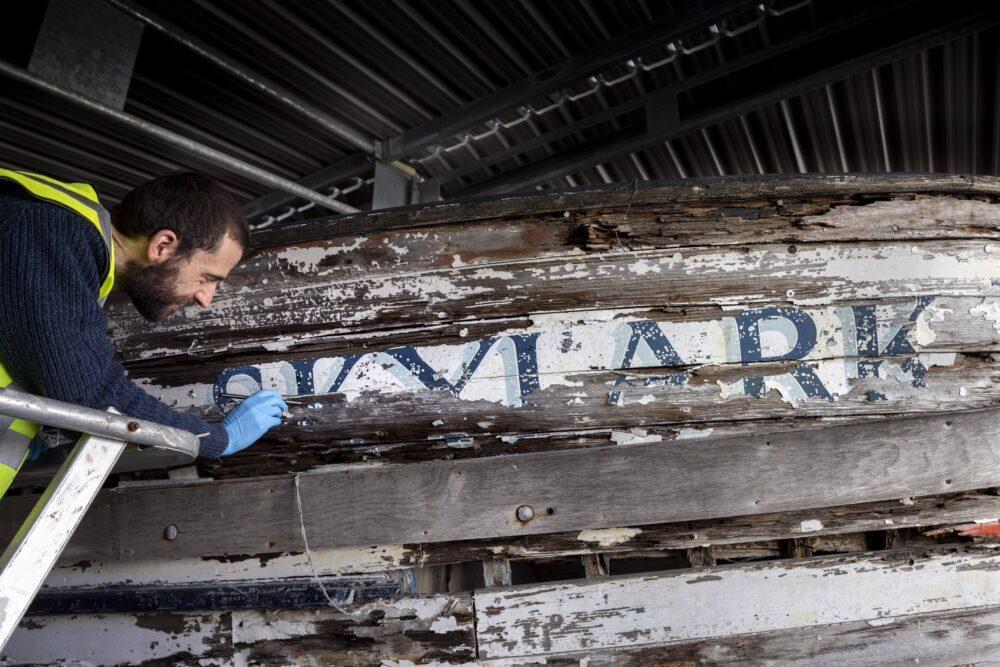 Region
Scotland