The Swan takes a trip down memory lane to mark 25 years as a sail training vessel

The Swan travelled to Whalsay last week as part of the Trust's activities to mark 25 years since the Swan was relaunched as a sail training vessel.  The trip was a chance for local pupils to hear about the days when Swan was a fishing boat in Whalsay, and for the Swan to undertake a trip similar to her very first voyage following her relaunch as a sail training vessel in 1996.

Swan Trustee, John Goodlad, was aboard for the trip: "After her restoration, the Swans first journey under sail was to Whalsay in the first week of June 1996, where she was reunited with several men who had served as crew when she was a motor fishing vessel.  25 years later, many of those men are no longer with us but we wanted to recreate the trip and bring her back to Whalsay, where she fished from for many years. 

To mark a quarter of a century as a sail training vessel, we were delighted to welcome the Whalsay secondary one pupils aboard to experience sailing the Swan, and to learn more about their fishing heritage through the Swan and those with connections to the days of the herring drifters.  The Swan is as much about our past as it is our future and bringing both together in the community to which she is so closely linked was a very fitting way to start our next 25 years."

The pupils were met at the vessel by John Goodlad and Josie Simpson, who spoke about the history of the vessel and the drift net fishing before setting out to sail – although with little wind the Swan was certainly living up to her name as a drifter!  The pupils still had plenty of opportunity to raise and lower the sails, learn knots, see who was best at coiling rope and take turns at the helm.  They also got to practise team work, see their own community from the sea, and some local wildlife.

Garry Spence, headteacher at Whalsay Junior High School, was on the trip: "We all had a fantastic day, and would like to thank The Swan Trust for giving us the opportunity to enjoy this historic vessel, with its strong links to Whalsay.  Josie and John greatly added to the experience, enabling the pupils to understand the importance of the Swan and Whalsay's fishing heritage. 

It is incredible to think about the community effort which went into saving and restoring the Swan over 30 years ago, and that she has been sailing in her new role for over 25 years.  Having this community resource for our schools is fantastic.  The Swan has a lot to offer our community and I look forward to seeing her sailing around our shores, and further afield, for many more years to come."

Built in 1900, the Swan is a vessel of national importance.  Originally a sail fishing boat, she was extensively restored in the early 1990s and relaunched in 1996 as a sail training and charter vessel, with a focus on enabling young people to experience the thrill of sailing a traditional vessel.  As a sail training vessel, Swan promotes mental and physical health, builds life experience, friendships and memories. Passengers develop new skills and are challenged to reach their, and the crews, full potential.  

Due to Covid, this was the first school trip for the Swan since May 2019, with more planned in the coming weeks. 

George Anderson, Trustee with the Swan Trust said: "Providing annual school trips is a core part of our service, and it is great to finally be able to offer this again.  Many organisations help cover our core costs to provide sailing opportunities, including The Shetland Charitable Trust, the local fishing fleet and other fisheries and aquaculture related businesses.  This year, we have also secured some funding specifically for school trips, including £500 funding towards this trip from a Magic Little Grant through Localgiving and the Postcode Community Trust.  We are grateful to all our funders, without whom we could not care for the Swan and provide these unique sailing and educational opportunities."

Read more about The Swan Trust, one of our Shipshape Network Scotland projects.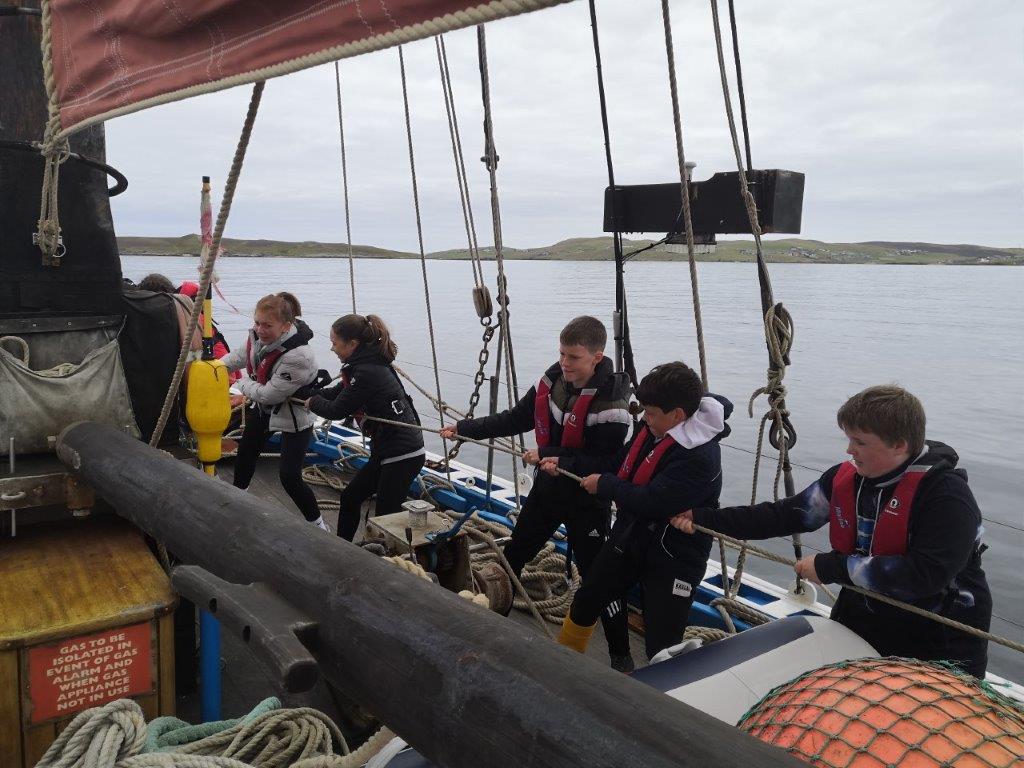 Region
Scotland