With the conservation workshop closed and Windermere Jetty's boatbuilding team safely working from home, they have been sharing the work that has been done on Penelope II during their first year of opening. 
In the coming weeks they'll be showing the progress that has been made to restore their next operational Launch and offering some insight into the lengths they go to when conserving the historic fabric of these boats. 


Penelope II is an elegant motor launch built in the style of a traditional steamer.  She was built for a local family by Borwicks of Bowness in 1930.
Penelope II's conservation pathway is outlined as 'Restoration for operational use' and with that any work that is carried out is done so in a manner that preserves as much original material as possible according to the period the boat is being restored to, in this case 1930.  Find out more about conservation pathways here.
Penelope II Progress Part II


Despite the appearance in the first image, Penelope II was in relatively good condition when restoration work began.
Most of the Brazilian mahogany planking was retained and using advanced conservation techniques and skilled traditional boat work they have been able to repair the hull to an operational standard without losing much of the original fabric.
Some key components have been renewed but these decisions are not taken lightly. This is where 'restoration for operational use' differs from the 'preservation' of a historic vessel.
Penelope II Progress Part III


It would be easy to assume that all the work carried out on Penelope II revolved around planking repair, but that is in fact only part of the challenge. Before the planking could be conserved and restored, the Backbone needed to be surveyed and repaired.
The frames are key to maintaining strength and shape throughout any vessel and decades of work meant Penelope II had plenty of areas that needed attention.
Five grown frames where fitted, one original grown frame was repaired and refitted. Four of these frames were new additions to support an area of high stress where the previous steam bent timbers had been deemed inappropriate.
The rest of the framing repairs focused on steam bent timbers. Out of more than 50 oak timbers only 5 have been fully replaced, these are in the stern. All others where able to be locally repaired.
Penelope II Progress Part IV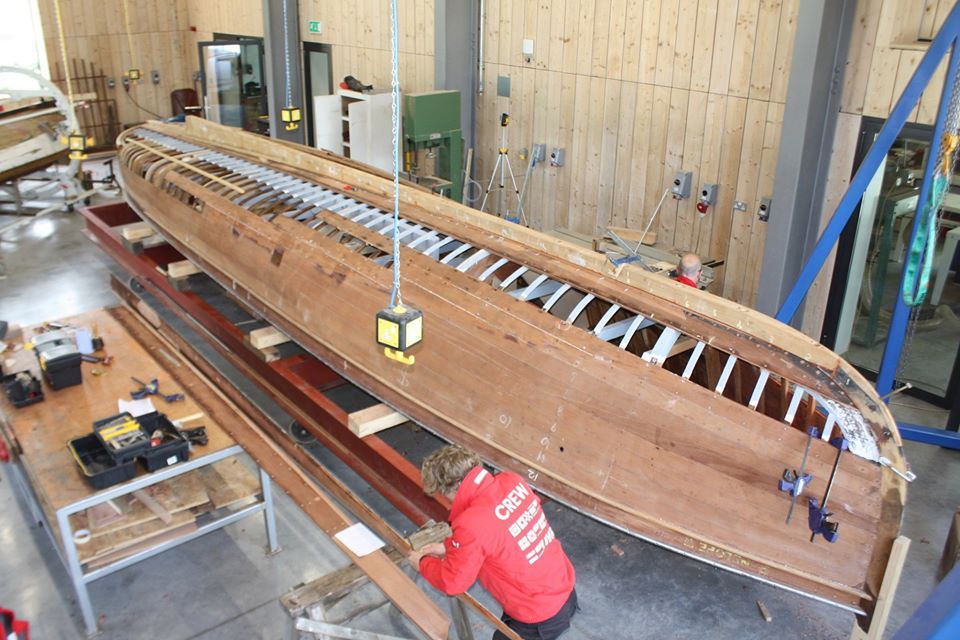 When Penelope II was first surveyed by Windermere Jetty, the vessel was deemed to be in a very original state and although some previous restoration work had taken place, it had not been as significant as the work carried out on other vessels in the collection. The originality of the fabric is a huge part of the vessel's importance and several issues were still found. The surveyor suggested that it was likely that 60 – 80% of the planking under the waterline would need to be renewed.
When conserving for operation use was a priority, their key aim was still to retain its original fabric. With that in mind, we were able to develop a process that allowed them to conserve as much original planking as possible.
Whist this can be time consuming, by championing repair over replacement, it was estimated that they have only had to replace 10% of the original planking under the waterline leaving them with a largely original hull.
See more images of the conservation work here
Find out more about Windermere Jetty, one of our Shipshape Network North West projects here