About Peggy
Peggy (1789) is a clinker-built racing yacht made locally for George Quayle in Castletown on the Isle of Man. Schooner-rigged and originally fitted with sliding keels, Peggy is an astonishing survival of eighteenth century sailing. 
Peggy is the oldest complete vessel on the National Register of Historic Vessels and her significance is uncontested. 
For the past decade Manx National Heritage, the island's cultural heritage agency, has been studying and conserving Peggy.  In 2015 she was moved from her boathouse to a dedicated conservation facility in Douglas where a long process of controlled drying could begin.
Manx National Heritage has taken the opportunity to study her fixings, paint and timber, and to scan her and draw her in 3D.  Options for her future display in a new museum are at concept stage, but look likely to include the reconstruction of her rig using her surviving original masts and spars.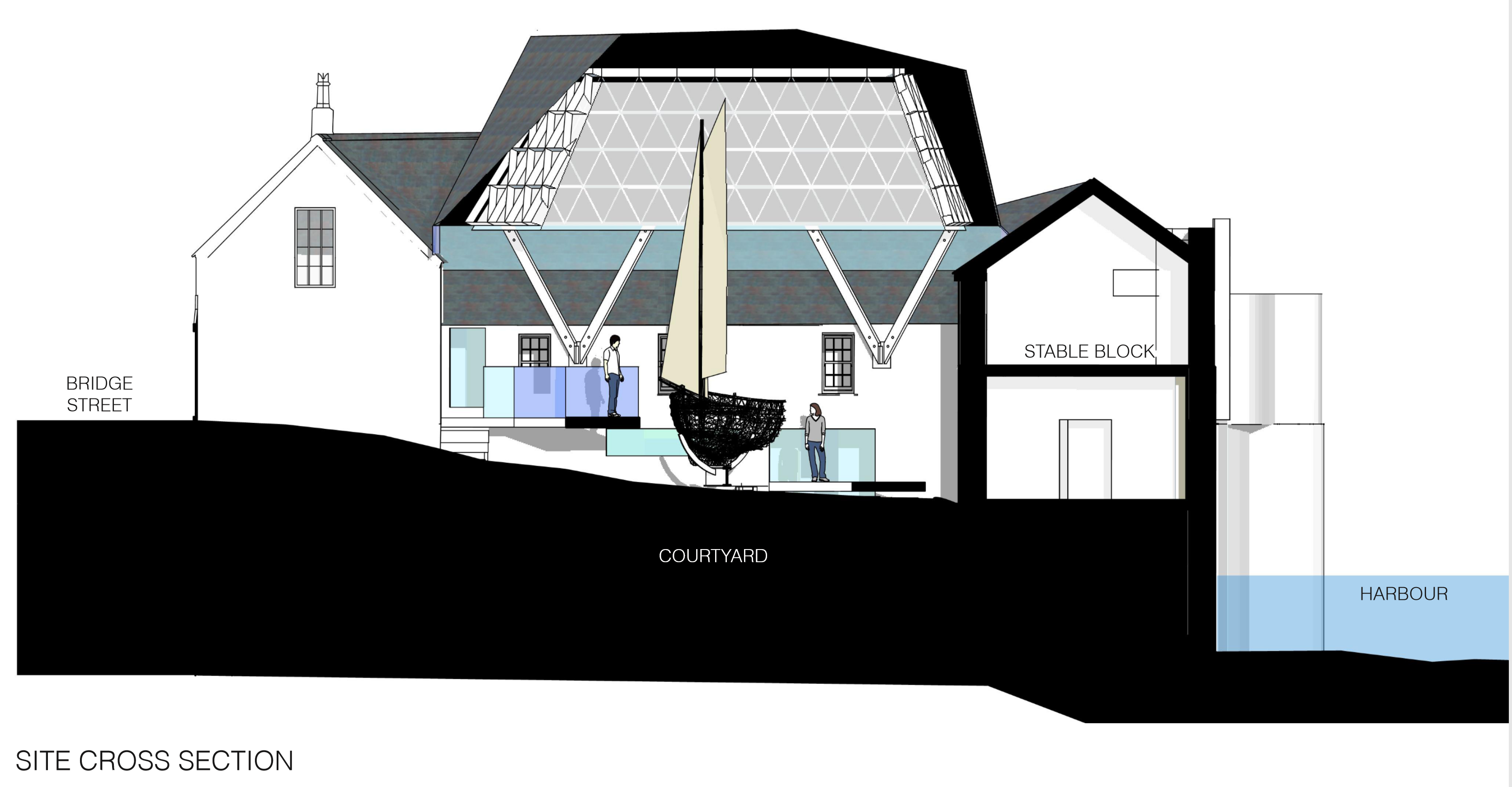 ----------
The Peggy Conservation Project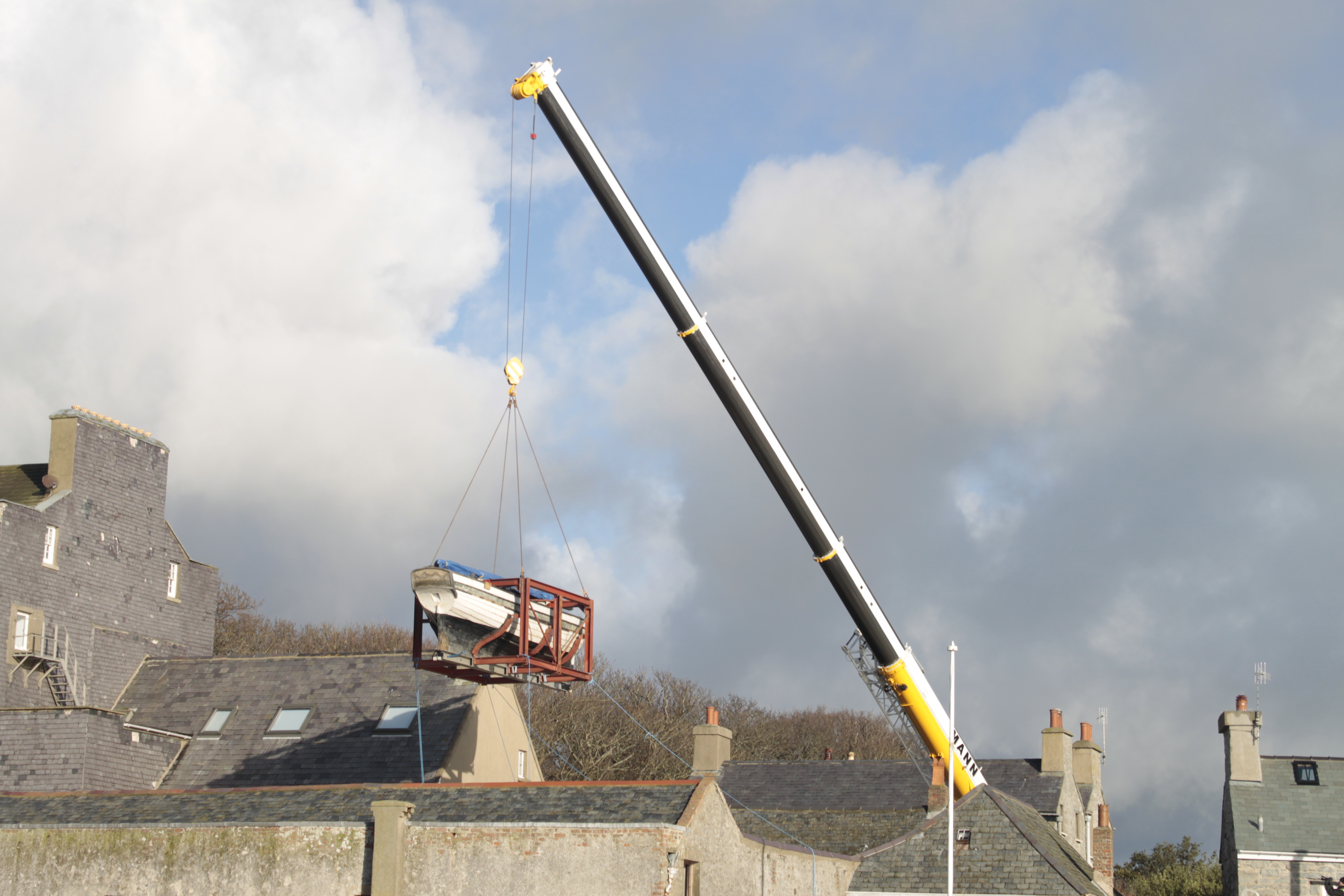 The preservation of the 18th century yacht, Peggy, is the largest project Manx National Heritage have ever undertaken; the Peggy Conservation Project is equally an important platform for conservation-restoration both on the Island and internationally.
During 2013 they designed and fitted a new, steel support cradle using a three dimensional laser survey of the hull.  Then, in 2014 archaeologists undertook an excavation to make way for the removal of Peggy from her cellar revealing, in the process, her original dock.  Finally, in January 2015 Peggy was lifted and then transported to a dedicated conservation facility for examination and treatment.  There was a great deal of work involved to stabilise her timbers, address failed fixings and investigate the feasibility of revealing her original paintwork.
The intimate links between Peggy and her boathouse are so very important that the final stages of the project will look at ways of housing her there when the conservation work is completed.
The Nautical Museum, which was formerly George Quayle's eccentric boat house and the home of the Peggy, still poses many questions to architectural historians regarding his methods and intentions.
The museum will remain open without the Peggy and features a dedicated gallery telling the personal story and history of George Quayle and his family, including a scale model of the Peggy herself, made by Mr John Gawne of Fistard in 1949.
Watch a video blog by Tom Cunliffe from 2018 when he visited Chris Weeks.  Tom submitted a report with preliminary finds and suggested some further consultancy work to follow at the time.
Project Timeline/Latest News
March 2021 The impact of Covid-19 over the past year has played havoc with plans for Peggy; Tom Cunliffe was supposed to have visited to complete a report on her history rig which they'll use for virtual and physical reconstructions when Peggy's displayed in a new home next to the boathouse at Bridge House in Castletown.
They have approval to spend £50K on archaeological and hydrological studies this year; this is preliminary to commissioning a full architects' feasibility study for the redevelopment of the Bridge House. 
June 2020 Christopher Weeks, Manx National Heritage Objects Conservator, has finished the CAD drawing of Peggy More info here
October 2018
Tom Cunliffe

Writer and historian Tom Cunliffe visited Peggy and agreed to help reconstruct Peggy's rig, using his profound knowledge of historic sailing boats and expertise as a sailor. 
June 2016
Peggy was removed from her boat cellar in January 2015 and sat tight in a conservation facility in Douglas while conservator, Christopher Weeks, worked hard to finish building the conservation facility around her as well as analysing Peggy with the help of a variety of specialist technical experts.
A treatment programme was designed to arrest further decay and preserve Peggy for future generations; proposals having been discussed with Mary Rose Trust, National Historic Ships UK and others.
The first intervention was to address Peggy's rusted iron nails, which were to be removed one by one and each in turn to be replaced with a timber peg made of pine.  This operation likely to take as long as two years.  Manx National Heritage had to ensure funds were in place and that there was a team with experience of working on comparable projects available to do the work at a competitive rate.  Christopher undertook pilot trials to fix on the exact method they were to use.  Balancing he risk posed by the nails and the damage their removal would cause, it was decided to leave them in situ and concentrate instead on cosmetic work and the reconstruction of her rig.
More detail on the Peggy Conservation Project