About the Coracle

The coracle - also known as the currach, bull boat, quffa, parasil - is a small, keel-less boat.  Their main uses has always been as a means for fishing or transportation. Today, certainly within Europe, their main use tends to be recreational, although in Wales a number of licences exist to permit use as a fishing vessel.  In other parts of the world, particularly the Middle and Far East, they are still used for their original purpose - as a workboat for fishing or transportation.  The coracle has a long history spanning thousands of years, evidenced in cave paintings of their use from the early Bronze Age and perhaps as far back as the Ice Age.  The coracle is likely to be the first form of water transportation.
The traditional construction of the coracle - largely unchanged in modern times - is a basketwork frame made using locally foraged wood.  Ropework made from animal hair may have been used to secure parts of the framework together, depending on the type (design) of coracle.  The waterproof covering was a hide, such as cattle or bull.
Modern materials and technologies has changed the way the coracle can be constructed. Whilst the frame construction has changed very little - a wooden basket frame - this tends to be formed using sawn or hand-cleft laths. Many coracles are still built with willow or hazel, though other woods such as ash are also used. Modern waterproof coverings tend to be a natural cotton canvas (calico) or a synthetic fabric such as nylon, with pitch or bitumen paint used as the waterproofing agent.
Some coracles are made from fibreglass - a mould being used to define the shape, with a seat installed afterwards.  Bitumen or other waterproofing paints or gels is then applied once the resin has hardened. No doubt it won't be too long before carbon fibre is used in coracle construction.  The benefits of using fibreglass and carbon fibre are twofold - they produce a very light vessel, and the skin is inherently stronger than fabric coverings, needing a lot of effort to cause damage (particularly below the waterline) that would allow water ingress.  Another advantage is that fabric - and hide - coverings can rot over time, which will then require replacement.
When many people consider coracles, the tendancy is to place their provenance within the United Kingdom and specifically Wales. This is due to their continued use as a working fishing boat, particularly in South Wales.  However, the coracle can be found in many places worldwide - whether evidence of past use, or as in Wales, through continued use today. Generally speaking, coracles can be found in Europe, North America, the Middle and Far East. 
Coracle design - their shape and size - differs around the world and even within the United Kingdom. This is down to a number of factors - the materials available locally to construct the vessel from, the intended use for the vessel, the conditions of the water they are to be used on and even personal preferences. Because of this, coracles can be defined into a number of 'types' - within the UK alone, there are more than twenty different coracle types. Include those found elsewhere in the world and that number creeps up into the thirties. Within the United Kingdom, coracle types tend to be named after their rivers although in some places - particularly rivers with numerous types - they are named after their locale.
Find out more about types of coracle
----------
About The Coracle Society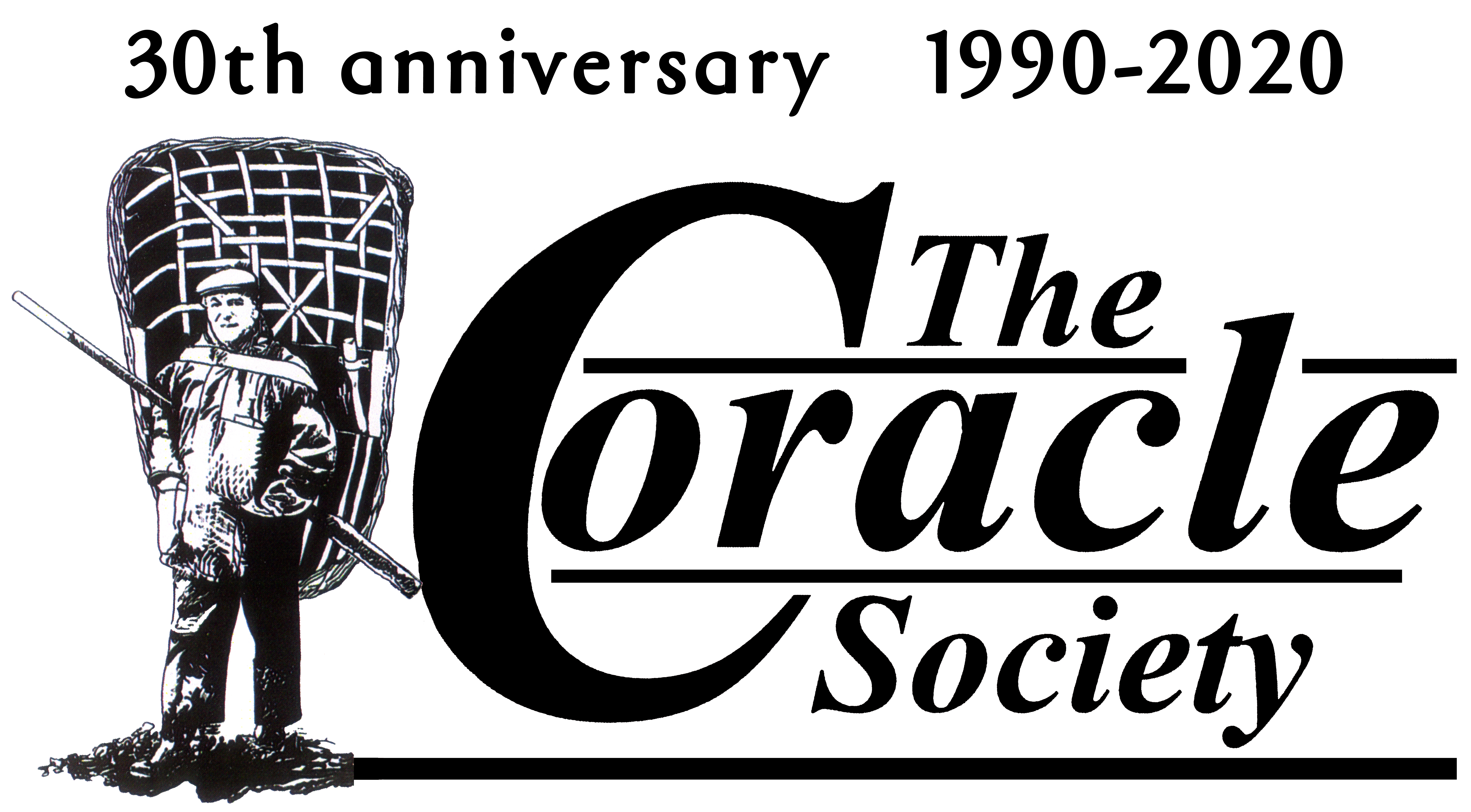 The Coracle Society was founded in 1990 with the aim of promoting the use and history of these and their allied craft.  They do this with the support of their members, some of whom are coracle builders dispersed throughout the UK.
They demonstrate the traditions of coracle building and 'coracling' (paddling a coracle) to people of all backgrounds - from primary school pupils to teenage youth groups, families, local organisations and the general public.
The Society's aims:
promoting the knowledge of coracles, curraghs and allied craft, their making and use, and also their study and collection;
taking all reasonable steps to support the continuance of fishing involving the use of coracles and to encourage the holding of coracle regattas, races and the like;
publishing a newsletter as a means of communication between all those interested in coracles;
using its best endeavours to obtain supplies of materials for the construction of coracles; and
promoting demonstrations, courses, exhibitions, discussions and lectures relating to coracles.
The Society aims to be community open to all, whether they wish to research the fascinating history of the craft, or simply get out on the water and have a good time. 
Since the formation of The Coracle Society in 1990, interest in coracles and coracle building has undergone something of a revival, with enthusiasts around the world enjoying the delights of these simple, little craft. In recent times coracles and their allied craft have enjoyed copious media attention, appearing in blockbuster films, factual programmes such as James May's Man Lab, Richard Hammond's Engineering Connections, Escape to the Country and many more.  In 2014, a one hour documentary aired on Channel 4 detailing the findings of member Dr Irving Finkel in uncovering and deciphering a Babelonian Clay tablet in which it was discovered that Noah's Ark was in fact a coracle - similar in nature to an Iraqi quffa.
----------
Latest News/Events
March 2021 Events and courses taking place this year, Covid-19 restrictions permitting. Please note the coracle making courses are not run by the Society itself, but by its members and affiliated organisations.  Please contact the course organiser directly for further details, or if you have any queries.
January 2020 Coracle fishing on River Teifi facing increasing threats
The sight of traditional coracle fishermen on the River Teifi is coming under increasing threat.
New byelaws set to come into effect on January 1 2020 will mean the Teifi Netsmen will have to release all salmon they catch, while the season to catch sea trout is being shortened – although the costs of a licence has not been reduced.
The new regulations have been introduced by Natural Resources Wales (NRW) in what they say is a necessary move to preserve dwindling fish stocks.
There are currently 12 licence holders left on the Teifi and Mark Dellar, from the Teifi Netsmen, fears that number will continue to shrink and that the historic method of fishing could eventually disappear.
"I am relatively new to this but you have guys there who have been doing this most of their lives – but it's a way of life that is disappearing," said Mark.
"We are still being asked to pay £248 for a licence but they are cutting the length of our season by two months and we cannot catch salmon.
"We understand the salmon catch and release ruling to try to protect stocks but they are also taking a lot of the season off us to catch sewin.
"Coracles on the Teifi is such an important part of the area's heritage and history. It is classed as a profession but for many now it's a hobby and not for money, yet they still want the full licence fee.
"I have a 15-year-old son who has started fishing with me but the sad reality is that when he is old enough, there will be no coracle fishermen left.
"It should be such an asset to the area.  Look at the Carmarthen guys on the Tywi.  They have a visitor centre, heritage stuff, go into schools etc."
An NRW spokesperson said: "The new salmon and sea trout byelaws have received Ministerial approval and will come into effect on 1st January 2020 in Wales."
NEWS - December 2019 - Coracle Education Project for Schools
Carmarthen Coracle and Netsmen's Association were lucky enough to receive grant funding from the Heritage Lottery Fund for a 'Coracle Story Telling Project'.
They have been working with retired teacher, Mr Andy Edwards, in recording the old stories from the older generation of coracle men so they are preserved and used to educate.  It was only when Andy started to look into our old traditions and stories that he realised what a unique heritage we had and felt passionately in having everything recorded for local school children.
The project is now coming to the final stages - we have produced a booklet on the 'Carmarthen Coracle', which will be officially launched in January 2020.  This booklet will be sent to every school in the county.  Should a school wish to learn more about our coracle heritage, they will have the opportunity to research in depth on the website 'People's Collection Wales' and download certain information to use in class.
Local schools will also have the opportunity to have a visit from Andy, who will arrive at the school dressed as a coracle man from the 1800s with a traditional coracle on his back - Andy will relay all his old river stories to the children.
Find out more about The Coracle Society
Page content provided with kind permission from The Coracle Society