About the Elephant Boatyard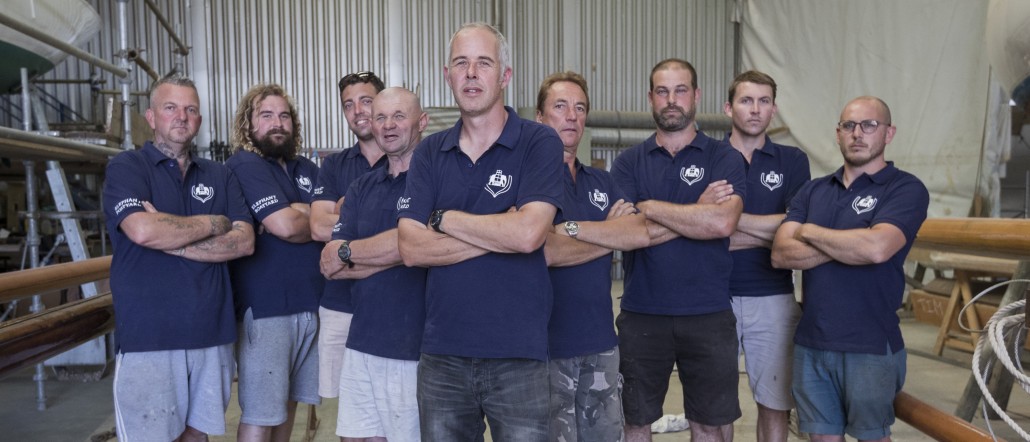 The Elephant Boatyard are a family business with passion, expertise and desire to build beautiful boats. 

The number of yachts they have built and restored is testament to both their reputation and their love of what they do: more than 65 custom yachts have been built by the yard since the 1960's and they have restored countless others.
The yard is situated on the site where HMS Elephant was built in 1786, Nelson's flagship during the Battle of Copenhagen in 1801.  it has been a working boatyard ever since and has been owned and run by the Richardson family since 1952.  They have always had a great passion for sailing and this, combined with their boatbuilding expertise, has created a unique boatyard where they are able to truly understand the needs of sailors and their yachts.
----------
Craftmanship
At the heart of their business is a team of master craftsmen who have in-depth knowledge of traditional boat-building techniques, combined with exceptional expertise
in new & innovative high-tech composites.
Tom Richardson has been sailing all his life.  He started offshore racing with Adlard Coles in the '60s and sailed in five British Admiral Cup Teams between 1965-1980 (in the winning team on two occasions).  In the 1980's, Tom raced and built International 6 Metres in the UK and abroad.  He has also raced Swans in the Swan Europeans and Fastnet races.  He is a regular competitor in Cowes week where he has been racing a Cork 1720 since 1998, more often than not sailing around our yard-sponsored racing mark.  Tom has overseen a large number of new builds and major refits capitalising on his knowledge of yachts at sea.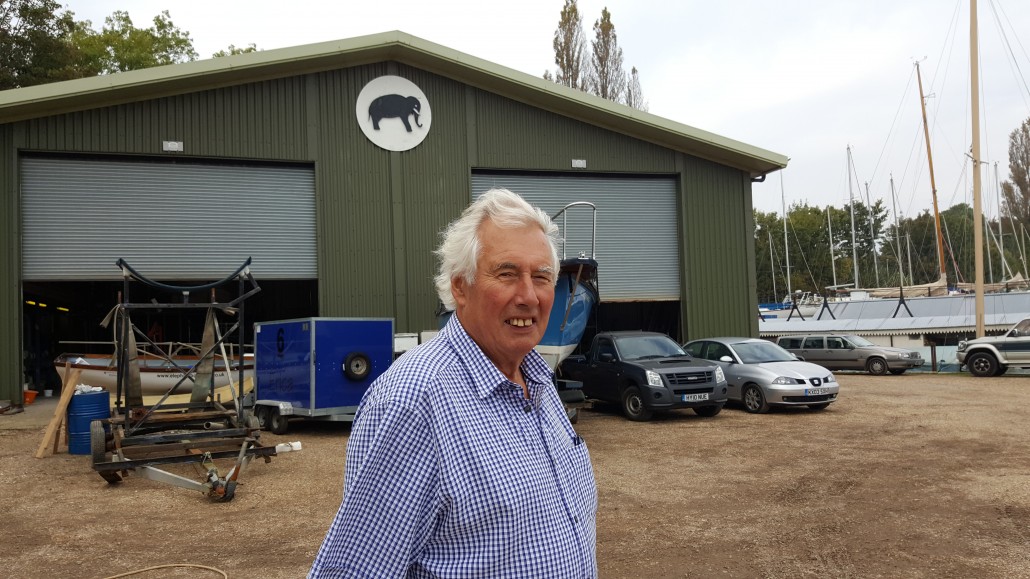 Tom's son Matt grew up in the yard and has very much followed in both his father and grandfather's footsteps.  He completed his boatbuilding apprenticeship at Moody's and the Webb Brothers, and once finished grabbed the opportunity to do his first Atlantic crossing followed by some time spent racing in the Caribbean.  In 1999 he began work at 2H0 Ltd building Venture 99, the British boat for Admirals Cup.  He then returned to the Elephant to build 50ft yacht Mandrake (designed by Mark Mills) before going on to Green Marine to build Leopard 2000.  He stayed on at Green Marine to build Assa Abloy for the Volvo Ocean Race in 2001.  At the end of 2001 through to 2003 Matt joined the British America's Cup Team as Project Team Leader of their shore crew, based in Auckland.  Having enjoyed working in the Southern hemisphere, he stayed on in New Zealand working at Vaudry Miller Yachts building tenders for Larry Ellison's superyacht before returning to the UK to work with Marine Results where he was involved in the removal of Mirabella V's mast, the tallest mast in history!   Upon his return to the UK, Matt was selected to join the crew of Leopard 3, based in New York at the time. The team went on to break records in races including the Transatlantic, the Cape Town to Brazil Race and numerous others before heading to the Caribbean to compete in the RORC Caribbean 600 Race.  With over 35 years of boat building experience, Matt brings a huge amount of knowledge to the yard.
----------
Boatbuilding
Boat building and classic restorations have been an important part of our business for many years and the Elephant Boatyard has been building custom yachts since the 1960s.
Their team of experienced boat builders are skilled in all aspects of traditional wooden boatbuilding – design, hull construction, fine joinery work, finishing, restoration and brightwork.
They specialise in building traditional, classic wooden boats and can build any design to individual / bespoke specifications.
They are currently building a Nigel Irens designed 50ft Ketch, Saecwen of Lymington, working with designer, project manager and owner to create a beautiful bespoke sailing yacht of the finest quality.  The hull build is approaching completion, and is primarily of wood and epoxy construction, a cedar strip hull with 2 layers of diagonal african mahogany veneers.

Update, May 2021: The Saecwen build is now complete! Watch a video of the two-year build.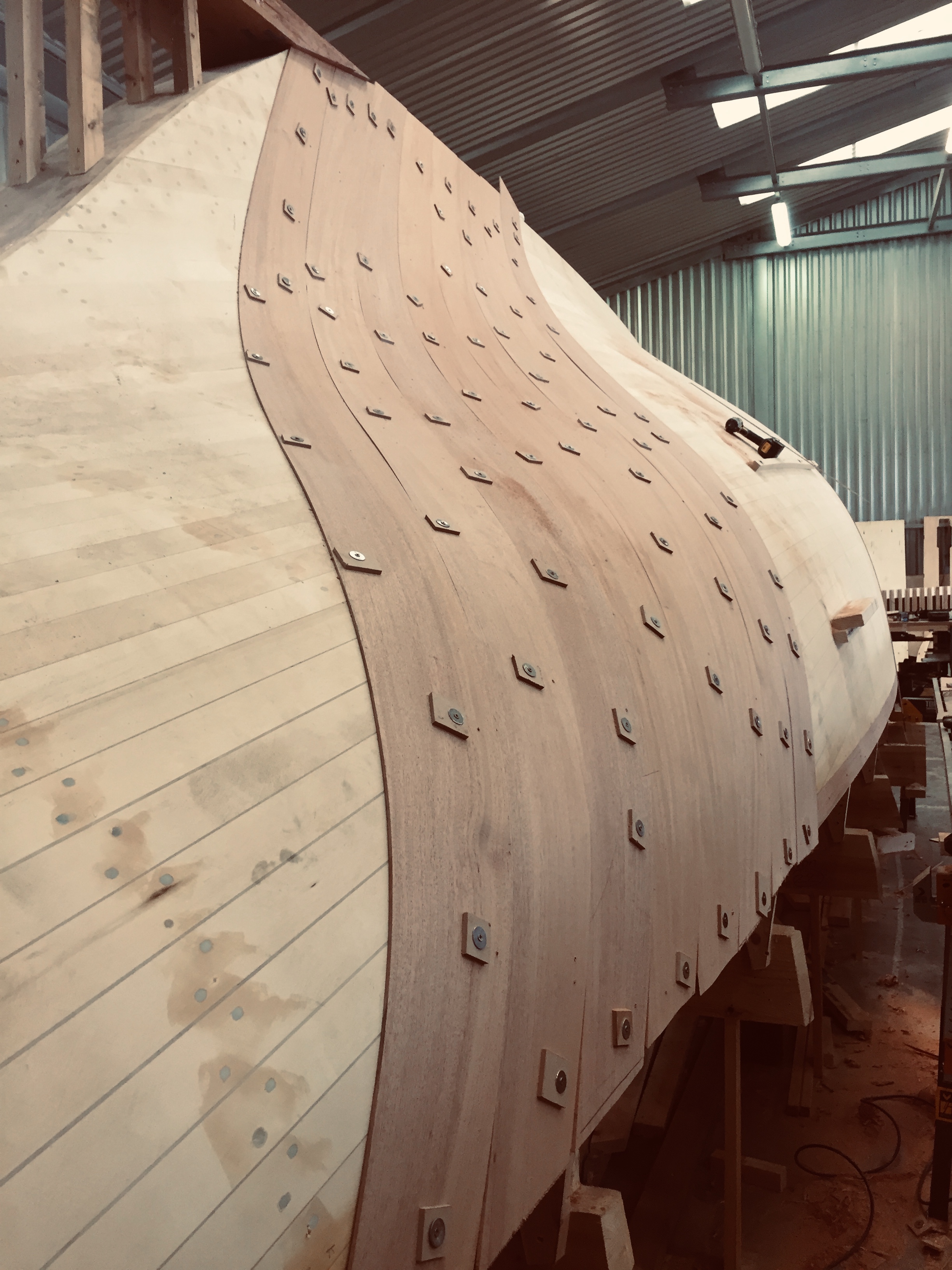 Having recently completed the build of a hull for the revival of the Dublin Bay Sailing Club Twentyone Foot Class, they are now well into the build of hull number 2.  The hull construction has stayed true to the 115 year old design by Alfred Mylne of Glasgow, and represents true craftsmanship using both old and new materials.  They are proud to be part of the revival of this classic One Design class built between 1903-05 and raced in Dublin Bay for 83 years.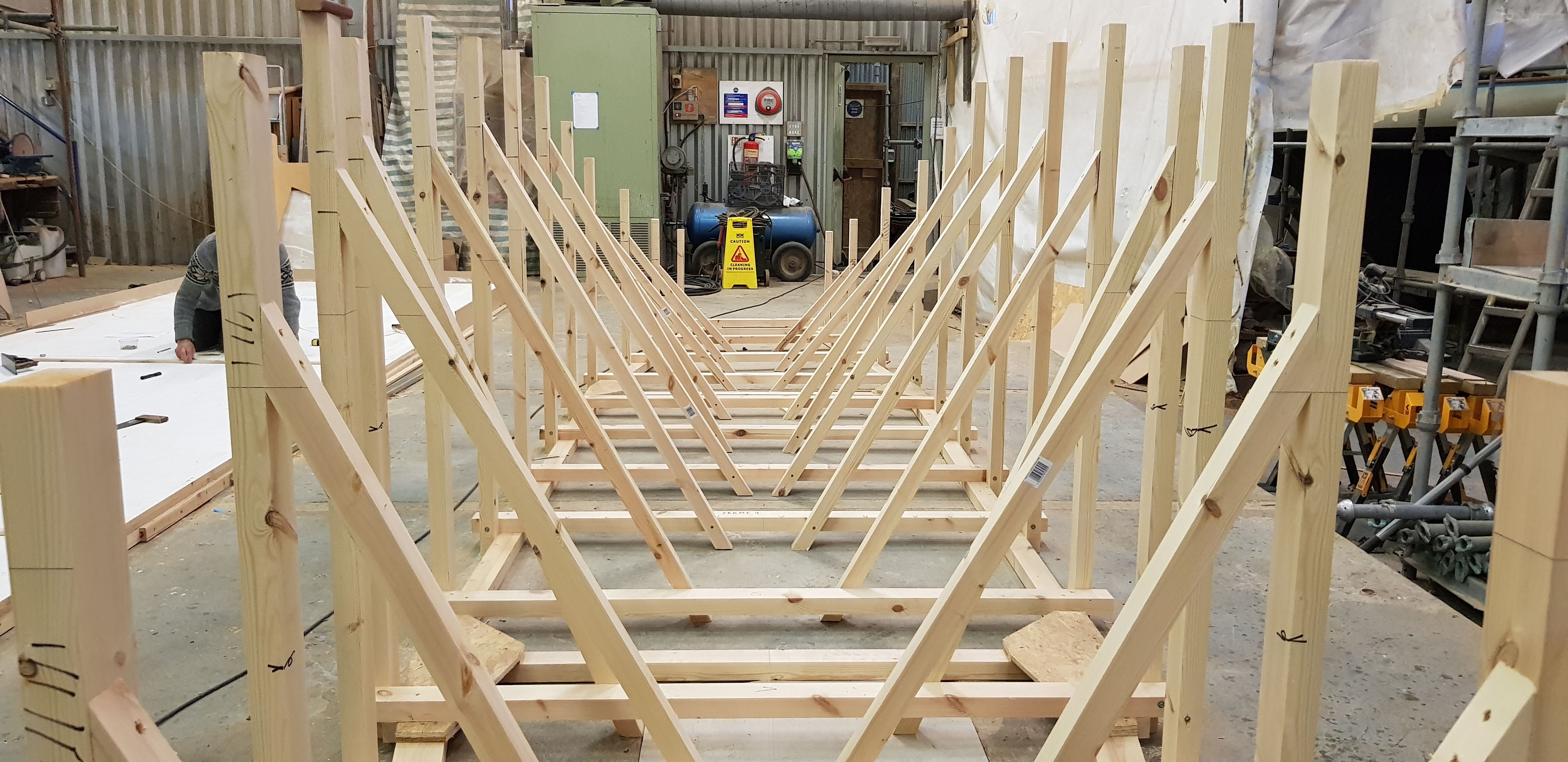 In addition to current projects, there is a long list of boats that have been built here at the yard – below are just a few examples:
Barracuda – 45ft Tony Castro design. Wood/epoxy sloop, cruiser/racer.  UK based.
Horus – 50ft Ed Dubois design. Cutter in cedar.  Circumnavigation and Mediterranean cruising.
Ferrik Al Booma – 50ft Ian Howlett aero rig design. Wood/epoxy composite.  Transatlantic and Mediterranean.
Fly – 70ft Ian Howlett aero rig design. Wood/epoxy composite.  Transatlantic and Scottish waters.
Zinnia – 30ft Nigel Irens design. Hull construction only. Wood/epoxy.
Ivy Green – 35ft Ed Burnett design. Wood/epoxy/frames. Gaff cutter.  East Coast and English Channel.  See attached pictures.
Mandrake – 50ft Mark Mills design. Racing yacht, wood/epoxy sloop.  Raced in the UK and Far East, winner of the Round the Island Race and Kings Cup in Thailand.
Restoration
The team are specialists in refit and restoration and work across all different kinds of boats, from cruising to racing, wooden to GRP, but their passion is Classic Yachts.
The historic Bristol Pilot Cutter, Carlotta, built in 1899, was awarded 2019 Classic Boat Magazine Award for Best Restoration > 40ft for restoration work done at the Elephant Boatyard and at Abernethy & Gaudin Boatyard in Canada.  The job list included replacing decayed planks in the stern, fixing leaking seams, deck caulking, ballast, fitting a new stove, plumbing and extensive rigging work.
Carlotta is a formidable combination of strength and beauty on the water and has an owner with the enthusiasm, passion and determination to inject her with a new lease of life.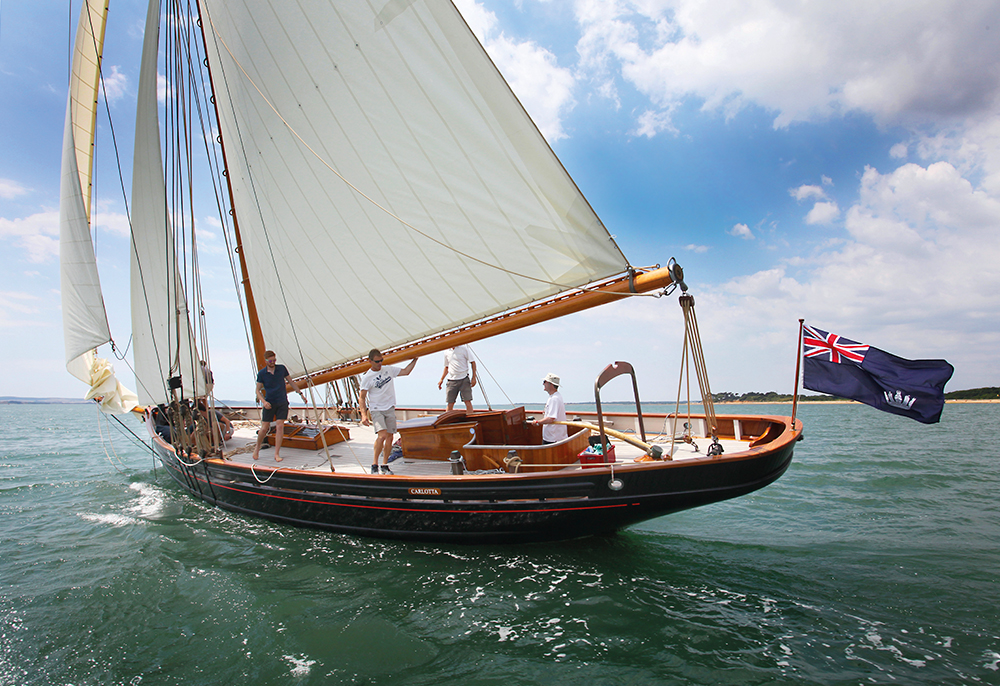 Find out more about the Elephant Boatyard here.