About the Medway Queen Preservation Society (MQPS)

The Medway Queen Preservation Society's formal title is New Medway Steam Packet Co. which was the original company under which Medway Queen sailed as an excursion steamer. The MQPS is based in the Medway area of Kent and draws support throughout the UK and from around the world.  They are a volunteer-led society, but employ professional help or contractors where appropriate in the restoration of the Medway Queen.
After many years of hard work, the society secured funding from the Heritage Lottery Fund and the European Regional Development Fund to rebuild the ship's hull and establish a base and workshop at Gillingham Pier.  The hull rebuild was undertaken in Bristol and completed in late 2013.  Medway Queen was towed back to Gillingham and is now moored at Gillingham Pier where she can be visited.

The Society aims to restore the ship and in so doing support all sections of the local community in the field of education and much more.
About the Medway Queen
The Medway Queen was launched in 1924 and entered service on Thames estuary routes in May of that year.  She was an important part of the tourist scene until war was declared, when she was used as a minesweeper, as HMS Medway Queen, and worked to keep the seaways clear.  She is also famous for her seven trips to Dunkirk in 1940. 


After the war the ship returned to her excursion route until September 1963.  One highlight was taking part in the Spithead Coronation Review in 1953.  From 1966 until 1974 she was the "Medway Queen Club" on the Isle of Wight before being returned to the Medway, in derelict condition, for preservation in 1984.

The Medway Queen Preservation Society was formed in 1985 to support the restoration but was later forced to buy the vessel. She was re-floated and moved to Damhead Creek on the Isle of Grain in 1987. After years of lobbying and fund-raising the ship's hull was completely rebuilt in Bristol between 2009 and 2013. ​
Medway Queen Virtual Tour


Board Medway Queen for a Virtual Tour here
Volunteer teams
On board the ship the conservation volunteers fall into 4 groups; Woodwork, Metalwork (fabrication welding etc.), Engineering and Electrical although the lines are often blurred as they frequently work together. 
A second team of volunteers runs the Medway Queen Visitor Centre and conducts tours of the ship. A further group, mainly trustees, manages the society and undertakes administrative roles including finance, PR and secretarial work.
More hands in all these areas at any skill level are always gratefully received!  If you would like to help, please contact: info@medwayqueen.co.uk or T: 01634 575717.
August 2021 Medway Queen will take part in Heritage Open Days 2021, with a new digital exhibition called Food On Board. Read more
April 2021 Medway Queen will reopen to visitors from 22 May. Read their latest news update here
October 2020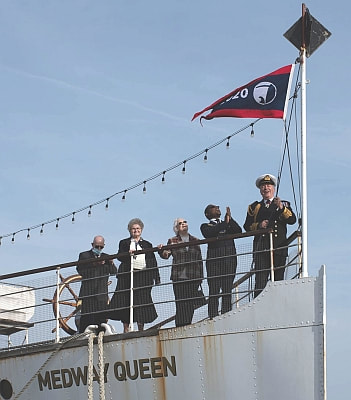 A ceremony was held to raise Medway Queen's pennant recognising her as National Historic Ships UK's Regional Flagship for the South East 2020.  Full story here
September 2020 Medway Queen pictures and digital updates as part of the team's Heritage Open Days 2020 events.  Full story here
July 2020 The forward deckhouse has been rebuilt!  Read more

May 2020 Medway Queen awarded National Historic Ships UK's Regional Flagship Award for the South East.  Full results here.
May 2020 Heritage Open Days have added a blog to their website - a history of Medway Queen illustrated by "8 curious objects". A selection of 8 items from the MQPS or members' private collections that illustrate various periods in the ship's history.  CURIOUS OBJECTS POST
This is a sponsored blog with the aim of raising £7000 for the Medway Queen. The ship's crew estimated they had saved 7000 men so that is just £1 for each soldier.  During the Dunkirk anniversary period this account was updated on a daily basis to record events in the evacuation from the perspective of HMS Medway Queen's crew until 5th June.  Further details on the Medway Queen website, see below.

If you find this account interesting please support them. Covid-19 has wiped out their regular visitor income and the anniversary in Ramsgate would have generated considerably more than that if it had taken place.  A £10 donation is less than £1 per post!  The team are all volunteers so any purchase or donation directly benefits the ship.  
Find out more about the Medway Queen Preservation Society here.