About the Gloucester Docks
The Gloucester Docks are the most inland port in the country, home to old dock buildings, designer shops, cafes and new museums making it a great place for a family day out.
Within the complex is the award winning National Waterways Museum, Gloucester, housed in the Llanthony Warehouse.  The museum charts the fascinating 200-year history of the docks and the Gloucester & Sharpness Canal.  You can climb aboard historic vessels, enjoy hands-on fun, watch archive films and browse galleries rich in canal heritage and stories.
£1million refurbishment
In 2016, the museum was awarded a grant of over £1million to refurbish its displays, create a new entrance to the warehouse building and adapt the historic barge Sabrina 5 to provide a new space for events and education.
The museum is the sister museum to the National Waterways Museum, Ellesmere Port, and together they are jointly responsible for the UK's unique 'designated collection of waterways heritage.
As a charity, they were only able to carry out this important project in Gloucester because of funding from the Heritage Lottery Fund, DCMS/Woldson Museums & Galleries Improvement Fund and several generous donations from local trusts and individuals.
About Sabrina 5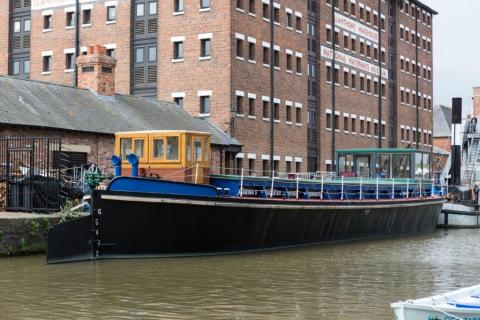 Sabrina 5, one of six unpowered barges built in 1944 for the Ministry of War Transport, was a founding member of the National Waterways Museum Gloucester when it opened in 1988.
Built for carrying 130 to 150 tons of cargo, the Sabrina's were substantial cargo vessels, requiring a tug to move them. They often worked in convoys plying the River Severn and the Gloucester & Sharpness Canal. Cargoes included metals (eg copper, zinc, steel and alumimium) and foodstuffs (eg wheat, cheese, cocoa and tinned tomatoes).
With a cargo hold measuring approximately 20m long by 4m wide, the museum decided in 2012 to develop a project to convert the main space of this museum exhibit into a floating multi-use space, enabling access to the vessel and a sustainable future. Access will be carefully designed to accommodate all needs, which will include the installation of a platform stair lift.
 As both a learning space and a significant part of the visitor route (when not in use by a school) there will be on-board interpretation about the working life of Sabrina 5, including the life of her crewmen. Sabrina's 1 to 6 started work with the Severn and Canal Carrying Company and after nationalisation were managed by British Waterways. Journeys would often be from Avonmouth to Worcester or Stourport-on-Severn.
Now back at the museum, she's fully equipped with space for education, learning, private meetings or party hire and she is welcoming visitors of all ages.
----------
NEWS UPDATE - 31st July 2017 - Revealing the new Sabrina 5
Standing in the hold of the newly conserved Sabrina 5 it's hard to imagine that it may once have been full of tinned tomatoes! The steel hull of the 90ft long boat is now clad with painted timber and fully kitted out to fulfil Sabrina's new incarnation. After a career carrying cargo she's now a floating education, exhibition and meeting space for the National Waterways Museum, Gloucester.
The transformation has been carried out for the Canal & River Trust (the charity that runs the museum) by Gloucester boat builders T Nielson and Co. Sabrina 5  is one of the largest vessels in the museum's collection and part of the National Historic Fleet. By giving careful consideration to her conservation many original features have been maintained, including original timber floors and ceiling. Steel beams may have swapped a functional role for a decorative one but they remind visitors that this is a former working vessel.
The National Waterways Museum Gloucester has exciting plans for Sabrina 5. They start with an exhibition of photographs that capture the boat's conservation in action. A series of images by Barbara Evripidou show Sabrina 5 stripped-back to reveal the engineering behind the panels telling the story of her construction. (24 July – 20 August 2017).
Other events include a theatre performance and free lunchtime lectures. School groups are already booking the space and over the summer visitors will welcomed aboard. Sabrina 5 will also be available for community events. The aim is to put her at the heart of life in Gloucester and make her as relevant today as she was when she worked the Gloucester and Sharpness Canal in previous decades.
The Canal & River Trust is grateful for the support of funders including the Heritage Lottery Fund and Garfield Weston Foundation.
NEWS - 6th April 2017
During March 2017 Sabrina 5 started to take shape as a learning space, with insulation and timber panelling being applied to the cargo hold area, and the hatch boards being topped with insulation and weather-proofing (to be finally finished with canvas).  The museum hopes to open the vessel to the public during the Gloucester Docks Tall Ships Festival 27-28 May 2017. There was a visit by members of the Bristol Cruising Club (who own the only other remaining of the six Sabrina barges) on 2 April 2017.  Their afternoon included a tour of works on Sabrina 5 assisted by T Nielsen Boatyard.   The Sabrina 6 barge has been used for a number of decades as their club house, and before work started to  Sabrina 5 project staff visited Sabrina 6 to learn about the conversion. 
NEWS - 9th February 2017
Following cleaning and surveying, it was decided that Sabrina 5 was in need of more hull repairs than originally expected. T Neilsen and Co, in consultation with National Historic Ships, recommended the replacement of a 500mm deep section of steel on both sides of the hull because of the severe pitting to the surface. 
This was completed in January 2017.  During early 2017, alterations are progressing to make Sabrina 5 suitable as a learning space, including a new staircase, WC and skylights.
NEWS - Work on Sabrina 5 begun
Sabrina 5 went into dock at T Nielsen and Company, just across the basin from the Waterways Museum in Gloucester on 4th July 2016. 
The work has started to clean her hull to enable a detailed survey of her condition, to inform the repairs which will need to be done over the summer. 
----------
Find out more about hiring her on the Canal & River Trust website here