About North East Maritime Trust (NEMT)

NEMT's focus is on traditional (wooden) working boat restoration, repair, conservation, maintenance and sailing.  Their objectives are, principally:
To educate the public in relation to the maritime heritage of the United Kingdom, especially the North East of England and to encourage and facilitate the restoration, repair, maintenance, conservation and public display of historic working vessels and maritime craft, as well as maritime artefacts of all kinds.
The coast of North East of England, from Berwick in the north to Whitby and beyond in the south has an extremely rich historic maritime and cultural heritage. The river Tyne is the birthplace of the first purpose built lifeboats and the formation of what was later to become the RNLI.  NEMT encourages and invites everyone with an interest in maritime history to come along; they are welcome to see volunteers in action restoring or maintaining historic boats.  Their restored boats are often to be seen on the river Tyne or off shore on the east coast.
Volunteer Community


The main work of NEMT is undertaken by volunteers in the Fishermens' Workshop and Boatshed at 2-3 Wapping Street, off River Drive in South Shields, NE33 1LQ.  Members of the public, whether skilled or not, are encouraged to become members and assist on various projects. North East Maritime Trust is open to the public between 10.00 and 15.00 Tuesdays & Wednesdays and on Saturday mornings. Special opening arrangements are made to accommodate school visits, and other interested groups. The Trust offers a friendly and welcoming environment and the annual membership fee is £15 to cover administrative costs.
Find out more about how to become a member 
The Fisherman's Workshop and Boatshed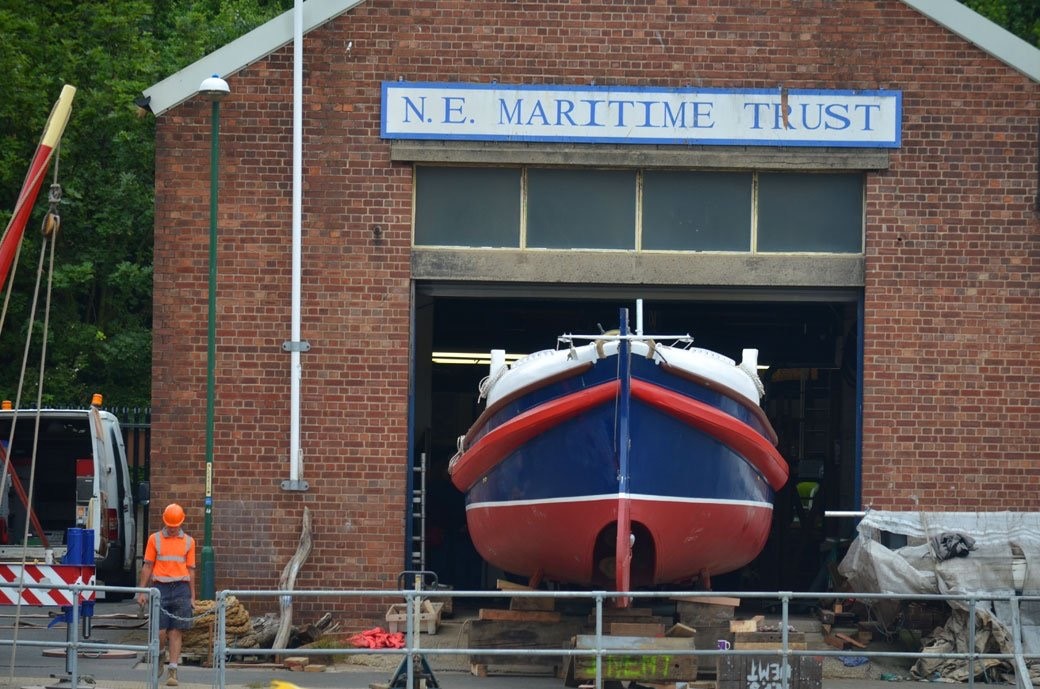 The main workshop, including artefact display area and office, is located on Wapping Street with access to the river from Satellite Quay and adjacent to the wooden boatshed.  The boatshed is believed to be the last remaining traditional wooden boatshed with covered integral slipway along the entire North East coast between Eyemouth and Hull.  The slipway into the Tyne allows boats up 12 tons to be winched in and out of the river. This valuable facility enables opportunities for NEMT to maintain historic wooden working boats and offer hands-on experience and skills training in traditional boat restoration, repair and maintenance.
The Boats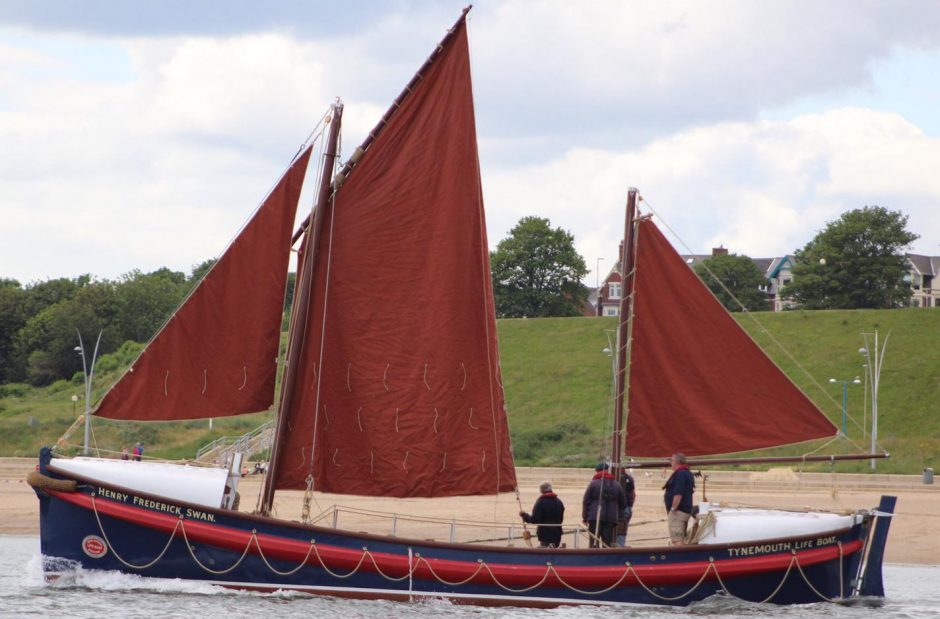 NEMT's initial restoration project was the 1918 self righting lifeboat Henry Frederick Swan (see image above), which was successfully relaunched on 22nd April 2019.  You can watch a pictoral video of the conservation process from 2005 to re-launching in April 2019 here.
The collection comprises a group of boats belonging to North East Maritime Trust, and others of special historical interest.  Boats owned by NEMT and its close associate Northumbrian Fishing Heritage Trust, include several restored Northumbrian cobles, a 1920's Tyne foy boat, a number of early and mid 20th Century ring netters, and the 1886 'Bedford' pulling lifeboat  with launching carriage currently undergoing restoration.  The Trust also restored and maintains the second oldest lifeboat, the 1833 'Tyne', which is on permanent covered display in South Shields.  All boats are listed on either the National Register of Historic Vessels (NRHV), or the National Small Boats Register (NSBR), maintained by the National Maritime Museum Cornwall (NMMC).
"Associated Vessels" are members' boats, those whose owners have agreed that they will do their best to manage the conservation of their vessel in accordance with the Barcelona Charter.  Though they receive helpful support and advice from NEMT, they are financially independent.
Details of the main groups here.
If you would like to help and/or donate, please see here.
Current News
October 2020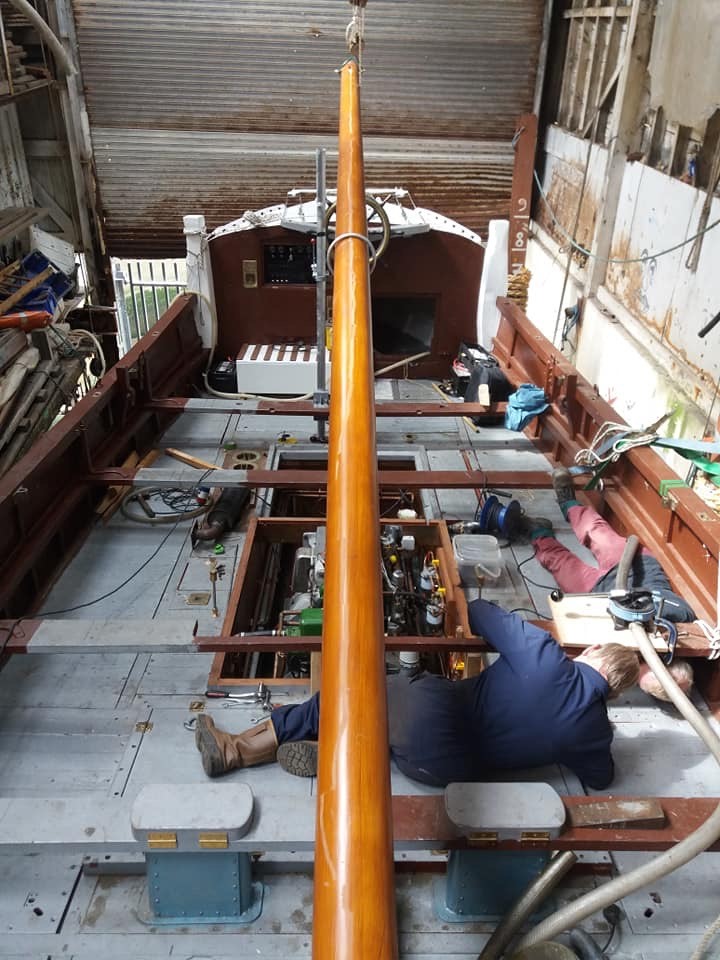 Following the launch of Henry Frederick Swan the main workshop project is the conservation of the 1886 pulling lifeboat 'Bedford' and her launching carriage.  Built at South Shields this is believed to be the only lifeboat with original carriage remaining in the world.  Information and progress reports are available on the NEMT website and facebook page.  NEMT is grateful to the Tyne Lifeboat Society (established 1790) for providing financial assistance and that of Trinity House Newcastle, which has made the long term 'Bedford' project possible.  Other funding has been received that will enable volunteers to make a full set of ten 16' oars plus spares, and a steering oar, all to Admiralty pattern in exact replacement of Bedford's original oars, which will be conserved as historic examples. 
NEMT encourages use of its boats and sailings take place throughout the year for training purposes or engaging in events at coastal ports.  Being of historic design the boats are easily recognised and when not at sea or on the river Tyne they can be seen at trot moorings at South Shields or NE1 Pontoon, Newcastle Quayside and St. Peter's Marina, Newcastle.       
Latest News
August 2021 Newcastle is celebrating its maritime history the weekend of 6th August to 8th August on the River Tyne. The focus of attention will be on the river in the next phase of Newcastle's Summer in the City programme, which sees it team up with the North East Maritime Trust. Full Story.
Find out more about the North East Maritime Trust here.
Find out more about other Shipshape Network North Projects here.