About Boathouse 4
Boathouse 4 is a free attraction at Portsmouth Historic Dockyard, combining an exciting interactive exhibition, traditional boatbuilding training and a brasserie overlooking the harbour, all under one roof.
The Boathouse, now managed by Portsmouth Naval Property Trust was restored and opened to the public with support from the Heritage Lottery Fund and the Regional Growth Fund. 
On the ground floor of Boathouse 4, the International Boatbuilding Training College (IBTC) Portsmouth, and Highbury College Portsmouth teach traditional boatbuilding skills and marine engineering. 

On the upper floor The Forgotten Craft exhibition tells the incredible story of small boats in the British Navy, including the display of several small craft. The exhibition overlooks the main workshop, so visitors can watch real boatbuilding in action. 

The History of Boathouse 4
Boathouse 4 was originally constructed in 1938-40 and was the only boathouse to be built in a home dockyard during the rapid rearmament period of the 1930s.  Acknowledged to be an interesting example of industrial architecture in the International Modernist style, it stands in contrast to the Georgian and Victorian architecture around it.
The building was originally to be built in two phases, extending overall to Victory Gate. It was intended for Phase 1 to be fully operational before Phase 2 commenced.  This required a temporary corrugated steel wall on the southern side. However the Second World War broke out before Phase 1 was complete.  As a result, Phase 2 was never built and the temporary wall became permanent, still to be seen today.
In 1941-43 it is believed that the building was involved in the construction of the secret prototype three-man midget submarine X4 and later X-craft developments.  King George VI noted in his diaries that he secretly visited the Dockyard to view the X4 project. X-Craft were deployed to neutralise the German battleship Tirpitz in 1943. 
Boathouse 4 is the last boathouse built for the Royal Navy. However to this day the building continues to fulfil its intended role perfectly, something that its current occupants are enormously proud of.
----------
Training & Providers
The IBTC Portsmouth and Solent Marine Academy are delivering traditional boatbuilding courses based in Boathouse 4. 
Apprentices have been learning to build boats in Portsmouth Dockyard for centuries, and Boathouse 4 is proud to continue this tradition.  No experience is needed to begin training, and there are courses available for all ages.
IBTC Portsmouth

From day one, students will work with their tools on real projects including the opportunity to take one of the course units at the Shipwrights School in Bucklers Hard on the Beaulieu Estate.  Their graduates apply their shipwright skills all over the world not only in wooden boatbuilding but in a host of other transferable applications including green frame timber constructions and furniture making. 
Solent Marine Academy
From Highbury College and based in Boathouse 4, Solent Marine Academy currently offers an Advanced Level 3 Apprenticeship comprising of a BTEC Level 3 Diploma in Engineering and EAL Level 3 NVQ Exended Diploma in Marine Engineering, which will develop all the skills you require for employment, both on and off the water.  As a member of the British Marine Federation, the Academy works with highly regarded professional bodies to ensure their curriculum remains significant, up to date and receptive to regional, national and industry developments.  
----------
Volunteering
Boathouse 4 is always looking for enthusiastic volunteers to join their team!  Their volunteers get involved in:
The conservation and restoration of small boats from the Portsmouth Naval Base's collection that come to Boathouse 4 for repair or restoration.  Including the restoration of the Armed Steam Cutter 26 built in 1910 and Foxtrot 8 a 1959 landing craft used in the Falklands Conflict  and Building a Coastal Motor Boat 4 - Motor Torpedo Boat from scratch all of which are projects funded by the Chancellor using LIBOR funds​
Leading a daily tour of their workshop floor telling visitors about the work underway   
Research projects on the boats in their care, including creating interpretation for their visitors
Telling their visitors about the significance and history of small boats in the Royal Navy and building boats in Boathouses 4,5,6,7
Demonstrate aspects of woodworking/boatbuilding or ropemaking to visitors – training can be provided
Welcoming and interacting with their visitors
Help with their 'hands-on' activities and workshops for all ages
Crew their fleet of WWII boats.
For an application form or more information please email: vc@pnbpt.com or call 023 9289 3328.
----------
NEWS
January 2022 - Boathouse 4 looking for a new home for our Messums Thames Gentleman's Rowing Skiff. Find out more.

October 2020 - IBTC Portsmouth announce extension to their bursary scheme for 2021. 

VIC 56 Steam Ship now under the care of Boathouse 4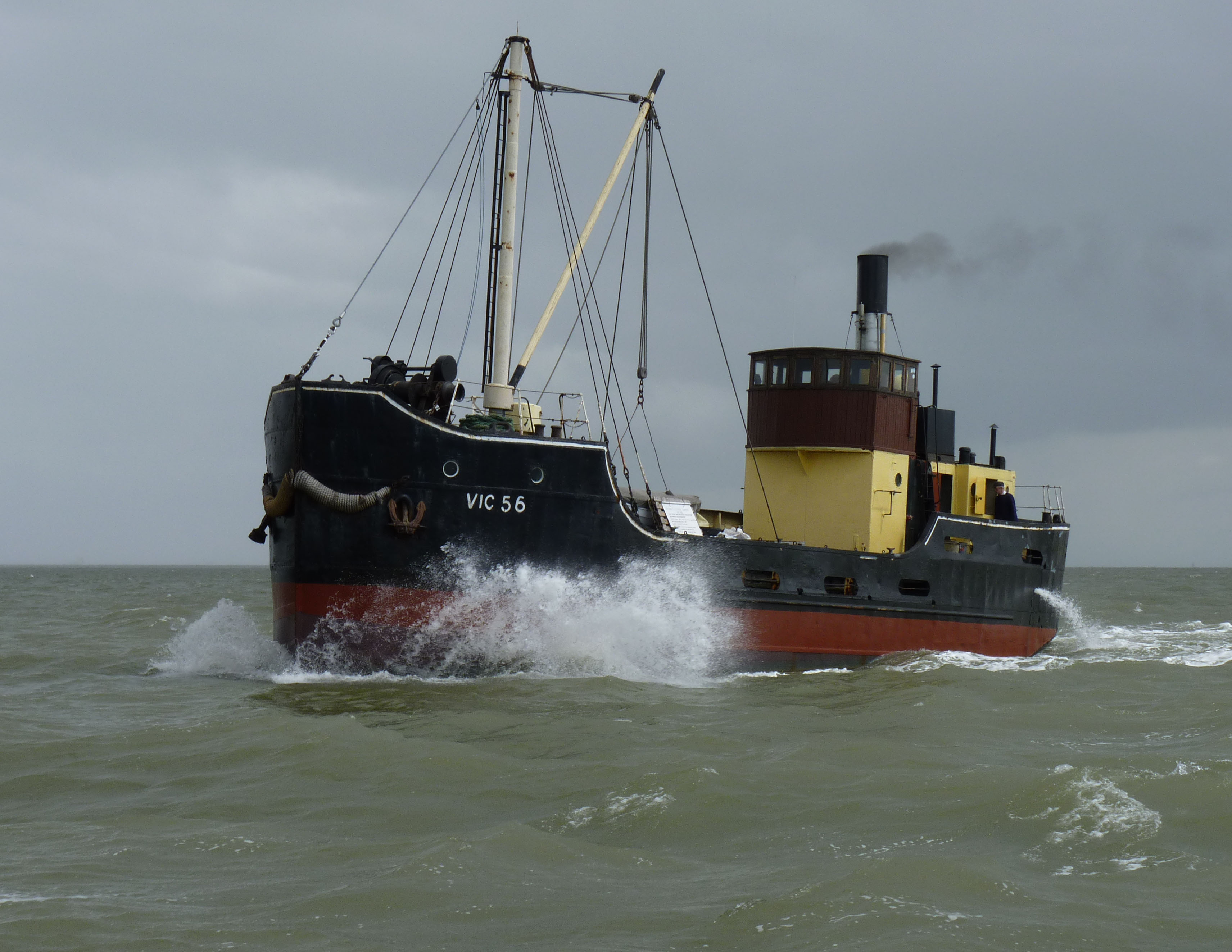 The VIC 56 is an eighty-five foot steam ship, built in 1945 as part of the wartime shipbuilding program, and now preserved in working order. She has recently moved from Chatham, and is now in Portsmouth under the care of Boathouse 4.
Portsmouth Naval Base Property Trust (PNBPT) Secures LIBOR Funding for 'Memorial Fleet'

The PNBPT has been granted £2.4M in LIBOR funding by the Chancellor for its 'Memorial Fleet' project; to create an operational Memorial Fleet of small craft which have played a significant role in the defence of the nation during the C20th.
LIBOR funding comes from fines levied on the banking industry for manipulating the LIBOR rate, and is being used to support those that represent the best of values, in particular military and emergency services charities and other related good causes.
The project will offer the public the opportunity to engage with the historic craft both in Portsmouth and farther afield, and will provide rehabilitative and vocational training for veterans.
The Trust will work closely with the IBTC Portsmouth, Highbury College and the Trust's Boathouse 4 volunteers, as well as with the Company of Makers, a Hampshire based charity dedicated to assisting veterans their families.  Veterans will participate in the construction and restoration of the boats, learning valuable new vocational skills; the diversity of the restoration projects will ensure broad scope for veteran training.

The Memorial Fleet comprises:
The First World War Armed Steam Cutter, Falmouth, will be restored.  Falmouth served aboard the cruiser HMS Falmouth in 1916 and was present at the Battle of Jutland.  She is one of only two known Jutland survivors to still exist today.  Within the Memorial Fleet Falmouth will represent ships' boats, without which no major fleet unit could operate.
Foxtrot 8, a landing craft formerly aboard HMS Fearless which took part in the Falklands conflict, will also be restored.  F8 offers a unique learning platform and an ideal vessel for veteran training, upskilling and rehabilitation.
MGB 81, the Second World War Motor Gun Boat, will receive new engines.  She will become a roving ambassador for the history of the Royal Navy, reaching a wider audience of veterans, their families and the general public at large.
The Trust will construct a replica of Coastal Motor Boat (CMB) 4 will be a complete constructino project from new, enabling IBTC students and volunteers, many of them veterans to loft, frame, plank and complete an entire boat from start to finish.  Vessels such as this have not been built in significant numbers since the First World War, and the techniques and skills required offer a unique opportunity to explore 'living' archaeology.
LIBOR funding will also enable the creation of a new pontoon, which will act as a base for the Fleet.  The new pontoons will allow the public to get much closer to the boats, and will improve access for passengers, many of whom are aged volunteers and veterans.