History of Buckler's Hard
During the Second World War, Buckler's Hard became a motor torpedo base and, further downstream, sections of the Mulberry harbours were constructed in the old oyster beds in preparation for the D-Day landings.
In the post-war years, visitors quickly returned to the river and in 1963 the Buckler's Hard Maritime Museum was opened in what had been the New Inn, 'to serve as a memorial to those men of Buckler's Hard who built men-of-war'.
Today, Buckler's Hard is still a 'living' village and many of the people who live and work here are engaged in recreation and tourism. Meanwhile, measures are taken to ensure that this remarkable village remains an area of natural beauty for future generations to enjoy.
-------------------------------------------------------------------
News - Oct 2015: The IBTC (International Boatbuilding Training College) students arrive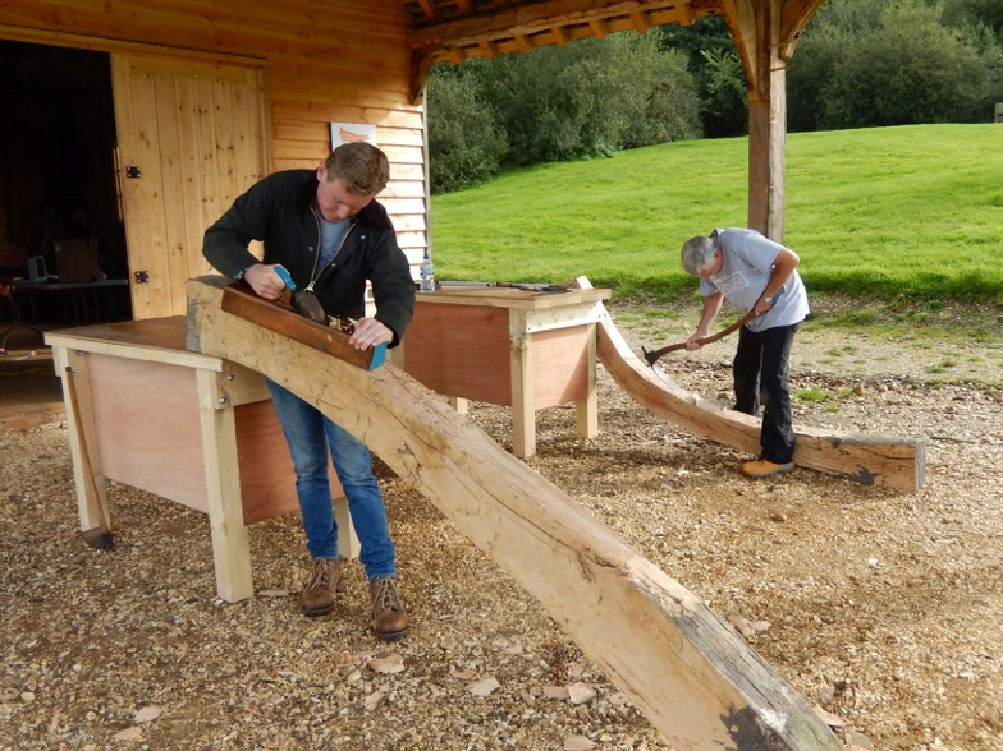 The IBTC students have started at the new Shipwright School, working with new shipwright Michael Kennedy. They are making a capstan, see squaring off a huge oak tree log for the central post. Due to delays in getting into the main school in Boathouse4 in Portsmouth, the students will not be working over at Buckler's Hard much again until the spring.

There is a lot of planning and discussion going on with experts as to what the first boat build project should be. We wish to start building a boat in the spring, likely a 30-40ft late 18th/early 19th century boat that has local relevance. There are not many plans surviving of these smaller boats but plenty of the naval frigates.
-----------------------------------------------------------------------------
News - Historic shipbuilding returns to Buckler's Hard
Buckler's Hard, on the banks of the Beaulieu River, could soon become a centre for the teaching and study of traditional shipbuilding with students able to work with large timbers under the supervision of a shipwright. This will soon be a reality thanks to a £3.75m Heritage Lottery Fund (HLF) grant to Portsmouth Naval Base Property Trust (PNBPT) for its Boatbuilding & Heritage Skills Training Centre project, which includes a Shipwright's School to be established at Buckler's Hard.
Mary Montagu-Scott, Director at Buckler's Hard & Trustee of the IBTC Portsmouth, said: "We are very excited to be working with PNBPT on this project and that our long held wish to revive traditional shipbuilding training at Buckler's Hard, on the very site where Admiral Lord Nelson's favourite ship Agamemnon was built, is now close to fruition."
Plans have been drawn up to build a replica 18th century shipwrights' workshop in an area at the bottom of the village street, near to the eastern slipways and by an existing display of timber workings.
The timber framed building will be used as a base for the school, which will be run in partnership with the IBTC Portsmouth based in Boathouse 4, Portsmouth Historic Dockyard.  The training provided will help to ensure the continuation of much needed skills at both a local and national level for the restoration of historic ships and support the traditional boatbuilding industry.  It is hoped that the first student intake will be in April 2015.
The close proximity of woodland with standing timber will present an important opportunity to teach arboriculture techniques and theory, and allow students to learn about the felling, conversion and storage of timber. The first stage of this exciting project will be to construct the workshop using local timber; this build will be a learning exercise in its own right, with students using traditional tools and methods.
Visitors to Buckler's Hard will also be encouraged to visit the workshop.  By seeing a practical demonstration of shipbuilding methods, it is hoped that everyone will gain a better understanding of the industry which gave the village a place in British naval history.