History of Buckler's Hard
Buckler's Hard was originally called 'Montagu Town' and was intended to be a free port for trade with the West Indies.  Its geography also favoured the development of shipbuilding, as the hamlet possessed access to a sheltered by navigable waterway with gravel banks capable of supporting slipways for vessel construction and launch.  Timber for hulls was readily available from the surrounding New Forest.
Shipbuilding at Buckler's Hard commenced in the early C18th.  A private shipyard adjoining the hamlet was established by James Wyatt, a local entrepreneur and timber merchant from Hythe.  Wyatt & Co. won a contract to build the naval ship HMS Surprise in 1744 and subsequently, another, HMS Scorpion, at Buckler's Hard.
That same year, Henry Adams, a master shipwright, was sent from Deptford Dockyard to Buckler's Hard by the Admiralty to oversee the building of these ships and after they were completed, Buckler's Hard grew to national prominence under Henry Adams and won subsequent Royal Navy contracts.  Over the following sixty years, Adams would supervise the building of 43 Royal Navy ships, including three that fought at the Battle of Trafalgar in 1805.
Shipbuilding at Buckler's Hard declined in the C19th and during the Second World War, the village was a base for the building of motor torpedo boats and, further downstream, sections of the Mulberry harbours were constructed in the old oyster beds for hundreds of landing craft for the Normandy invasion, Operation Overlord.
Contemporary Buckler's Hard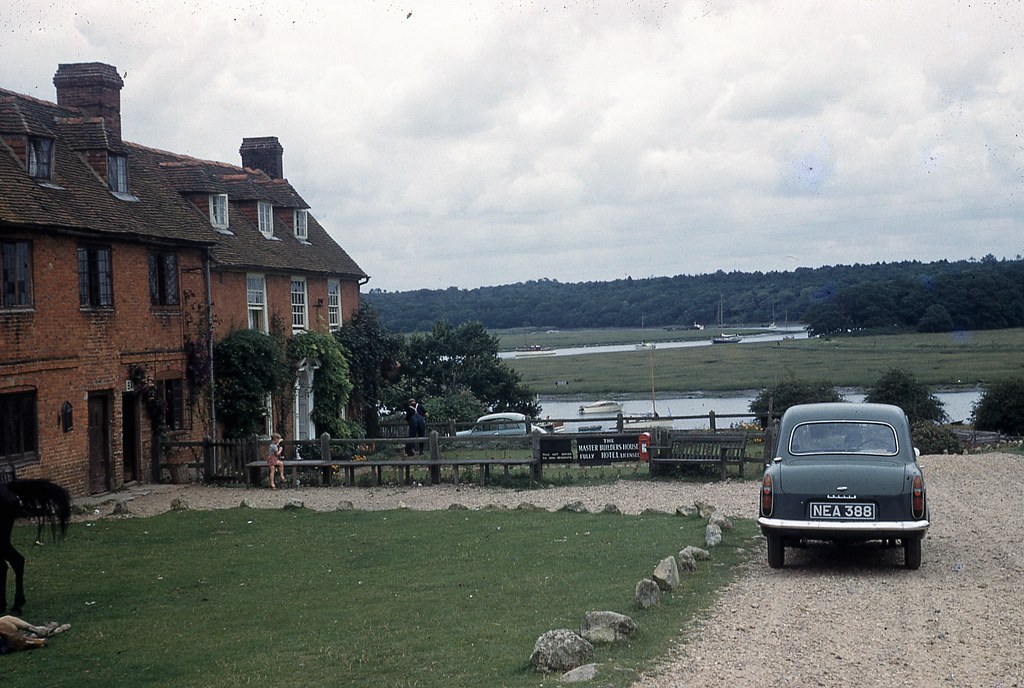 In the post-war years, visitors quickly returned to the river and in 1963, the Buckler's Hard Maritime Museum was opened in what had been the New Inn, 'to service as a memorial to those men of Buckler's Hard who built men-of-war'. 
Sir Francis Chichester began and finished his solo voyage around the world in the Gipsy Moth IV at Buckler's Hard.
Today the hamlet is given over to tourism, with a small maritime museum and a modern yachting marina.
Buckler's Hard is still a 'living' village with an impressive and unique shipbuilding past.
----------
Attractions Include
Buckler's Hard Village - a peaceful haven which remains untouched.  Discovery the history of the village, take a step inside a historic shipwright's cottage, or simply amble down the high street to watch the boats sailing by on the Beaulieu River.

Maritime Museum & Buckler's Hard Story - discover the history of this unique C18th shipbuilding village, the story of its ships and the residents who lived and worked here.
Shipwright's Cottage - step through the door of the reconstructed Shipwright's Cottage, home to shipwright Thomas Burlace and his family.
Shipwright Workshop - see the replica timber framed C18th shipwrights' workshop overlooking the Beaulieu River.  Constructed using hand hewn timber from the Beaulieu Estate, the replica workshop was hand-raised on 2nd August 2014 as a community training project to reach traditional building skills.  The finished workshop is the result of many hours of intensive manual labour by apprentices, students and skilled carpentry experts.
River Cruise - from Easter to September, take a tranquil cruise down the Beaulieu River – an unspoilt haven which is rich in history and wildlife.
For Children - complete the Quiz Trail, get 'hands-on' and have a go at caulking a seam or learn to tie a bowline and meet living history characters.
----------
Latest News
March 2021 Buckler's Hard outdoor open spaces to reopen to visitors for spring. Full story 
Historic shipbuilding returns to Buckler's Hard
Buckler's Hard, on the banks of the Beaulieu River, could soon become a centre for the teaching and study of traditional shipbuilding with students able to work with large timbers under the supervision of a shipwright. This will soon be a reality thanks to a £3.75m Heritage Lottery Fund (HLF) grant to Portsmouth Naval Base Property Trust (PNBPT) for its Boatbuilding & Heritage Skills Training Centre project, which includes a Shipwright's School to be established at Buckler's Hard.
Mary Montagu-Scott, Director at Buckler's Hard & Trustee of the IBTC Portsmouth, said: "We are very excited to be working with PNBPT on this project and that our long held wish to revive traditional shipbuilding training at Buckler's Hard, on the very site where Admiral Lord Nelson's favourite ship Agamemnon was built, is now close to fruition."
Plans have been drawn up to build a replica 18th century shipwrights' workshop in an area at the bottom of the village street, near to the eastern slipways and by an existing display of timber workings.
The timber framed building will be used as a base for the school, which will be run in partnership with the IBTC Portsmouth based in Boathouse 4, Portsmouth Historic Dockyard.  The training provided will help to ensure the continuation of much needed skills at both a local and national level for the restoration of historic ships and support the traditional boatbuilding industry.  It is hoped that the first student intake will be in April 2015.
The close proximity of woodland with standing timber will present an important opportunity to teach arboriculture techniques and theory, and allow students to learn about the felling, conversion and storage of timber. The first stage of this exciting project will be to construct the workshop using local timber; this build will be a learning exercise in its own right, with students using traditional tools and methods.
Visitors to Buckler's Hard will also be encouraged to visit the workshop.  By seeing a practical demonstration of shipbuilding methods, it is hoped that everyone will gain a better understanding of the industry which gave the village a place in British naval history.
Find out more about Buckler's Hard here