About the Daniel Adamson
The historic Mersey tug-tender Daniel Adamson is a remarkable survivor from the steam age and a most unusual vessel. 

She was built in 1903 as the 'Ralph Brocklebank' to tow long strings of barges laden with goods from the inland towns of Cheshire and the Potteries to the great seaport of Liverpool.  She made her appearance on the Mersey at a time when old-fashioned sailing ships still jostled for space on the Liverpool waterfront with the great steamships and ocean liners of the Edwardian era.
The 'Ralph Brocklebank' also carried passengers between Ellesmere Port and Liverpool, a service that continued until 1915.  During the First World War, she also had a short stint working for the Royal Navy as an unarmed patrol boat around the Liverpool coastal area. 
After the war, however, canal traffic declined as companies turned to road and rail to move their goods.  In 1936 the 'Ralph Brocklebank' was chosen as the official director's launch for the Manchester Ship Canal Company (MSCC) early that summer, was given a radical refit and her name changed to that of the ship canal's founding father and first MSCC chairman, Daniel Adamson.  The directors requested a renovation to her interior and she was transformed with clean, bold lines and geometric patterns and block patterns of the Art Deco style - a miniature version of one of the newer generation of Atlantic liners.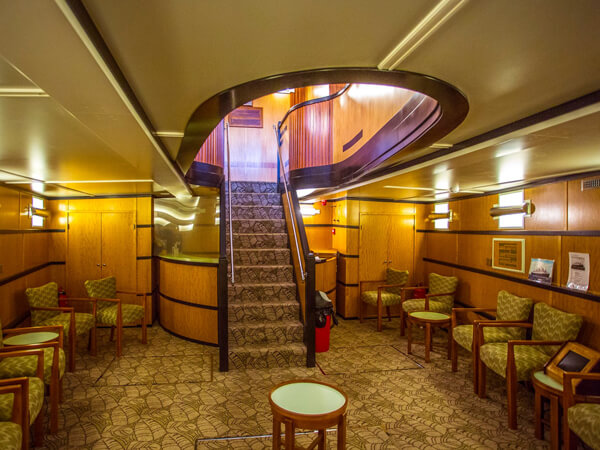 During February 2004, the intention of her owners (the MSCC) to break her up became known. This led to the formation of the Daniel Adamson Preservation Society (DAPS) the same year, whose aim is to restore her to public service, sailing from Liverpool Cruise Terminal, or the city centre Canning Dock all over the Mersey, Weaver and Ship Canal.
Since 2004 the Daniel Adamson Preservation Society (DAPS) has made great progress towards reaching its goal of returning the vessel to operation condition. 
----------
Heritage Lottery Fund support
In October 2012, DAPS were jubilant to report that the Heritage Lottery Fund (HLF) had received initial support for a £3m bid, including development funding of £37,000 to assist the Society's work towards a second-round application in 2013.
Paul Atterbury, DAPS president and Antiques Roadshow expert said: "I am so pleased to hear that the HLF Round One application has now been approved.  This is a major step and the door is now open to the road that, hopefully, will lead to the fulfilment of all our hopes. It brings the dream of seeing 'the Danny' back in service a bit step nearer to reality."
Louise Ellman, Liverpool Riverside MP and Chair of the Transport Select Committee, said: "It is wonderful news to hear the Daniel Adamson's Heritage Lottery Fund bid has been revitalised.  Not only will the ship be a piece of living, breathing Merseyside maritime history, but she will become an asset to be used by the whole community."
The commitment and fundraising paid off and in February 2015 the Heritage Lottery Fund awarded £3.8m to restore the Daniel Adamson to full working order.  The exciting news meant that she would once again be able to sail under her own steam.
----------
Volunteer Dedication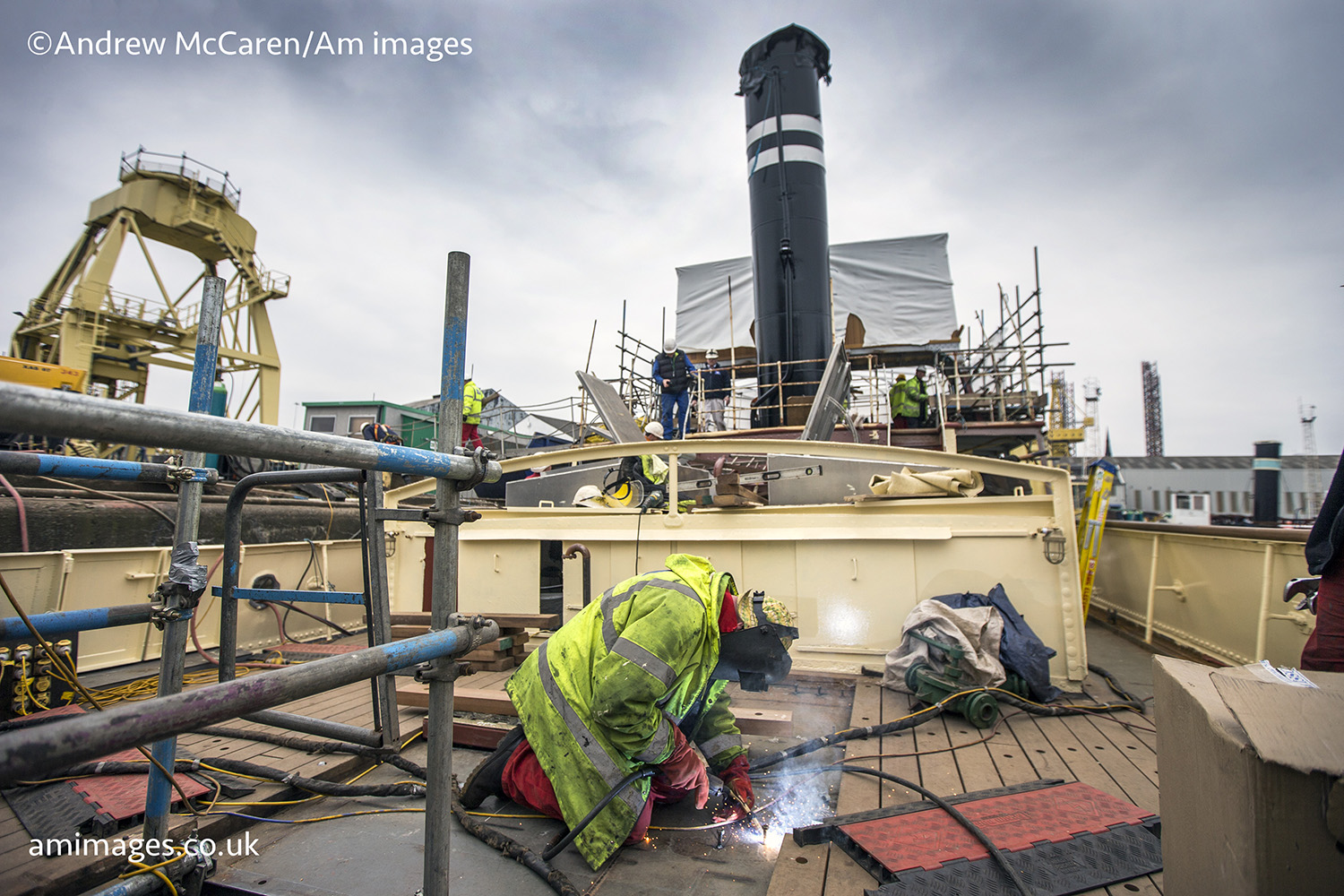 Many of the DAPS' volunteers have been working on the project for years and meet at their workshop in Sandon Dock in Liverpool where parts of the restoration have been completed (the workshop is kindly donated by United Utilities).
They always need a team of volunteers to keep the project going, so if you have an interest in steam, engineering, boats, tourism, education, fundraising, marketing or events, do get in touch: volunteering@danieladamson.co.uk 
Thanks to the support of the Heritage Lottery, their project has helped to change people's lives through the power of volunteering.  You can read one of their special volunteer stories here.
----------
Community Vessel
The Danny was rescued by volunteers so its heritage would reach present and future generations.  The DAPS wants to reach all sectors of the community through a range of activities targeted at different ages, abilities and interests.
In 2020 they will be running a number of family activity days, folk events and choir performances, offering a programme of workshops for scouts, guides and cadets and providing engaging days out for families who have a family member with autism or learning differences.
Find out more about the 'Danny for all' community here.
The Danny also offers schoolchildren exciting, hands-on learning experiences and an authentic encounter with the past; a chance to explore the history and significance of local waterways, crewed by people who worked on those waterways in their heyday.  Visits open up the opportunity to focus on local history, STEM, geography fieldwork and art skills and activities - workshops offer easy opportunities to develop children's learning holistically, across a range of areas on the curriculum, in a way that engages and inspires.
----------
Latest News
April 2022 The Daniel Adamson Preservation Society have been awarded a grant of £9,827 from the Arts Council's Let's Create Jubilee Fund. 
March 2022 The Danny launches their 2022 events and cruising programme. 
May 2021 The Danny launches their new season sailing programme, starting from 2nd July.  The vessel will also host the immersive audiovisual event By the Sound of Things as part of AND Festival 2021.
April 2021 The Danny has been inspected by surveyors from the HM Coastguard, has successfully renewed their class v passenger license and had their management documents audited and renewed for five years.
January 2021 The Danny's set to to return to service offering short cruises along the River Weaver after the completion of a project to install new propeller shaft bearings.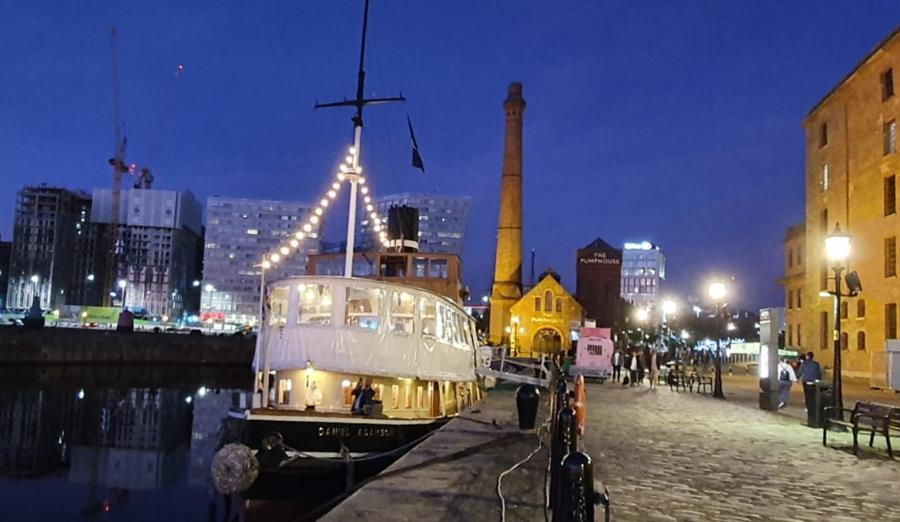 December 2020 Exciting new plans for 2021, currently being developed, include: A 360 virtual tour of The Danny - An interactive guide for tours on the ship, to include augmented reality - A Young Person's project enabling us to share skills with a younger generation - The ability to host virtual exhibitions to engage with schools & community groups or projects -  A new and better engaging map for the website focusing on the history of The River Weaver - A new blog, giving our archive a better platform to be shared - NEW Towline to be developed for 2021 with new writing team. 
December 2020 Here is a quick film introducing the Danny project through the words of the team's volunteers and Cathriona Bourke, their Learning & Participation Manager
October 2020 The Danny has received funding to the value of £151,000 from the Government's Culture Recovery Fund which will mean the 20 year volunteer-led project will be able to continue after facing a year of cancelled leisure cruises which provided much-needed income for the project and its ambitions to support the communities it comes into contact with. Full story here
September 2020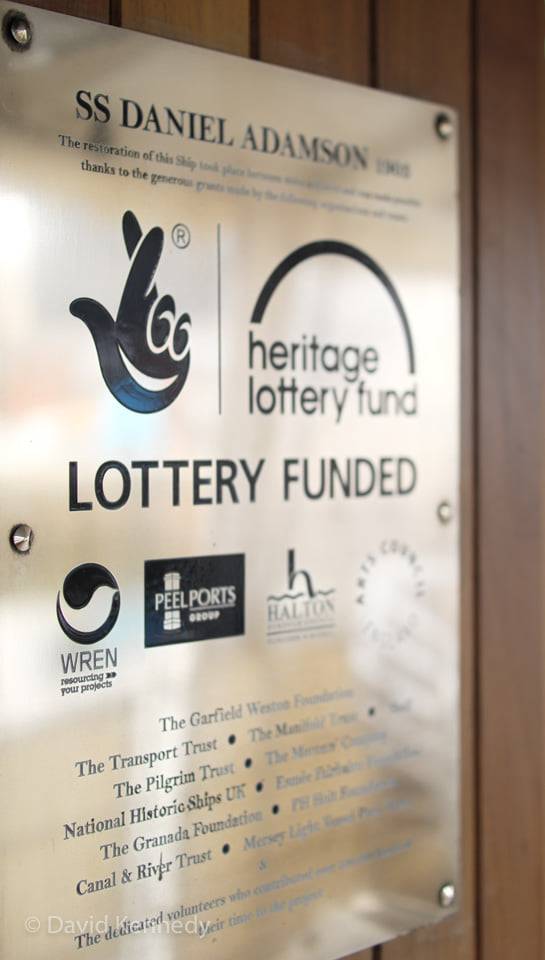 The Danny has received a £85,000 lifeline from the National Lottery's Heritage Emergency Fund to enable the important community project to keep going.  One of the projects under development which will be a huge benefit to visitors, will be a Virtual Reality tour of the incredible Engine Room, enabling visitors to experience the sight and sounds of an otherwise 'out of bounds' environment.  Full story
February 2020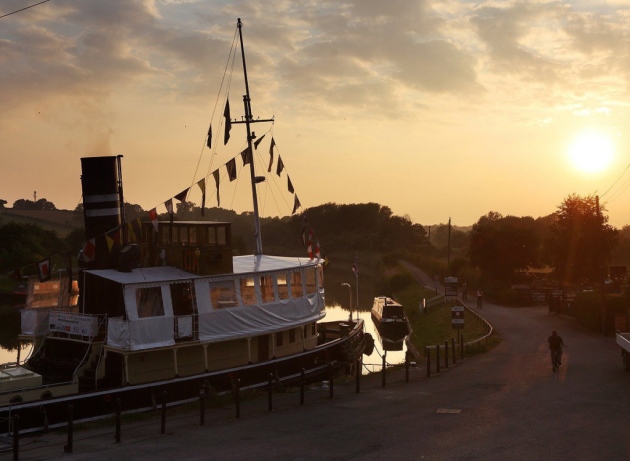 The team will be celebrating local heritage at a showcase event for local history groups as well as working with Cheshire Autism Practical Support (CHAPS), offering structured activities for families of children with autism in school holidays. Also working with Canal and River Trust to offer wellbeing and music events for all ages, and with scout, guide, cadet and youth groups to introduce more young people to the Danny's story.
The Danny is always looking for more volunteers to join her, with or without relevant skills as there is a role for everyone and training is given to all new recruits.  They even manage a couple of social events each year, so it's not all work!
Chairman, Keith Levin, who is himself a volunteer after a career as a solicitor, said: "The Danny is a social project with high aspirations. It does much more than offer a service to the public, it provides a community for the people involved which gives people confidence, friendship and is important to the people who choose to volunteer.
"Cheshire is lucky to have such a unique project (voted Attraction of the Year in 2019 by Frodsham) which offers a hobby for many people who may have found it difficult to find something so enriching after their careers have finished, or for people who are younger and want to learn new skills, the project offers a lot for many people."
Throughout 2020 the Danny will also be open for visitors whilst she is moored at Sutton Weaver, Acton Bridge or Anderton Boat Lift, where in return for a small donation the volunteer crew will happily give you guided tours, sharing their passion in their telling of her history and restoration.
The 2020 timetable for cruises along The Weaver Navigation - May to October - is now published with cruises starting from just £22 per person.  Bookings and further information can be found online at www.thedanny.co.uk
Content taken from Cheshire Life magazine

October 2019 - Best attraction of the year
The Daniel Adamson has been named The Best Attraction of the Year by The Mayor of Frodsham, Cllr Liam Jones.  They will be collecting their award during a special event held on The Danny on November 1st.
Well done to all the volunteers for all their hard work in making their project a well respected tourist attraction.
July 2017 - Daniel Adamson wins Regional Flagship of the Year Award for the North West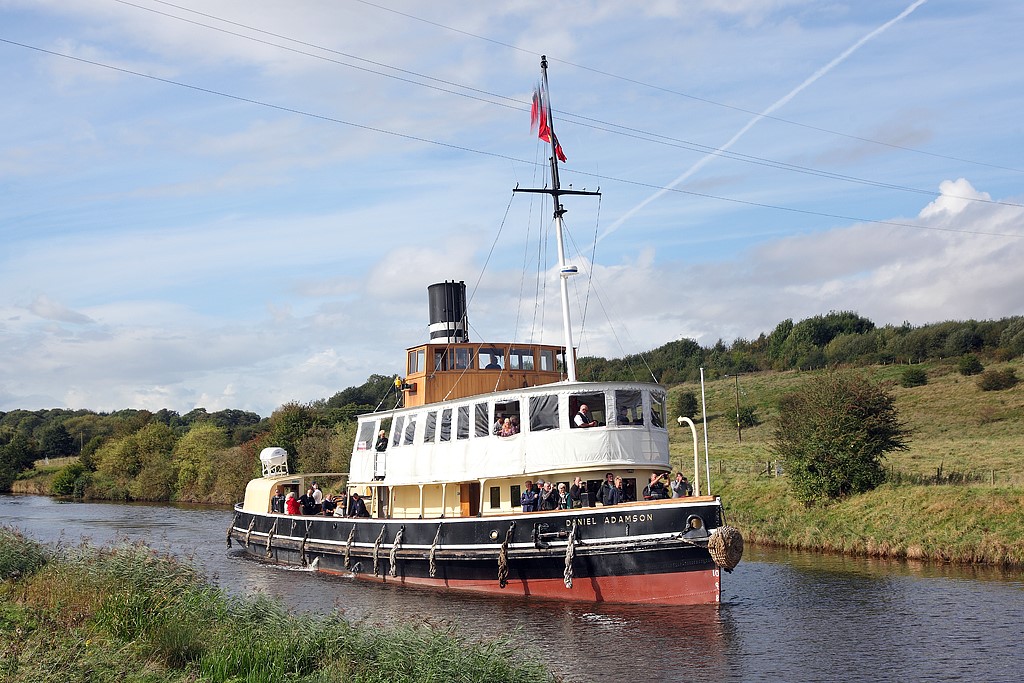 Earlier this month, National Historic Ships UK were pleased to present historic vessel Daniel Adamson with her Regional Flagship of the Year Award.  
Following  eight  successful  years  of  very  different  kinds  of  vessels  from  around  the  UK winning this award, National Historic Ships UK has again  awarded Regional Flagship awards to recognise the commitment that many vessels give to their home cruising grounds. 
In announcing the winners Hannah Cunliffe, Director of National Historic Ships UK, said:
"I am delighted that we are able to offer these Awards once more and publicise the range of cruising programmes which these vessels are planning for the coming season.  Our four 2017 Regional Flagships have all shown their enthusiasm for raising the profile of UK maritime heritage at the events they are attending and we look forward to working closely with them in the months ahead."
The Award criteria requires vessel owners to come forward with seasonal programmes to engage the public through festivals, demonstrations, on-board cruises, quayside visits, educational programmes, participation in races and similar activities. Flagships are expected to promote actively the role of National Historic Ships UK by distributing associated PR material and flying the flag as our ambassadors.
The four Regional Flagships will each receive a grant of £250 to be spent on the vessel, along with a special Regional Flagship Broad Pennant denoting the year in which the award was made.
Daniel Adamson (Regional Flagship of the Year 2017 for the North-West) won for her commitment  to  education  and engagement with  the  North-West's  maritime  heritage involving an intensive series of visits extending to Ellesmere Port, Liverpool, and Lymm. 
----------
Find out more about the Daniel Adamson Preservation Society here.