What is M Shed?
M Shed is the museum of Bristol's history, appropriately housed in former dockside transit shed M in the heart of the old city docks. The Museum has great maritime collections, not least those outside the building, and is part of Bristol Museums.
What can I see at M Shed?
Some of the biggest exhibits are outside M Shed and can be seen even when the museum is closed.  On most weekends, they're brought to life for trips and visits by volunteers.  The iconic working exhibits include the following historic vessels:
Pyronaut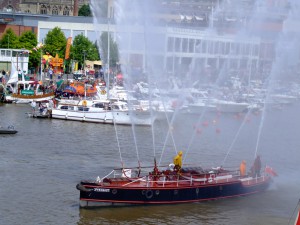 Pyronaut was a crucial part of Bristol docks' fire-fighting service for about 40 years.  Built in Bristol in 1934, she worked from the Prince Street Bridge river police station with a crew of 3 firemen, including an engineer who was based in the engine room.
In 1940, Pyronaut was faced with her most challenging fire-fighting period as the air raids of the Blitz damaged and destroyed countless warehouses, shops and homes around the Floating Harbour.
By the late 1960s, Pyronaut's equipment had become worn out and obsolete, so she was re-quipped but in 1973 she was sold out of service.  She eventually came into the M Shed's care and was completely restored and you can now see her on Princes Wharf in front of M Shed and in fully water-spraying action at events in the Harbour.

John King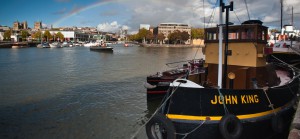 John King was built in 1935 to tow cargo ships, carrying goods ranging from paper pulp to sherry, from Bristol City Docks to the mouth of the River Avon.  The tug helped to steer the ships around the dangerous bends of the river.
During the Blitz, John King spent 17 action-packed days in Pembroke Dock fighting fires in the oil installations.  On her way back to Bristol she was attacked by a German aircraft.
As trade to the Bristol docks declined and motor ships became less reliant on tugs, her workload also gradually reduced but her last big towing job was watched by thousands of spectators when on 6 July 1970 she acted as escort to the ss Great Britain as the ship was towed from Avonmouth, on the last leg of her journey from the Falkland Islands.
Mayflower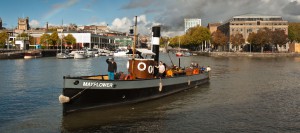 Mayflower is a steam tug built in Bristol in 1861 and is believed to be the oldest surviving tug in the world.  She was built to work on the Gloucester and Sharpness Canal and in the River Severn and was one of three tugs ordered after trials had shown how much more efficient than horses they were; altogether they cost £3,000.
In the late 1890s, she was altered to make her suitable for work in the Bristol Channel and she went back to work outside Sharpness, towing sailing vessels through the dangerous stretches of the Severn Estuary to the mouth of the river Wye and back again.  She would eventually work on every part of the navigation from Worcester to Chepstow.
When British Waterways took control of the canal in 1948, Mayflower was considered too old to modernise and escaped having a diesel engine installed.  Finally, British Waterways sold her for scrap in 1967 but, by chance, she survived a further 14 years, slowly deteriorating at her mooring in Gloucester as she was attacked by the weather and vandals.
In 1981 she was bought by M Shed and towed back to her birthplace and after a six year restoration by volunteers, she steamed again in 1987.
She marked her 150th anniversary in 2011.
Dockside cranes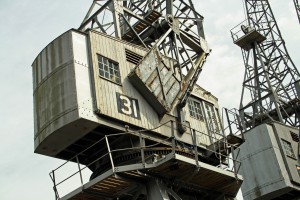 M Shed cares for five dockside cranes.  The Fairbairn steam crane was completed in 1878 and worked sporadically until 1974, lifting the occasional heavy loads that arrived at the port.  It can still lift is 35 tons design load and is regularly fired up for demonstration.  It's now a Scheduled Ancient Monument.
On the quay outside M Shed are four electric cargo cranes, erected as part of the complex in 1951.  Three are 3 tons capacity and one 10 tons, and all of them are still functioning.  Public visits to the cabs are a regular event.
The steam crane and the electric cranes were all made by Stothert & Pitt of Bath, world famous for their dockside cranes.
-----------------------------------
Latest News
March 2021  M Shed has been shortlisted for 2 awards at the Museum + Heritage Awards 2022 Full story
June 2021 M Shed will be the new temporary home for the statue of slave trader Edward Colston that was pulled down from its plinth and thrown into Bristol harbour during a Black Lives Matter march in June 2020.  The new temporary exhibition will go on display with a survey as to what visitors think should happen to the statue. 
May 2021 The four electric cargo cranes outside M Shed are to get a new paint job.