Situated in a spectacular location opposite the harbour in the fishing village of Anstruther, in the East Neuk of Fife, the Scottish Fisheries Museum (SFM) is a National Museum, telling the story of the Scottish fishing industry, its boats, harbours and communities.
History of the Museum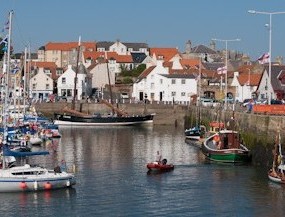 From the earliest recorded history of Anstruther, fishing was the mainstay of the town and at one time, more fish were caught, processed and traded here than at any other harbour in Scotland.  However, by the latter 20th century, the fishing industry was changing and Anstruther was no longer as important as a fishing harbour.
A group of people, concerned that a way of life would disappear without any trace or recognition, got together to form the Scottish Fisheries Museum Trust (established in 1967), with the aim of establishing a museum too mark the fishing heritage of Scotland, and Anstruther, with its past importance to the industry, was the obvious location to choose.  The buildings were then acquired from the National Trust for Scotland and the Museum was formally opened on 4 July 1969.
The Museum is still run as an independent charitable trust with the help of enthusiastic volunteers and is now acknowledged as one of Scotland's national industrial museums, with its collections formally recognised as being of national significance.
About the Museum
The Museum's aim is to excite informed interest in the development of the Scottish commercial fishing industry among people of all ages in and beyond Scotland.  The core story that they have to tell is the history of how, through a constant process of innovation, the Scottish fisheries became such an important part of the lives of so many Scots.
----------
Vessels of National Significance     
Three of the Museum's boats, Reaper (a restored Fifie Sailing Herring Drifter), Research (a first class Zulu) and Lively Hope (a 1930s ring-netter) are recognised as being of national significance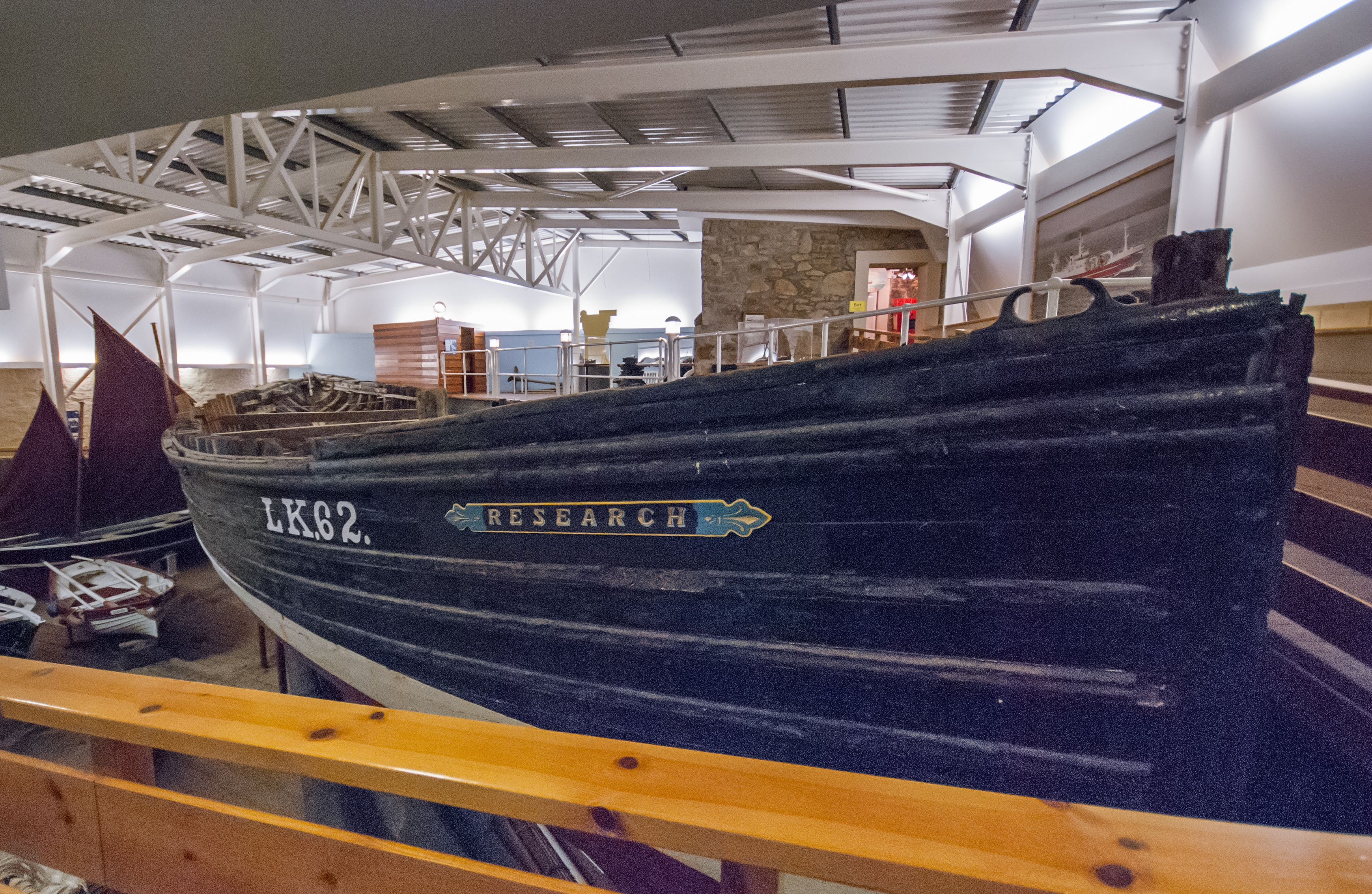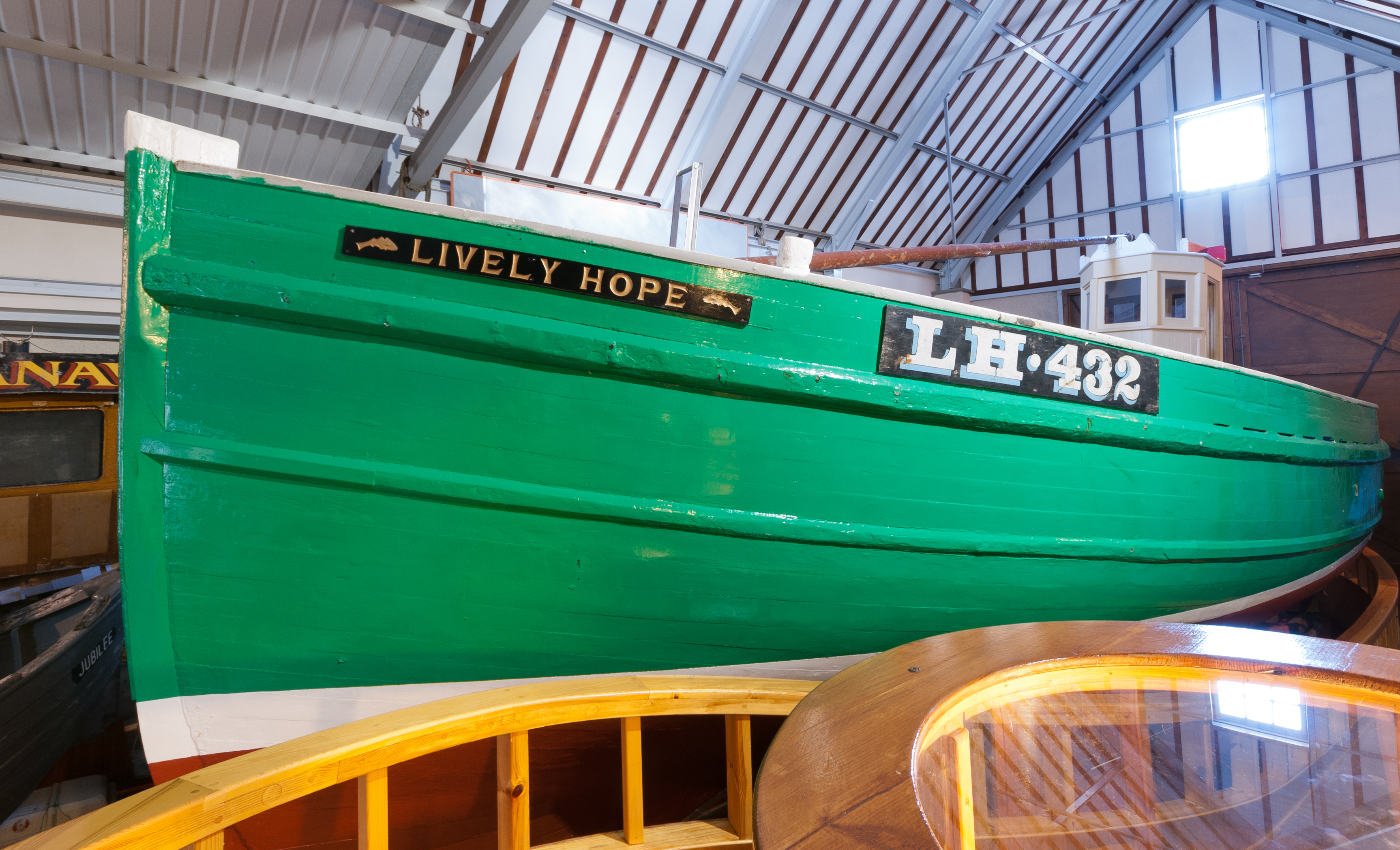 Of these three, only Reaper remains operational today.  Reaper is representative of the most popular design of fishing boat on the East Coast of Scotland for the greater part of the 19th and 20th centuries.  In the late 1930s she held the record catch of herring in Shetland, some 223 crans - almost a quarter of a million fish.
As the flagship of the Museum, she's berthed in Anstruther harbour outside the Museum and is now equipped as a floating museum of the herring industry.  She visits ports around Scotland and Northern England on cultural tours and as an outreach for the Museum at Harbour events.
----------
Mobile museum/Outreach
Once a year, Reaper heads out from Anstruther harbour to visit other areas of Scotland to allow schools which are further afield access to the SFM's floating museum and her knowledgeable crew.  This project usually takes place in late Spring, or early Summer.
----------
Learning/Community Groups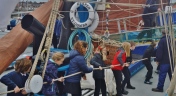 Inspired and active learning for all ages is important at the SFM; fishing and the marine environment, along with its many associated crafts, culture and towns, are engaging and captivating topics to explore.
The Scottish fishing industry and its associated crafts, people, environment, culture and towns is not only an important part of Scotland's history, but also its present and future, making them relevant topics for both primary and secondary schools, together with community groups of all ages.  
The SFM offers an exciting and diverse range of facilitated and self-led activities for all stages and abilities.
---------
Boat Building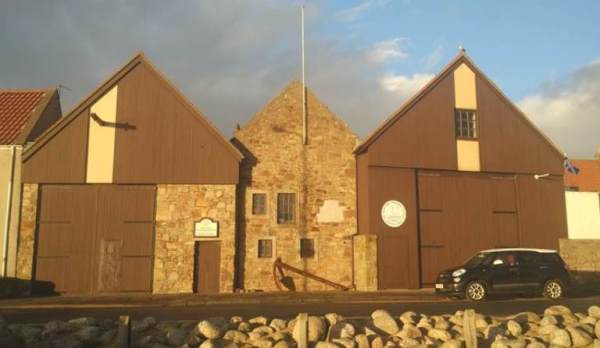 The SFM's Boatyard, formerly the Smith and Hutton Boatyard, is part of the Museum buildings located at St Ayles.  Some years ago the Museum developed a part of these sheds to house most of its collection of full-size fishing vessels.  Part of the boatyard is still operational, undertaking restoration and maintenance of the Museum's collection with the help of volunteers. 
A development plan for the boatyard will enable it to undertake works on private boats, such as building, restorations and maintenance to a museum standard.
Boatyard News 2019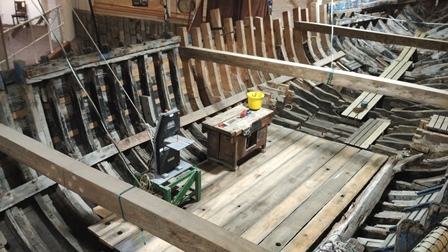 Research: when Research was built, she had heavy beams running from side to side and a deck but by the time she was moved to her current home inside the Museum, these structures were gone.
At almost 80 feet long and 20 feet wide, she's a very large boat to support out of the water and without the lateral support of the beams and deck tying her together, her shape has started to change.
SFM have been monitoring the situation and stabilisation works are now being undertaken to ensure she doesn't suffer further distortions to her shape.  This stabilisation work is possible thanks to funding from Museums Galleries Scotland Recognition Fund and the Work Strategy is as follows:
Phase 1: A combination of methods to return the hull to as close to its previous shape as possible.
Phase 2: Installation of wooden clamps, wire stays and additional hull supports in order to stabilise the hull in this position and minimise future distortion.
Phase 3: Treatment of the materials that make up the boat to protect it from future deterioration such as corrosion, dry rot and insect attack.
Athene - probably built in 1932 as a creel boat with a Lister SL3 engine, she was originally called Guiding Star and registered as KY250, but unfortunately the builder is unknown.  She is a 20ft boat and was donated to the Boatyard by a Boats Club member.  Volunteers are completing the refurbishment of the deck, hull and all other structures.  These include repairs to the planking, replacement of the sheer plank, caulking and sealing of the deck seams and paintwork. If you are interested in purchasing the boat, email leondardo@scotfishmuseum.org / T: 01333 310628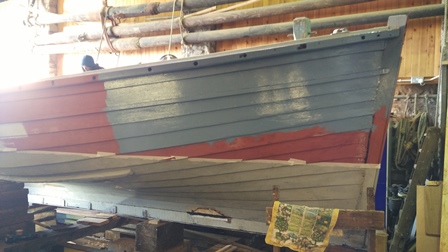 ----------
Latest News
April 2022  The Scottish Fisheries Museum has been awarded £25,331 from Museums and Galleries Scotland's Capital Resilience Fund.  Full story
December 2021  A new specially-commissioned 67 ft Douglas Fir Fore Mast has arrived for Reaper.  Full story
November 2021 The Scottish Fisheries Museum has won a prestigious Engaging People Award from the Association for Heritage Interpretation (AHI) for engaging communities during Lockdown through Knitting the Herring - Scotland's National Gansey Project.  Full story
August 2021 Award-winning historic vessel Reaper is in the last stages of a major conservation project at Anstruther Harbour and will soon be ready to welcome the public onboard. Full story
July 2021 The Museums Association, in collaboration with the UKRI and AHRC, have awarded the Scottish Fisheries Museum a Digital Innovation and Engagement Fund  for their photographic archive project. Find out more here.
May 2021  The Scottish Fisheries Museum has been announced as National Historic Ships UK's new Shipshape Network Scotland Hub.  Full story
May 2021 The Scottish Fisheries Museum has reopened to the public with a new exhibition, By The Seaside. Read their latest newsletter for all the news from Anstruther
January 2021 The Scottish Fisheries Museum have launched a brand new online exhibition showcasing some amazing knitted fish from around the UK and further afield with a 3D look at a traditional gansey. "Shoal" is free to access via www.scottishgansey.orh.uk/shoal-2. 
Full news story
December 2020 Check out the SFM's Christmas newsletter to find out about what they have coming up as 2020 becomes 2021! 

December 2020 The Scottish Fisheries Museum has secured vital funds of over £100,000 through the Museum Galleries Scotland Recovery and Resilience Fund. Full story
November 2021 The Reaper restoration project was awarded Winner of National Historic Ships UK's Martyn Heighton Award for Excellence in Maritime Conservation 2020. Read more
October 2020 The Scottish Fisheries Museum have a brand-new web app to enhance your visit to the museum.  Full story
August 2020 - The Scottish Fisheries Museum is welcoming back visitors and re-opening on 26th August.  Full story

May 2020 - After having to close their doors in March 2020, the Scottish Fisheries Museum has received vital funding support.  Full story 
April 2020 - Sea Change exhibition now LIVE and available on the SFM's website! To celebrate its 50th anniversary & the Year of Coasts & Waters, the SFM looks to the future to explore what the seas and the fishing industry will be like in 2070: https://bit.ly/3ckTmhk
May 2019 - Scottish Fisheries Museum turns 50 and we are celebrating in style! Starting from the 4th of July 2019 (SFM's official anniversary date) there is a year of events scheduled so everyone can join in the celebrations.
It all begins at Rosyth, where our flagship, the Reaper, who many will know, has been undergoing major restoration.  On the 4th of July, she will be handed over in a ceremony at Rosyth before making her way along the Forth, escorted by a flotilla of 50 boats or more.
Meanwhile in Anstruther there will be a welcoming party waiting.  From 2-6pm there will be events at the harbour to herald the Reaper's arrival. We look forward to seeing as many people there as possible to give her the greeting she deserves.
And that's just the beginning! From a light parade to treasure hunts, exhibitions and even some ghostly goings on, The Scottish Fisheries museum will have a jam-packed programme to bring you.  They aren't just staying still either, we will be attending other events across Scotland in the next year talking about our 50th Anniversary, including holding displays at various industrial museums in Scotland thanks to Go Industrial.
Further details of all the events mentioned will be posted on the museum's website as the programme is finalised.  If you want to keep up with event information at the Scottish Fisheries Museum, you can also like their Facebook Page, or follow them on Twitter: @scotfishmuseum and Instagram: scottishfisheriesmuseum