About the Steamship Freshspring Trust
The Steamship Freshspring Trust is an educationally orientated charity which owns the historic steamship Freshspring.  Their aim is to both restore the ship to working condition and to use it as an educational resource aimed at encouraging young people to consider a career in the maritime and engineering industries.  To achieve this, they are developing onboard and classroom-based learning facilities and simulation equipment, something that is not available in the traditional classroom.
The SS Freshspring was built in 1946 as one of fourteen 'Fresh' class shore-to-ship water carriers for the Navy, and was base initially in Malta.  The ship was sold out of service in 1977, after which she was kept by two private owners.  SS Freshspring is the only survivor of the class.  When the Trust acquired her, she was in a very poor state in the Severn estuary on a berth that was time limited.
Rather than see the ship scrapped, an inspired group set up the Trust and in 2016 the National Heritage Memorial Fund provided a grant to tow the ship to a dry dock, re-plate sections of the hull and tow her to a new berth in Bideford, where the ship was berthed on 16th October 2016.
From the day the ship arrived in Bideford, an ever growing number of volunteers have been working on enhancing and maintaining her, whilst another group have been planning and working towards the ship's future.
In 2017 they applied to the Heritage Lottery for a grant to restore the wheelhouse (the original of which had rotted away), carry out further work on the decking and superstructure and employ an Education Officer and a Project manager.  To support their application they obtained match funding from local Councils and funders, culminating in an award of the full grant in late 2017.

The Trust's Objective
The Trust aims that by 2025 the SS Freshspring will be restored to working order and a nationally recognised attraction, both as a maritime resource and as an educational facility and tourist attraction in North Devon.  
The first phase of this project is to have a Feasibility and Viability study undertaken:

- the Feasibility study will confirm that the ship can be converted to carry passengers, primarily in sheltered waters.  It will tell them how they can restore the ship to the standard required to operate as a passenger ship and also provide foundation information for the work required to enable shipyards and contractors to prepare quotations for the restoration and modification of the vessel.  As of March 2021, the Trust is still gathering funds in order to undertake this.
- the Viability study will look at all the ways in which Freshspring can become financially self-sufficient.  The Trust needs to become sustainable in the long term and the conclusions from the viability study will provide this valuable information.
----------
Learning
Maritime & Engineering Studies - the Trust constantly strives to promote careers in maritime and engineering throughout its activities and at shows, school career fairs and events.  In partnership with the Merchant Navy Training Board (MNTB) and Jobs in Maritime, they aim to ensure that young people are fully aware of careers available in the maritime sector.  
In conjunction with The University of the West of England and Plymouth University, they provide opportunities for students to carry out academic projects linked to SS Freshspring to engage them with the maritime sector.
They also work with Chiltern Maritime to create month long placements at the ship as part of sea-time training.
Schools are encouraged to bring children to the ship where they can see first-hand how a vessel operates.  They also engage in activities such as rope-making.
To work towards providing placements for marine cadets, we are working with Chiltern Maritime to create month long placements at the ship as part of sea-time training
At Primary level, we have a mainstream school project based on STEM subjects. An element of this project is to connect young people to maritime, planting a seed for future career opportunities.
Schools are encouraged to bring children to the ship where they can see first-hand how a vessel operates. They also engage in activities such as rope-making.
Schools - both onboard and outreach sessions to schools are offered.  A range of activities include: rope-making, knot-tying, archival and artefact based activities, timeline, ship tour (onboard only).  In addition they loan a STEM/Engineering Box Project to schools for half a term.  This consists of a series of six consecutive lessons, complete with all resources, instructions and lesson plans.  It is primarily aimed at Years 5/6 but could easily be adapted.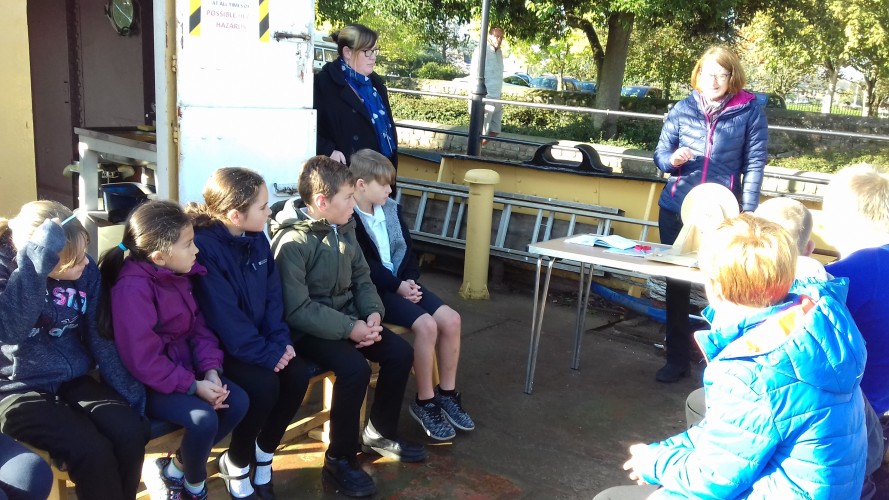 In 2020, the team launched Freshspring Junior, a fun, interactive website developed in partnership with the University of the West of England.  This learning platform is only available to schools who've participated in Freshspring's Engineering Boxed Project and aimed at primary school pupils who can enjoy playing games, reading stories from real sailors and learning new skills!

----------
NEWS
August 2021 SS Freshspring will be hosting a Family Open Day on Monday 30 August, Bank Holiday Monday. 
November 2020
The SS Freshspring Trust has been awarded £66,100 from the Government's Culture Recovery Fund (second round). 

Freshspring now has a fantastic awning ready to use - see previous news from January 2020.  

October 2020 - BMT Global visit Freshspring to start filming their virtual reality (VR) tour. 

May 2020


While maintaining social distancing, some work carries on the mast onboard Freshspring with the corners continuing to be taken off and making it look a little more round every time.  With the sunny weather we have been having it means that we can quite happily use the power planer all day powered by our inverter and solar panels, which is a lot more pleasant than having to start up the diesel generator.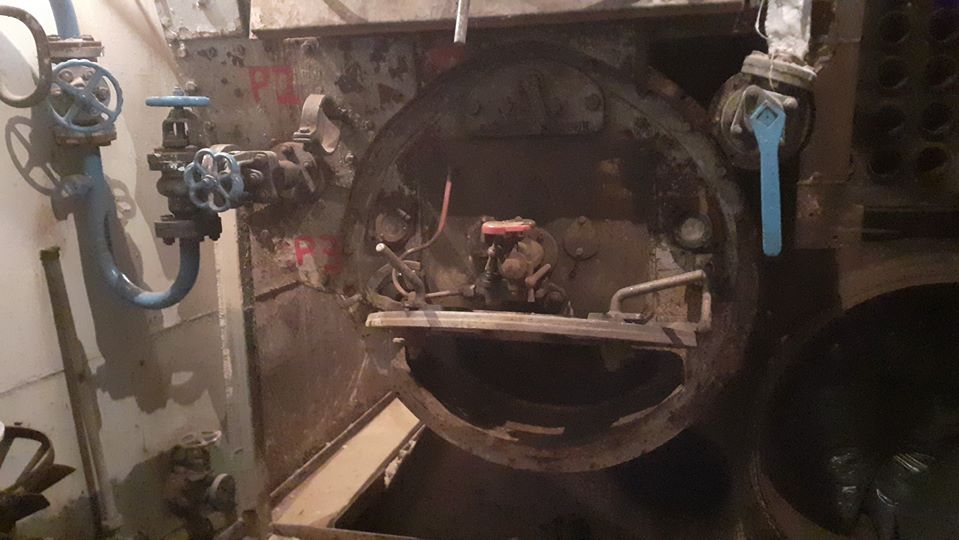 Meanwhile below decks, cleaning and preparation work on the boiler carries on. This is in readiness for a boiler inspector visit in the not too far distant future. For this inspection we are gradually cleaning off any surface corrosion from the boiler plates, but as you can see from the photos, access isn't wonderful. We are confident that the boiler is serviceable with only a little work, but we still need a suitably qualified person to carry out the inspection to confirm this.
January 2020

On the 15th of January a squared Douglas Fir tree was delivered to SS Freshspring from Lord Clinton's estate having been selected and felled some months ago.  This is the foundation for the creation of a new mast for the ship.  The original having long since been removed as it was a danger.  Our gallant ship volunteers under the guidance of highly experienced shipwright, Haydn Samuels of Britannia Sailing Trust, are going to shape this into a 10 inch diameter pole which will be tapered over the top 12 feet.
This is an exciting project as it will return SS Freshspring to a vessel looking very much as she should. Our volunteers will also learn a new and valuable skill.

January 2020 - Crowdfund campaign launched for new awning
A crowdfund is aiming to bring new life to the historic vessel which needs a new awning.  A spokesperson for the Trust said: "The awning will make a fantastic covered space for a range of special events, disabled visitors and a variety of school group activities. To make the available space on board as useful as possible, we're going to fit an enclosed awning over the deck.  
June 2019 - Freshspring reunited with her siren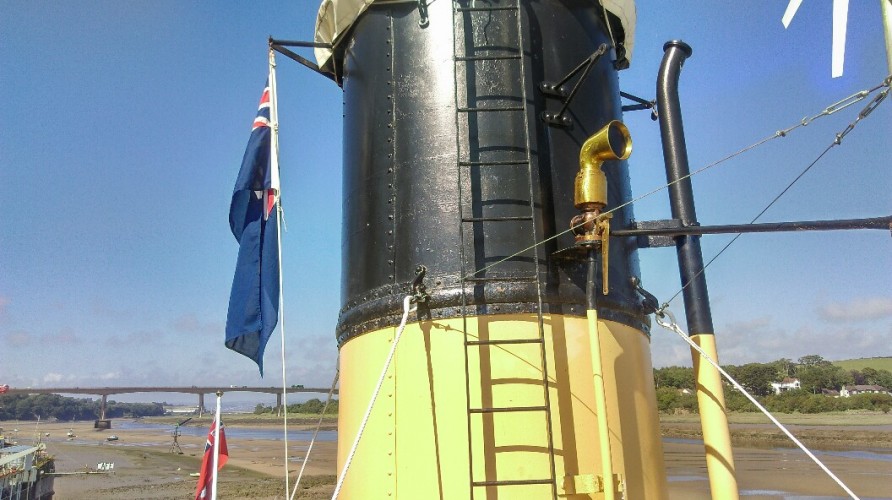 On the 19th June, SS Freshspring was reunited with her siren, which was removed some 30 years ago.  This represents another step towards the ultimate goal of bringing the ship back into steam.  Navy ships used a special type of siren not used on other ships.  It was designed to be an effective signalling system in fog.

April 2018 - Freshspring receives her wheelhouse 
On Monday 16th April 2018 after many months of work, as part of a project supported by the Heritage Lottery Fund, Bideford Bridge Trust, Torridge District Council, Headly Trust and Balsdon Trust, SS Freshspring received her timber wheelhouse. The wheelhouse still requires final fitting and fitting out, but vastly improves the looks of the ship once again and creates a useable visitor and education space.
John Puddy, chairman of the Freshspring Society, said: "This is a great day for us because we have taken delivery of our new wheelhouse which has been fully restored by Cornish-based shipwright Butler and Co."
This would not have been possible without the hard work carried out by our dedicated volunteers, for whom we are very grateful.

SS Freshspring receives Lottery funding boost
The project to restore SS Freshspring, a rare historic steamship, has taken another major step forward.  A £61,000 National Lottery grant has been awarded by the Heritage Lottery Fund (HLF). The news comes less than 18 months since the Trust was awarded £155,000 from the National Heritage Memorial Fund (NHMF) to transport the ship from Newnham on Severn and berth her in Bideford.
Made possible by money raised by National Lottery players, the award is for a two year programme including works required to open the ship to the public as a heritage attraction. There will be a considerable emphasis on education from school age children to the general public. The grant includes funding to employ an Education and Project Officer.
----------
You can get the latest newsletters and help support the SS Freshspring Trust by becoming a member.  Click here for further information https://www.ssfreshspring.co.uk/get-involved/membership