About Stirling & Son
Stirling & Son are based in Devon and offer a comprehensive service for all wooden boats: repairs, restorations, rebuilds, yacht design and new builds, spars and rigging, clinker dinghies, wooden boat surveys, design and consultancy, project management.
Slip & Yard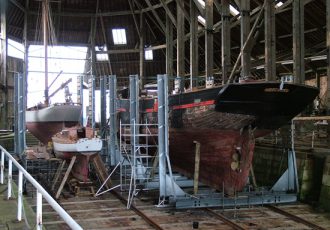 Slip Capacity: the slipways is 173' long and can accommodate vessels of up to 14' draught. 
The undercover air draft is 54' at the top of the sip. 
The winch services two railways and cradle racks which are rated to 200 tons.
Yard Rates
Their yard rates is £35/hour
Slipping charges are £10 per foot of length to haul out and return to water.
Free storage whilst work is underway.
Covered Slip History
No.1 Covered Slip is the oldest remaining covered slipway in the world.  Built in 1763 the slip was 250 years old in 2013.  The roof was added in 1814.
The slipway is 53m (173') long and the roof is supported by a double line of 23 trussed wooden pillars.  At the north end, the roof is apsidal in order to accommodate the bowsprits of ships.
Although the slipway was re-laid in 1914 it has undergone comparatively few alterations and is still used as was originally intended.  It is now a Scheduled Ancient Monument (the same listing as Stonehenge).
Will Stirling has a family connection to the slip: in 1798 his great, great, great, great grandmother, Eliza Barlow, launched Nelson's flagship, the Foudroyant (80 guns) on this very slipway.  Her husband, Admiral Sir Robert Barlow, was an Admiral in Nelson's navy and their daughter, Hilare, married Nelson's brother, William Nelson.
----------
Next Project...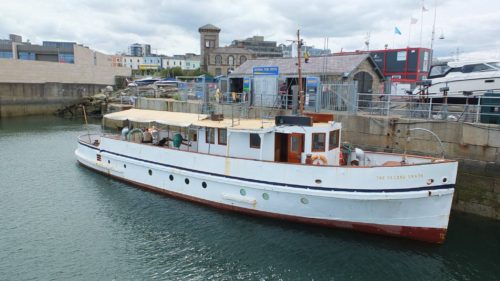 In September 2017, Stirling & Son reported their next project was the 75' Denny's built steel tug Second Snark which has been collected from Scotland and sailed to the No.1 Covered Slip, Plymouth to start her restoration and refit.
----------
Previous Projects...
Yawl for HMS Victory: in 2008 Stirling & Son were commissioned to build a 26' yawl for HMS Victory as part of the ship's 1805 compliment of boats.  A contemporary draught was sent down from the National Maritime Museum in Greenwich and a build specification taken from David Steele's 'The Elements and Practice of Naval Architecture' of 1805.
Construction took 16 weeks. The yawl has full length larch planking on an oak frame. Fastenings are copper and bronze.
The yawl can be seen in Portsmouth beside HMS Victory.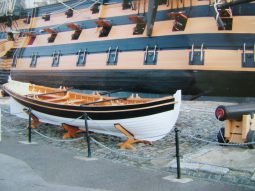 ----------
Silver's Motor Yacht Life Aquatic
Life Aquatic is a 72' classic motor yacht built in 1952 in Silver's yard in Scotland as Thelma V1.  Designed by John Bain she is an Ormidale class boat which were built between 1950 and 1972 and ranged from 48' to 72'.  She has a beam of 14' and a draught of 5' 6", built of mahogany and pitch pine on oak.  Her propulsion is two Gardner 150hp diesel engines, giving her an average cruising speed of 8 knots.
Life Aquatic came to Stirling and Son for a two year major restoration and re-fit which included re-planking, re-framing, replacing her transom, a new teak deck and a re-designed interior. Every bolt in the boat was changed and she was completely refastened. Along with about half of her planking and framing she also had a new beam shelf and deck beams, new semi-swept teak deck and new extended wheel house. Her interior was designed by India Mahdavi design in Paris with Dubois Naval Architecture producing the interior plans. As many original items as possible were salvaged and re-chromed. She was rebuilt and fitted to the highest standard in every aspect and also to meet category C for her MCA coding.
She slipped back down the slip in May 2016 and was delivered by Stirling and Son to Monaco. She is now a private motor yacht based in the south of France. For the full story of her rebuild see the October 2016 issue of Motorboat and Yachting.
----------
Tamar Salmon Boat
One of Stirling and Son's over 35 new build clinker dinghies was a particularly special project built alongside one of the last Salmon fisherman from the Tamar river that divides Devon and Cornwall in the south of England. With no original boats left, and very few surviving men who fished from them, any record of these river boats was at risk of being lost and forgotten forever.
Will worked alongside this fisherman who was in his 80's and had all the construction details and dimensions in his head. Will drew them up as a lines plan from which they set up the moulds and made minor adjustments.
Named after his wife (who sadly died during the project) the Salmon Boat was constructed in his garage from spruce planking on steamed oak frames and fastened with copper and bronze. On completion the lines plan was sent to the National Maritime Museum, Greenwich to join their collection as an example of these local boats.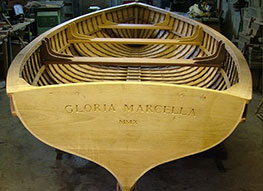 ----------
NEWS - January 2020: In the No.1 Slip building, the 42ft John Bain-designed Silver Leaf Kingfisher is undergoing conservation, seeing hull and decks restored to as-built condition, with systems and machinery modernised to take on the expectations of the 21st century.
NEWS - May 2019: Stirling & Son's yacht, Integrity, is on the first of her three Arctic voyages this summer.  You can follow her progress from Iceland to Jan Mayen on http://integrityexpeditions.com