About Zebu 
Zebu (originally named ZIBA) was built at AB Torre Holm's Skeppsvarf shipyard in Raa, Sweden in 1938.  She was originally built as a Galleass, but used as a Baltic trading vessel – for which she was rigged as a ketch.  Typical of this type of vessel, she carried a wide range of cargoes including timber, iron ore, and paper. It is believed that during the Second World War she was used to smuggle arms and refugees from Poland and Denmark to Britain.  As a trading vessel, she was in service until the late 1960s, although at some time her rigging was removed, and she became motorized.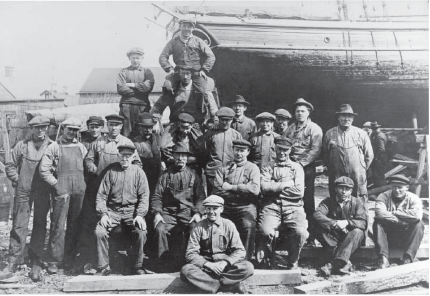 Operation Raleigh
During the early 1970s Zebu was used recreationally and had been converted back to a Ketch rig and became UK registered.  She came under the ownership of Mr Nick Broughton in 1983 who had her refitted as a 1870 replica Brigantine at Lowestoft in preparation for her use during Operation Raleigh.  The rig change was necessary as would greatly assist with following trade wind/downwind sailing during the circumnavigation. Operation Raleigh, named to commemorate Sir Walter Raleigh's first colonising expedition to America in 1584, was a four-year round-the-world expedition launched by HRH Prince Charles starting from the UK in October 1984 when Zebu sailed from St. Katharine Dock on the Thames in London.
The aim was to involve 4000 young people aged 17-24 years, who were called "Venturers", of many nations (2000 from the UK) in a variety of challenging expeditions mixing adventure, science and rural community aid projects.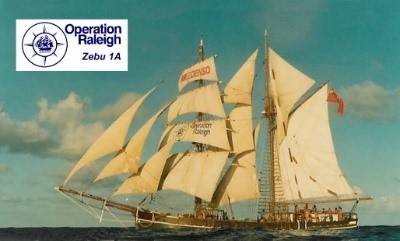 Flagship of Liverpool
Following her circumnavigation of the globe in the late 1980's she found a new home in Liverpool with the Mersey Heritage Trust, where she operated for 27 years.  Zebu underwent another major overhaul and refit that started in 2000. Brigantine Zebu became known as the 'Flagship of Liverpool' having won awards designated by the Foreign and Commonwealth Office and Department for Education and Skills as an exemplary UK learning project in an EU study working with the Swedish Government and earned its status as an 'Investor in People'.
Zebu's decline
Zebu's decline began when in early September 2015 the ship listed to port, with no-one aboard, and sank at her berth in the Royal Albert Dock, Liverpool Work to raise her started late September 2015, by numerous salvage teams. 
Three days after she was re-floated, she was towed from outside the Tate Liverpool to her current home at Canning Dock, beside the Merseyside Maritime Museum.
The cause of her sinking remains unknown to this day.
Saving Zebu- Tall Ship ZEBU CIC
Tall Ship Zebu remains in Canning Dock, part of the Royal Albert Docks complex in Liverpool, alongside the Old Pump House pub in just a whisper away from the Merseyside Maritime Museum. 
Zebu's current owner, Captain Gerrith Borrett, and his wife Suzi purchased Zebu in January 2017 and together founded Tall Ship ZEBU CIC in February 2018.  Their goal is to restore Zebu to her former glory and eventually get her sailing again as fine working example of maritime heritage and educational platform.   Since 2018, both have been working hard to get Zebu back in shape along with a team of volunteers.
In 2018, Captain Gerrith and his wife Suzi commented:
'We are glad to say that Zebu is now in a condition where we can safely welcome visitors back on board.'
Reopening Zebu to welcoming visitors was a great accomplishment as they had to fulfil the required risk assessments and obtain the necessary insurances. Since reopening, thousands of visitors have been on board, learning about Operation Raleigh, and the ships historical maritime heritage, as well as enjoying the majesty of the ship and, for children, the joy of playing on a "real pirate ship", Zebu remains a fine example of Maritime Heritage and traditionally rigged sailing vessel.
The restoration project – Tall Ship ZEBU CIC
In November 2017, Zebu received a Heritage Lottery Resilience fund of £99,500 to safe guard Zebu and build the Zebu team. 
For the following 8 months the Zebu team worked hard to get urgent repairs done to the hull.  Having had the repairs done, Zebu is now safely water tight again and moored up alongside in the Canning Dock and was able to allow visitors on board again during the 2018 Albert Dock's busy season of festivals.
In 2018, during the Liverpool Tall Ships festival, Zebu received 6,000 visitors over 3 days!
In June 2019 Tall Ship ZEBU CIC received further National Heritage Lottery funding of £99.800, to carry on with urgent repairs and conservation and to install an electric propulsion system.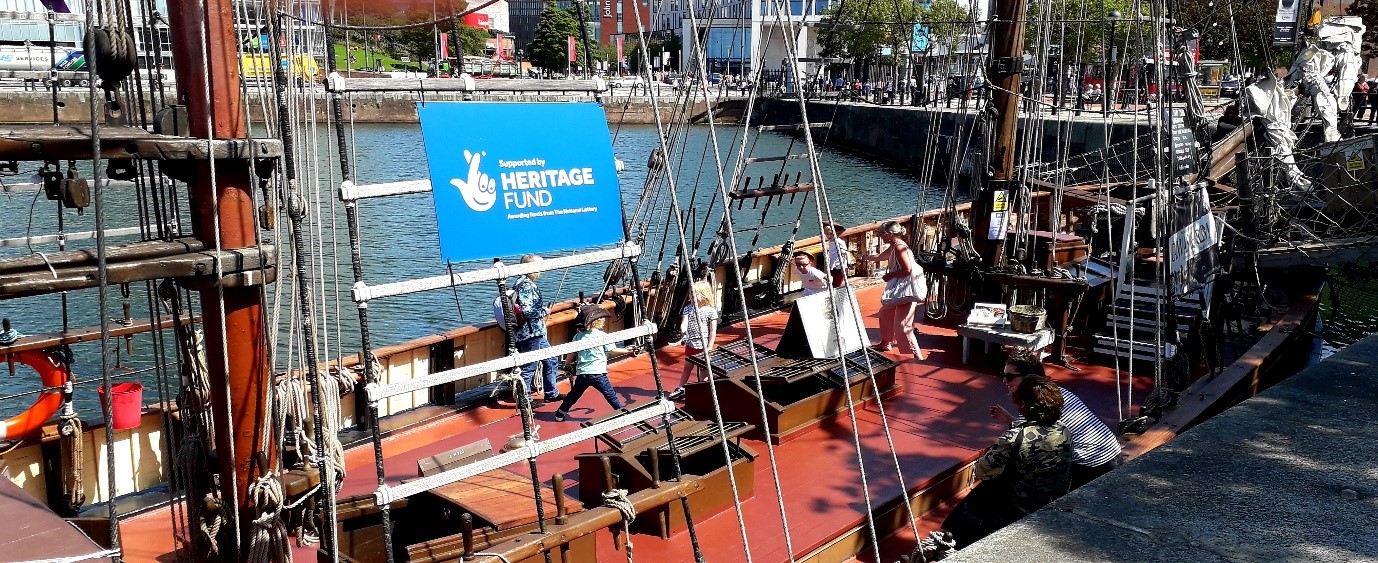 Throughout 2019 volunteers have worked on Zebu - stripping out old, damaged wood, the rotten timbers from the deck and below-deck areas, old machinery and the old diesel tanks.  Tall Ship Zebu hopes to become a 100% renewable energy-powered ship and an example of green sailing for future generations.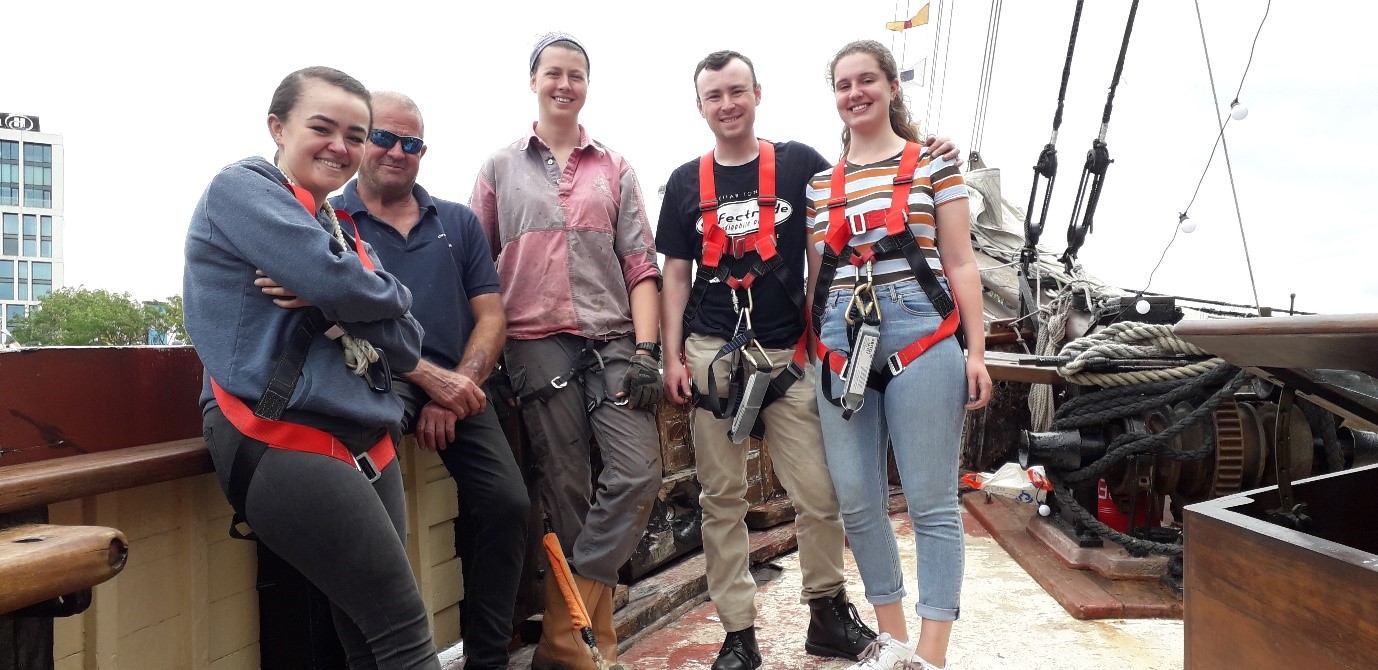 Alongside work above and below decks, volunteers also help with welcoming visitors during the day, as well as coordinating and helping out during festivals such as the recent River Festival 2019 with Zebu featuring as a major attraction with theatrical performances of 'Moby Dick' adapted by Piasecki and Piasecka Theatre Company and later another theatrical performance of "Canvas & Rum" by North and South Theatre Company and coordinating the recent smaller scale annual pirate shenanigans in Canning Dock, Liverpool.  Zebu has also been hosting several private functions and educational workshops throughout 2019.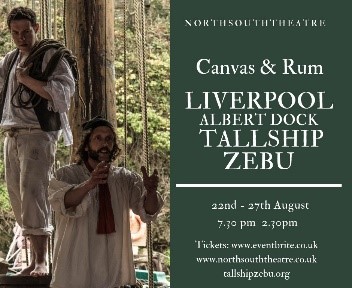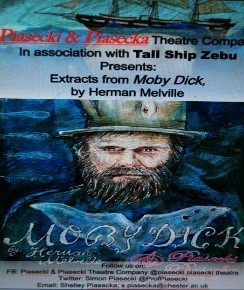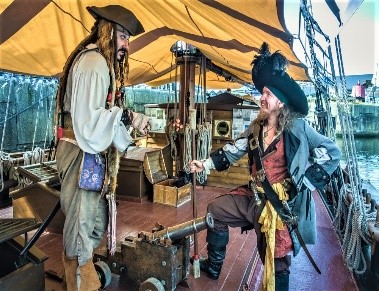 In August 2019, Tom Borrett, Zebu's youngest member of the team, completed his STCW qualification in sea safety and ENG-1 medical certification, as well as taking part in extensive sail training experiences, becoming a qualified deck hand in preparation for Zebu's 2020 adventures.
In summer 2019, the hull and deck were stripped of old paintwork, new canvas covers were designed and fitted to protect the ship. New user-friendly information signage has been added for a better visitor experience.  4 workshops have been developed for educational groups.  Caulking and repainting the entire hull above the water line, is still in process along with repairs to the bow and servicing the rigging.  A new electric motor is scheduled to be fitted by the end of October 2019 along with new safety and navigational gear.  
Tall Ship ZEBU CIC also works closely with MAST (Mersey Side Adventure Sailing Trust) to give prospective sail training trainees a 'Tall Ship taster' before they embark on a fully operating sail training vessel.  Many local Liverpool schools and colleges have visited ZEBU as part of their educational projects.  Whilst on board they can learn Maritime Heritage, including – for example – some of the ways in which sailing heritage has influenced the English language through words and expressions.  Students learn about rigging and points of sail, as well as observing mast climbing demonstrations.  The hands-on learning which takes place on board Zebu offers students an interactive, beyond-the-classroom immersive experience – filling a gap with a desire to learn more about the golden age of sail in Britain and the world.
The Liverpool community benefits from having at its maritime centre a heritage tall ship such as Zebu, one of the last traditionally rigged wooden ships based in the North West of England that still functions as a living example of maritime heritage and is open to the public daily.
Plans for the near future with Zebu 2020-2024 will be called 'The UK Sea Messenger' - a sustainable adventure. In short, their drive and passion as Tall Ship ZEBU CIC is to safeguard, remember and record the rich and fascinating heritage and history of Zebu, and to promote and develop the skills of future generations of young sailors inspired by the historical appreciation of the UK's maritime past.
Further detailed information about Zebu can be found on Tall Ship Zebu's website.