The Thames Sailing Barge Trust (TSBT) is a registered charity that exists to preserve two Thames barges in sailing condition for the benefit of the public and to pass on the skills required to sail them. Although the TSBT owns the barges they are operated by a wholly owned trading subsidiary TSBT Sailing and Charters Limited. This is a non-profit company and all sailing fees and membership subscriptions are used to maintain and restore the barges and meet their operating expenses.
The TSBT owns two Thames spritsail barges, Centaur and Pudge.
Constructed in 1895, Centaur is one of the surviving operational wooden barges from the well-regarded barge builders 
 John & Herbert Cann. She was launched at Harwich and took part in the traditional barge races from build.                   
During her service in the coastal trade, she visited ports of France. Belgium and the Netherlands. She continued trading throughout the First World War, then carrying coke and pitch, before entering the grain trade. From 1933 she joined the Colchester fleet of Francis & Gilders Ltd, which merged with the London and Rochester Trading Company in 1951. Her registration was closed in 1955 and she became an unrigged timber lighter. She was subsequently sold to the Thames Sailing Barge Club (now Trust) who, since 1977, have conserved and reconstructed her over 35 years mainly with volunteer labour. During this time she has continued to race regularly, winning the Inter match Trophy in 1993.

Centaur continues to operate on the East Coast in her original heritage setting and with the same rig as in her cargo-carrying days. The Trust retains the use of rope made from natural fibres such as hemp and sisal and wherever practical, traditional materials and methods are used.
Pudge was built in 1922 by London & Rochester Trading Co. and is a Thames sailing barge with a hull construction of pitch pine on oak with a flush deck, the steering wheel on a 'short spindle' without the usual raised cabin top.  Originally spritsail rigged with bowsprit an auxiliary oil engine made by The Bergius Co. Ltd of Glasgow was installed in 1932.  Pudge is one of the last wooden barges to be built, (although further barges were built of steel).
---
The Restoration Project
A survey found that conservation work was required on Centaur, the first major conservation the historic vessel had undergone since 1995. She was constructed with two layers of bottom planking: a two inch inner layer and a one inch sacrificial outer layer, which protects the inner layer of the hull.
Following 118 years of working, the sacrificial planking fore and aft were wearing thin and needed replacing. The inner two inches (which are the vessel's original bottom from 1895) were sound, except for one or two timbers at the stern which were replaced in elm, as per her original planking.
The sacrificial layer were replaced in hardwoods Opeipi and Iroko, taking around 20 weeks to complete.
Heritage Lottery Fund (HLF)

In August 2013 the TSBT confirmed funding of £100,000 from HLF enabling the work to be undertaken.
Roger Newlyn, Trustee and Chair of the TSBT said: "We're delighted that the Heritage Lottery Fund has given us this grant. Centaur carried bulk cargoes on the Thames Estuary and the rivers of Essex, Suffolk and Kent for over sixty years and these days she is central to the Trust's aims of passing on to the next generation the traditions of  sailing and maintaining these iconic East Coast vessels."
 
---
Developing skills
The project allows the Trust to work with a number of outside organisations that already provide training for working on wooden vessels.
Tom Browning, an apprentice from the Faversham Creek Trust, worked on Centaur.  He achieved his Level 2 apprenticeship with Simon Grillet, during the Cambria restoration at Standard Quay in 2011. He undertook his Level 3 training through this work experience.
The reconstruction work was carried out at Oare, Faversham, under the management of shipwright Tim Goldsack.
The Trust also uses Centaur as a means of training volunteers to be skippers and mates, ensuring the future of the vessel's sailing activity.
---
Better condition
When the sacrificial bottom planking was replaced, Centaur was able to obtain a new 5 year MCA certificate. Given her condition generally this means it will be at least 10 years before any further major conservation work will be required.
The best way of maintaining Centaur is to sail her regularly, which also generates income. Without this work, the barge will lose funding for ongoing conservation, potentially causing her to become static and derelict.
---
Learning about heritage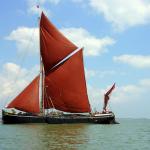 A new education programme working with sea cadets, schools and special need groups will be facilitated by this project, helping to engage a wide reach of people with maritime heritage.
The Trust aims to include sailing days for special needs groups, sea cadets and school children.