About The Swan Trust
Once described as one of the finest boats in the Scottish fishing fleet, Swan LK 243 had a long fishing career before retirement in the 1950s.  She came up for sale in 1990 in a very dilapidated state and, recognising her importance, a community initiative was formed.
The Swan Trust is a Scottish Charity, the purpose of which is to advance education, and in particular:
Restore and ensure the continued maintenance of the Swan, so she maybe preserved and open to the public as part of our maritime and fishing heritage;
Encourage and facilitate interested parties and particularly young people to sail on the Swan, thereby teaching and keeping alive the techniques of sailing and working a traditional Sail Fifie.
Of the hundreds of Fifies once fishing around Scotland and further afield, Swan is now one of only two vessels her size in existence, and, as no previous experience is required, anyone can learn to sail her.
With an MCA classification of 0, she is well travelled, including Iceland, Faroe, Norway, Sweden, Denmark, the Netherlands and France, as well as all around the UK and its many isles.
Find out more 

Community
First and foremost, Swan is a community asset which brings people together, whether on a sailing trip, as part of their volunteer base or through community events. With a particular focus on enabling youth sail training opportunities, they connect with schools, sail training and youth organisations, and undertake a range of youth sails every year. They believe our youth are our future and always enjoy seeing them learn new skills, challenge themselves and grow in confidence on their trips.
Along with developing local youths, and to help cover costs, the Trust also offers sailing trips to the public.  No previous sailing experience is required and, where possible, they accommodate people of all abilities.
The Trust values and helps develop their volunteer base and works with partner organisations to enhance community events and funding bids for youth, community and other projects.  They also develop/strengthen links between Shetland and other coastal communities, building Shetland's brand.
The sail training and volunteering experiences they offer are about much more than sailing/maintaining the boat, they promote mental and physical health, build life experiences, confidence, skills and friendships, and they keep our heritage alive
The History of the Swan
The Scottish herring fishing experienced its peak in the early years of the 20th century.  Every summer hundreds of sailing vessels packed into Lerwick harbour, and other ports around the coastline.  Two types of vessel dominated; the Fifies, and the Zulus.  These massive timber boats were unique to the Scottish fleet, and were the ultimate development in Scottish herring sail boats.
The Fifies had vertical stern posts, and the Zulus had distinctively angled sterns.  The boats measured 75 feet (23 metres) or more in length, and were fitted with steam capstans that enabled them to haul their nets, and handle their enormous masts and sails.
The Fifie Swan LK 243 was launched in May 1900 at Hay and Company's yard in Lerwick, Shetland and in her early days, was operated from Lerwick and used for longline fishing for white fish in the spring, and driftnet herring fishing from May to September.

By 1935 the Swan was one of only five herring sail boats left in Shetland and in the 1950s the grand old lady was retired.  In 1960 she was towed to Grimsby to be converted to a houseboat.  In 1982 she ended up in Hartlepool, where she lay neglected, sinking two or three times due to lack of care.
From the thousands of Fifies that once fished around Shetland, the Swan was now the last and she was spotted by classic boat enthusiast Keith Parkes, despite laying submerged with only her masts showing.  He started a conservation project on the vessel, but the restoration was too time consuming, and he offered her up for sale. His advertisement in 'The Shetland Times' newspaper caught the attention of local navigation teacher, Tom Moncrieff..  He wanted Swan to be used as a living museum and sail training vessel and in the light of these plans, The Swan Steering Group, later to become The Swan Trust, was formed.
Swan returned from Hartlepool to Lerwick in 1991 and her restoration took 6 years to complete.  Local craftsmen with specialist knowledge worked to faithfully restore her to her former glory.  On 11th May 1996 she was relaunched in Lerwick harbour, almost 96 years exactly since she first took to the water.
See images and learn more about the restoration.
The Swan began her new life as a sail training and charter vessel in 1998.  In her first year she did 40 trips, and carried 450 trainees on board.  Since then she has become a familiar sight not only in Shetland waters, but also in the fjords of Norway and off the Faroese coast each year.  She has also taken trainees to ports in France, Denmark, Ireland, Sweden and Holland and around the United Kingdom to take part in the Tall Ships Races.
Youth Sail Training
By crewing the Swan, young people discover the excitement and reward that comes with relying on themselves and each other, and learn some of the most important skills in life.
The Swan Trust encourages young people to sail with them and aim to keep the techniques of sailing and working a traditional vessel alive.  Trips by local schools and youth groups are frequent and immensely popular; the Trust always makes a special effort to accommodate them.
The Swan Trust has a partnership with Sail Training Shetland to provide annual sail training placements for young people to participate in maritime events and festivals such as the Tall Ships Races, Small Ships Races and Nordic Sail.  Applicants for these adventures must be between 15-25 years old and advertising happens in Spring each year for new opportunities to participate.
Find out more
Volunteering/Support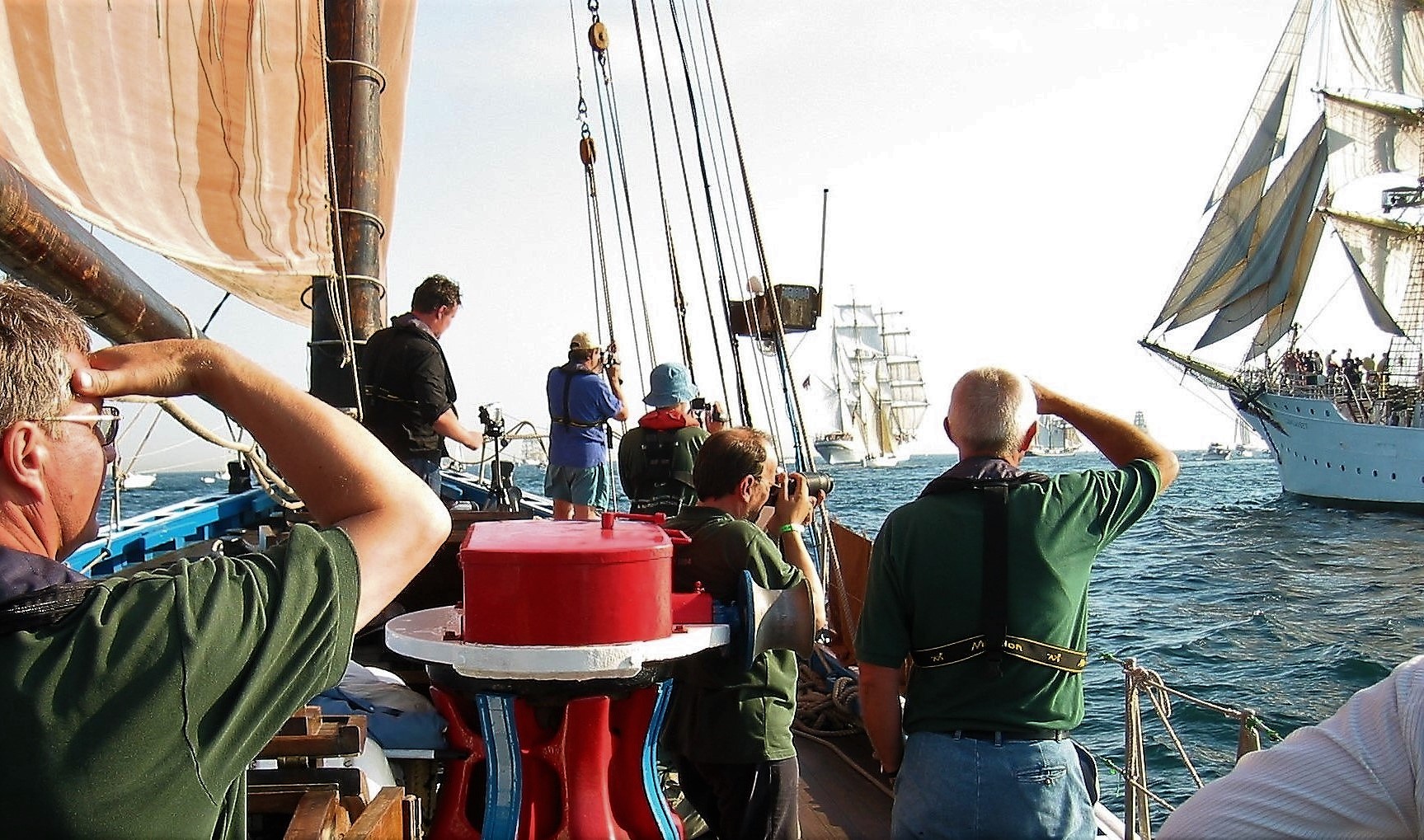 Run by volunteers, Swan could not operate without the wide support of those in the community, and further afield.  Their dedicated volunteers manage, maintain, fundraise, promote and operate Swan.
They have a range of both individuals and companies which donate goods and/or money to help with  annual costs, and have also received funds from a range of funding bodies and corporate sponsors to purchase capital items and/or deliver one off events and projects.
With busy sailing seasons promotional events, and fundraising, marketing and winter maintenance programmes, many hands make light work!
The Swan Trust actively encourages people to get the most of their experience of working with them and there are many ways to get involved both onshore and offshore.
Find out more
While The Trust does raise revenue from commercial trips, it is not enough to cover all annual costs and so they rely on sponsorship, donations and other funding to help bridge the gap.  Every penny donated is used to buy items to maintain Swan and/or offer sail training and volunteering experiences.
Find out more
Latest News
February 2022 - Swan Trust delighted to appoint Maggie Adamson as Skipper for busy 2022 season. Full press release.
August 2021 - The Swan Trust is celebrating 25 years of sail training aboard Swan with their first school trip since the pandemic Full Story
January 2021 - The Swan Trust has been awarded grant funding through the Historic Environment Recovery Fund, which was launched last year to support the recovery of Scotland's historic environment sector from the impacts of COVID-19. Full story
December 2020 - Looking ahead: the team are currently working with SailScotland and ASTO to lobby government to find workable solutions to offering sailing trips in 2021, and May 2021 will see the 25th anniversary of Swan's relaunch as a sail training and charter vessel, which they hope to celebrate throughout the year.  Full story
July 2020 - The Swan Trust is among 16 charitable organisations which have collectively received over half a million pounds from the Shetland Charitable Trust, with the Swan Trust receiving £14,000. This funding will be used to ready The Swan to offer life changing sail training opportunities in 2021.  Full story here
February 2020 - Swan Trust represented at Arts & Business Scotland Winter Forum
The event, which was attended by over 230 delegates, celebrated culture and business creative partnerships, with presentations from 6 projects which had received both business sponsorship and Arts and Business match funding. 
Full story
January 2020 - Swan Trust offers varied 2020 diary and online booking
The Swan Trust is offering a varied 2020 programme of classic sailing trips, which can now be booked online.  Swan will visit two festivals on the UK Mainland, cruise down the Caledonian Canal, explore the Western Isles, and hop over to St Kilda.  She will also be sailing around Shetland, including various day trips, a Sessions and Sail voyage and trips to coincide with local Festivals.  In August she will sail to Norway on a trip inspired by the Shetland Bus then take a cruise around the Hardangerfjord before sailing home to Shetland.
Full story