About Tiller & Wheel Ltd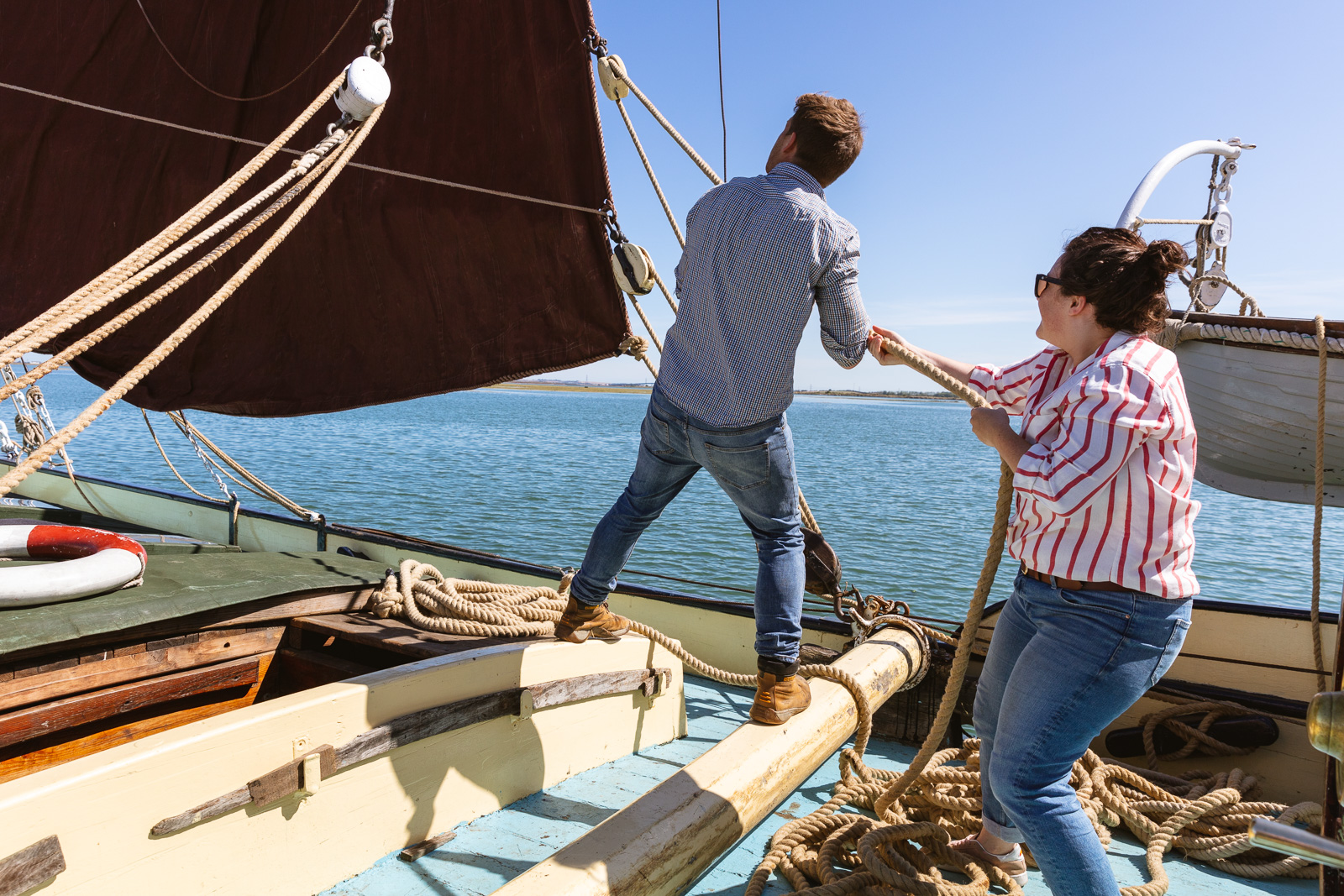 Tiller & Wheel are a small family business dedicated to promoting the historic East Coast fleet of smacks and barges and providing high quality experiences aboard the historic vessels Edith May, a Thames Sailing Barge and Thistle, a Whitstable oyster smack.
There used to be over 2000 Thames Sailing Barges but now there are only around 30 left sailing.  Tiller & Wheel's two Directors, Ed Gransden and Heather Burgess, want to ensure a sustainable future for all the remaining Thames Sailing Barges.
Sailing Experiences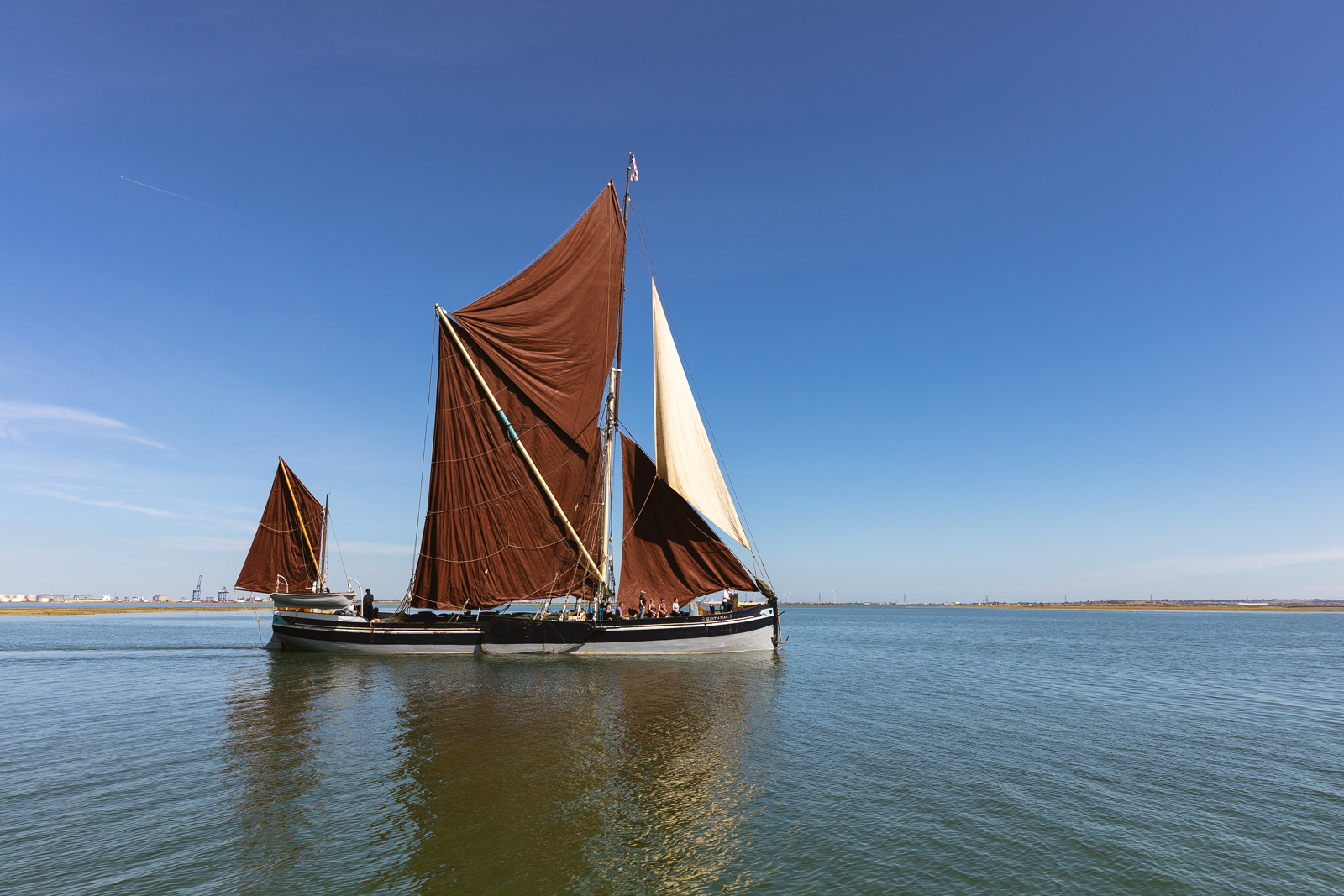 2020 was shaping up to be an exceptional year for Tiller & Wheel - no one could have predicted how exceptional it would be for us all!

Whilst their public sailing schedule has been cancelled for 2020, they have been able to reflect on their direction and are excited to announce a new path that they hope will benefit the community and help them realise their aim of a sustainable future for Thames Barges.
In a first for the East Coast and possibly the world, Tiller and Wheel have removed the price tag from sailing trips aboard their historic Thames barge and will be making their public sailing schedule free to all.  This is made possible through the power of crowdfunding.
Whilst they will be offering a free sailing schedule, they hope that people choose to support their work through their Patreon page.  From as little as £3 a month, people can sign up to help the heritage business achieve their aims of taking thousands of people out on the river who would not normally have the opportunity.
Heritage and Education

Tiller & Wheel are passionate about developing an arts and educational programme to support the unique history and opportunities these historic vessels offer.
There are so many opportunities we are exploring!  From residencies, sailing apprenticeships, crowdfunding, venue hire, art installations, educational visits, performance space… they can offer a truly unique and MOVING art facility connecting communities across the East Coast.
They are at the early stages of exploring this aspect of the business and are keen to form new partnerships as part of this development.  If you have a proposal for them, or would like to know more please contact them.
Latest News
February 2022 Tiller & Wheel are organising the Platinum Jubilee Medway River Pageant on the 3-4 June 2022. Read more
August 2021 Tiller & Wheel are organising the Festival of Chatham Reach over the weekend of 18-19 September, part of Heritage Open Days 2021. 
May 2021 Dates have been announced for the 2021 season of Thames Barge Matches. 
April 2021 £15,000 has been awarded from the second round of the Government's Culture Heritage Fund.
November 2020 Tiller & Wheel follow a new community oriented direction and become a not-for-profit organisation.

July 2020 This month Tiller & Wheel launched their 'Be The 200' (#BeThe200) campaign to raise awareness of their Patreon page and encourage people to sign up and help maintain these National Historic Ships.
200 is a key number for them, they've worked out that with 200 patrons they can successfully; 
Ensure the fixed costs of maintaining the Sailing Barge Edith May and Whitstable Oyster Smack Thistle are met, creating a sustainable future for these boats and engaging the next generation of sailors – #SailingBargeEdithMay  #ThistleF86
Improve their volunteer and apprenticeship programmes, with dedicated tuition time and better tools
Establish a new business model for other historic craft and heritage sites to learn from.
The first 200 patrons will be super people who share their vision.  As a little thank you to the first pioneers on their adventure they have made limited edition Tiller & Wheel T-shirts.  Only available to our first 200 patrons, they can be worn with pride by the owners, knowing they're a part of Sailing Barge history. 
Find out more about Tiller & Wheel here, together with their YouTube channel here.
----------
Find out more about the historic Thames Sailing barges on our Thames Sailing Barge Trust Project page here.