The Orkney Historic Boat Society (OHBS) was formed in 2013 with a clear vision to raise awareness and knowledge of Orkney's maritime heritage. This was to be achieved through the preservation of traditional boatbuilding skills and saving a unique collection of boats that were either built in Orkney or that contributed to Orkney life throughout history.  The preservation of traditional boat building skills became the priority at a time when Orkney's last professional wooden boatbuilder was approaching retirement.  This initiative comes to fruition in August 2018 when Jeff Mackie becomes self employed as a traditional boatbuilder / restorer.
The current priority for OHBS is to establish a boat haven/museum in which the collection can be conserved and accessed by the public.
The Boat Haven/Museum
OHBS are in the process of securing a suitable site on which to establish a haven/museum in Stromness because of its rich maritime heritage stretching back many centuries.  Stromness remains a centre of maritime significance today with a ferry link to the Scottish Mainland (Scrabster) operating from the harbour, together with a substantial number of fishing boats, dive support boats, and vessels servicing the renewable energy sector. In recent years Stromness has become a port of call for small cruise ships. Visiting yachts from around Britain and abroad berth at the harbour's marina.
The proposed Boat Haven, in addition to being of interest to the large local maritime community, will provide an attraction for tourists.
The Boat Haven will aim to provide people with a range of volunteering, learning and skill development opportunities which will be relevant for many different groups in the local community, including the socially excluded. As the haven/museum develops there will be employment opportunities.
Since its establishment in 2013, the Society has undertaken a range of work, including:
Restoration work on a number of boats in the Orkney Islands Council's collection, displayed at the Scapa Flow Visitor Centre, Lyness, Hoy where there is no further capacity for additional boats

A programme of traditional boat acquisition and restoration

Research into and development of the Boat Haven/Museum concept

Research into the boatbuilding heritage of Orkney, including collecting relevant documents and artefacts, and recording interviews with retired Orkney boatbuilders

The development of a Traditional Orkney Boatbuilding Craft Fellowship in conjunction with Historic Environment Scotland (HES)

Fundraising from the local business community in support of the Craft Fellowship initiative.
OHBS created the job description and helped supervise the two-year Craft Fellowship with HES - essentially a boatbuilding apprenticeship. The stages in the Fellowship training programme were as follows:
1.   A one-month introduction to boatbuilding at Ian Richardson's boatyard.
2.   Training at the International Boatbuilding Training College (IBTC), Lowestoft for 47 weeks commencing in September 2016 which led to the City and Guilds 2463 Level 3 Diploma.
3.   A further year training with Ian Richardson to complement and re-enforce skills learned in Lowestoft.
4.   Completion of projects including a new build Westray skiff, mast and spar making, clinker and carvel planking repairs and engine bed preparation.
5.   To develop transferrable skills from liaison with marine engineers, marine electricians and glass fibre specialists.
6.   Contributing to the day-to-day running and management of a small boatyard.
7.   To develop an understanding of the network of specialist providers UK wide, e.g. timber yards, marine chandlers and sailmakers, suppliers of specialist fixings, etc.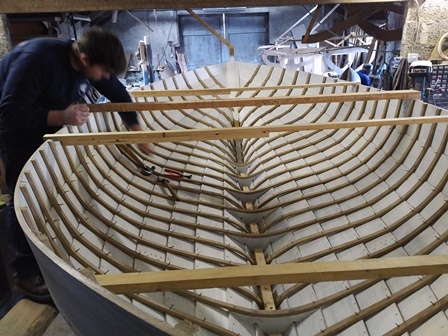 Southampton Boat Show 2018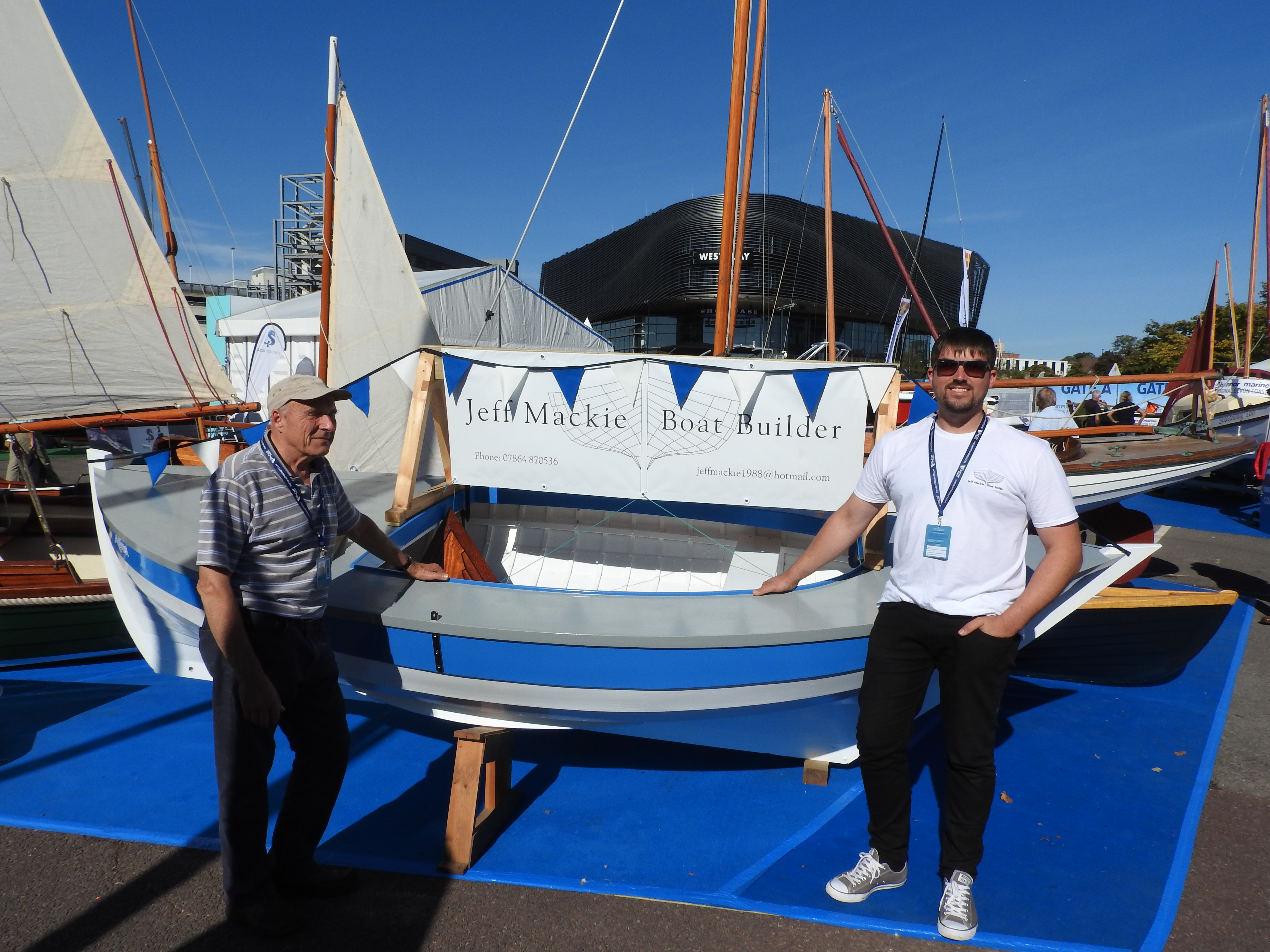 Jeff Mackie and Ian Richardson trailed the recently completed Westray skiff Ailsa to Southampton and then collected an elliptical stern yole, built by Ian seven years ago for display 'On sale'. These traditional boats sat side by side on the wooden boat display attracting a great deal of interest and, on the last day, resulting in the sale of the yole.
Ian celebrated his retirement from full time boatbuilding with this year being his last presenting a boat at the show.  Jeff applied to become a member of the professional group the Wooden Boatbuilder Trade Association and plans to be a regular attender on the small wooden boat display at Southampton.  
Upon return to Orkney Jeff and Ian are working at Ian's yard in Stromness. Ian's latest new 19' counter stern yole is nearing completion and will be heading for the Suffolk Rivers next year. Jeff's first commercial project sits beside Ian's newbuild – a local working boat in for new gunwales and foredeck. Shipwrighting jobs are booked in to the new year. Another new build order is keenly awaited!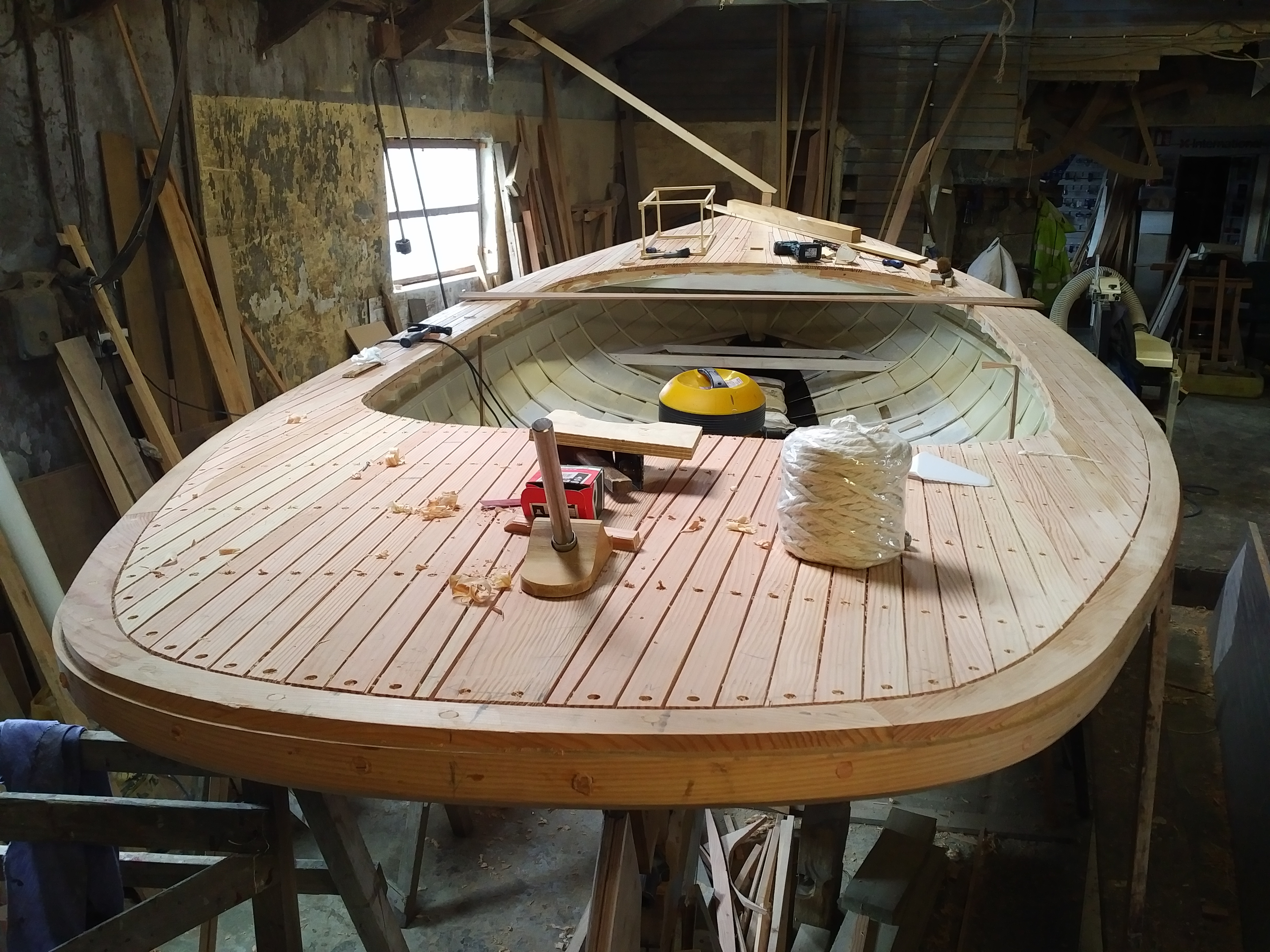 OHBS acquisition programme is based on collecting boats of:
•    Orcadian heritage;
•    Orcadian provenance with marine architectural, military or historic interest;
•    Orcadian provenance with recreational/leisure heritage;
•    Non-Orcadian provenance, but with related heritage.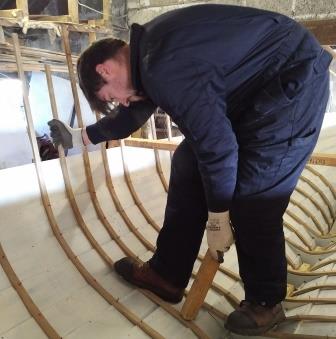 •    Stromness Flattie  (C1895, the oldest surviving Stromness Dory)
  *   Stromness Flattie / Dory (C 1920)
•    Pearl K150  (C1926, North Ronaldsay Praam dinghy)
•    Tystie  (C1960, Orkney dinghy 12')
•    Tern  (1896,Stroma Yole 19')
•    Falcon (1927,Swona dinghy 19')
•    Shownia (1939,Shetland model 20')
•    Whitewings (1937,Orkney yole 14')
•    Bulldog (C1927,Orkney yole 19')
•    Cingalee (C1905, World War 1 vintage fleet launch, 28' carvel hull)
•    Doris (C1930,Orkney South Isles sail and motor yole 18')
Sirius (1955,Snipe class racing dinghy)

Hide, Neolithic replica ex BBC 2016
•    Saga (Uffa Fox design National 14 Redwing class dinghy) built locally in 1949.
Several boats are currently under consideration for permanent acquisition or "loan" to the collection.
To link directly to the virtual museum, including links to the film of Jeff Mackie working on Ailsa and interpretation pages concerning Pearl, Ailsa and Daisy, then click here for the whole online resource.
May 2019
Cingalee restoration project underway with completion target still 21/6/2019
Work continues on Cingalee at 'full speed ahead'. The Conservation Management Plan (CMP) is to be used as a project framework informing National Heritage Lottery Fund (NHLF) of staged progress. NHLF have pledged £9,100 towards this restoration. Additional financial support from the Orkney Island's Council 'Scapa 100' fund has been pledged and significant private sector donations are now in hand. A particularly generous donation of over £6,000 by Repsol Sinopec Resources UK who manage the Flotta Island oil terminal IN Scapa Flow allowed OHBS to commit to ordering the new trailer for delivery by Easter. During 2019 it is hoped that Cingalee will be included on the National Small Boat Register (NSBR) at the National Maritime Museum Cornwall, Falmouth. At present there are only 3 other boats in Orkney on the NSBR one being another acquisition of OHBS' namely Esmeralda (NSBR 1120).
The CMP for Cingalee, defines a 3 stage approach. Stage 1 Stabilisation and stripping down was completed by the end of March. Professional boatbuilders, Jeff Mackie and Ian Richardson moved her to thir worshop in early May and have set out a programme for their work and for supervising activities by semi-skilled volunteers.  Stage 2 of the conservation plan is the required shipwrighting by professionals and is a benchmark for NHLF funding. Stage 3 will be more 'cosmetic' in nature and largely volunteer driven. Cingalee will be finished with marine paints to external display standards copying the original colours which were identified at the time of stripping off to bare timber overall; white topsides, pale grey interior and racing green below the waterline. A 'curators' decision on whether to prime and leave new timber clearly distinguishable from original materials has yet to be taken.
A bespoke trailer has been acquired so as to facilitate moving Cingalee to various venues on Mainland, Orkney or further afield for future display. The first such venue will be a pier head location in Stromness  to commemorate 21/6/1919
Curator and life member of OHBS Cait McCullagh's PhD Research:  Curating Heritage for Sustainable Communities in Highly Vulnerable Environments:
The Case of Scotland's Northern Isles (see http://irc.hw.ac.uk/research/sgsah-arcs.html ) looks at sustainability of communities in the Northern Isles and their relationship with maritime heritage. Cait will launch 'New Connections Across the Northern Isles', a virtual museum (VM) with the communities and organisations who have participated in a co-curation of this heritage and in her research, on May 18th in Kirkwall following a partnership project with Shetland Museum and Archives, and various groups and individuals in Shetland's maritime community and The Orkney Museum, Westray and Sanday Heritage Centres and OHBS. Several OHBS 'exhibits' will feature; including Jeff Mackie's new build Westray skiff Ailsa, N Ronaldsay pram dinghy Pearl saved and refurbished in 2015/6 and Orkney Museum's Hoy based yole Daisy which was restored by OHBS in 2017. Other OHBS 'exhibits' for the VM include films featuring Jeff Mackie, and Ian Richardson building boats, and OHBS Chair Jimmy Clouston sharing the story of 'Pearl' – her origination, uses and recovery as a way of preserving Orkney traditional boat knowledge as future heritage, and interviews with retired boatbuilders and examples from a 'Co-curation' project.
Plans for a boat Haven aspiring to become a future accredited dedicated boat Museum, in Stromness, are progressing. Six architects expressed interest in competing for a design following advertisement in April and a shortlisting process will follow during May / June.
February 2019
Cingalee restoration project underway with completion target 21/6/2019
In late 2017 OHBS acquired Cingalee at a time when she was facing destruction. Research during 2018 revealed her to be a documented veteran of WW1 and WWII as a fast fleet service motor launch. Following a generous offer of internal storage, by donation, a decision was made in January to launch OHBS' first public fundraising campaign setting a goal to raise funds for her restoration to public display standard to coincide with the Scapa 100 commemorative events marking the scuttling of the German high seas fleet in Scapa Flow 21/6/1919. Cingalee's history is available in a detailed article on the recently refurbished OHBS website www.ohbs.org.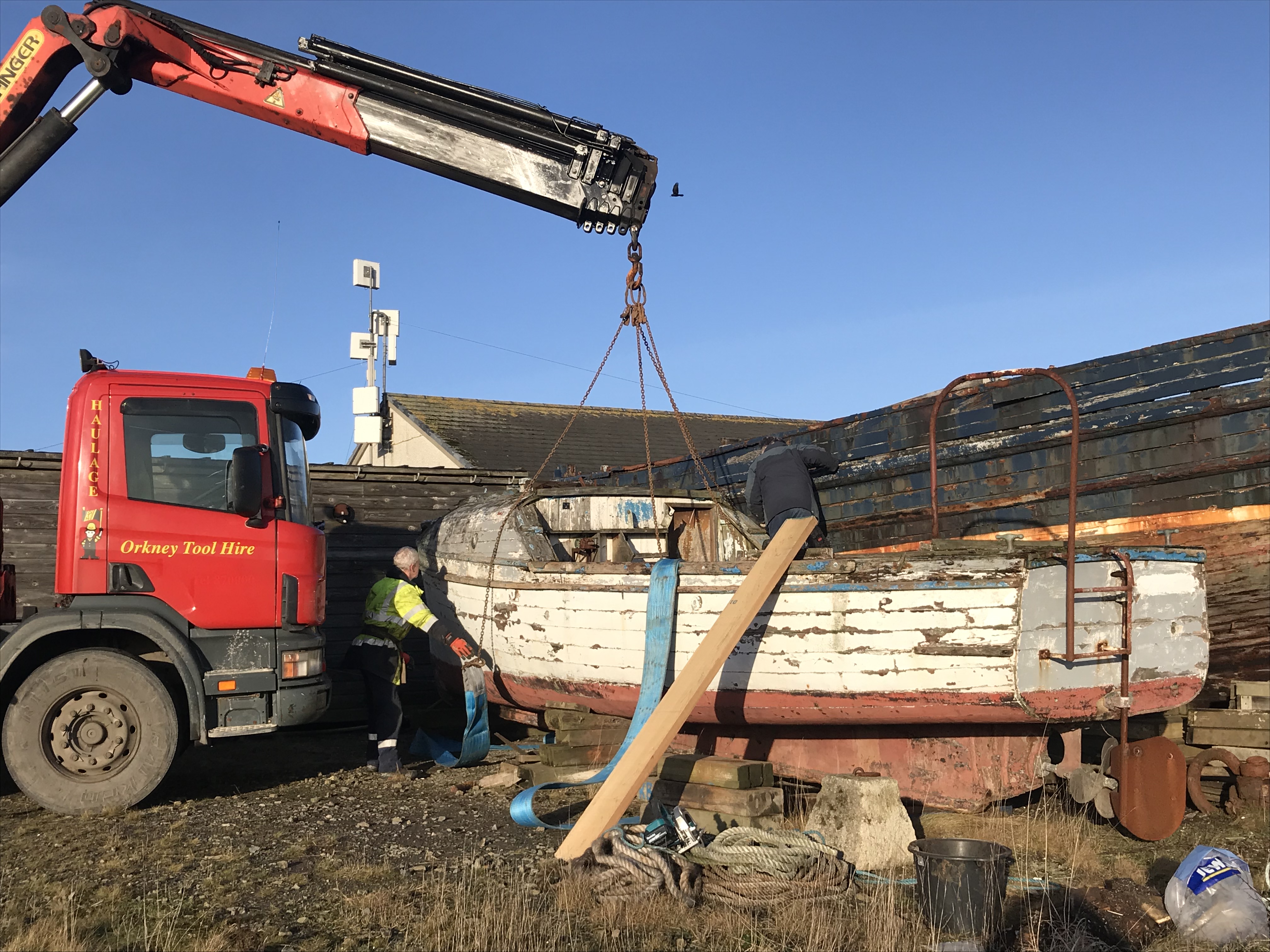 A Conservation Management Plan (CMP) has been drawn up following guidelines at centres of excellence such as The Scottish Fisheries Museum, Anstruther and The National Maritime Museum, Greenwich and its sister organisation The National Maritime Museum, Cornwall at Falmouth. OHBS have established supportive links with all three of these organisations. During 2019 it is hoped that Cingalee will be included on the National Small Boat Register (NSBR) NMMC, Falmouth. At present there are only 3 other boats in Orkney on the NSBR one being another acquisition of OHBS' namely Esmeralda (NSBR 1120).
The CMP for Cingalee defines a 3 stage approach pending on the speed and extent of fundraising dedicated to her restoration. Stage 1 will be work required of the professional boatbuilders, Jeff Mackie and Ian Richardson as he winds down in to retirement. The first fortnight of fundraising has achieved a sufficient sum to allow materials to be ordered and a detailed work programme to be scheduled. Meanwhile OHBS has set out a programme for actions by semi-skilled volunteers to prepare Cingalee for stage 1 work and that process is now underway.  Stage 2 of the conservation plan is a schedule for volunteers under supervision by Jeff and some of those tasks can be carried out whilst he concentrates on his own work. Stage 3 will be more 'cosmetic' in nature and will continue as volunteer time allows and costly materials are acquired through the fundraising efforts. Cingalee will be finished with marine paints to external display standards in WW1 vintage 'battleship grey' livery with the traditional black antifouling below waterline.
As funds become available a bespoke trailer will be built so as to facilitate moving Cingalee to various venues on Mainland for future display. We are hopeful that the first such venue will be a pier location in Stromness in time to commemorate 21/6/1919 and to provide a substantial feature at this year's public events.
In the background other exciting projects are at various stages of planning with draft CMP's awaiting activation. The key point on these pending projects is that the boats have been saved and their future is secure. Time taken to realise their refurbishment will simply depend upon available volunteer and financial resources and the priorities as agreed by the Trustees.
The plans for a boat Haven aspiring to become a future accredited Museum, in Stromness, are at a detailed discussion stage with OIC and we hope for significant progress during 2019.
Thank you very much for any support which you feel able to give at www.ohbs.org .
January 2019
Channel 5 Digging up Britain's past:
On Saturday January 5th 2019 at 8pm Chanel 5 national TV will broadcast an episode of their series 'Digging up Britain's past'. This features interviews with Jimmy Clouston 'at sea' and beside Bulldog, his grand fathers yole ,now at an early stage of restoration by OHBS.
December 2018
Website update: Our website has been re-modelled and can be found at www.ohbs.org or www.ohbs.net. It now offers a more comprehensive overview of past and current activities.
Virtual museum expected to launch Spring 2019: PhD project support for Cait McCullagh's New Connections co-curation project is ongoing with target launch of the virtual museum contribution scheduled for spring 2019.
Postgraduate research project citing OHBS as a supporting organisation progressing towards PhD write up next year:
Eirini Gallou, PhD candidate at the Institute for sustainable Heritage, The Bartlett at University College London, completed her field work in Orkney and is studying impacts of community based heritage projects for local wellbeing and safeguarding heritage in rural and remote contexts. OHBS were involved in providing material for Eirini during her visit to Orkney in 2017.
Eirini reports 'A set of semi structured interviews were conducted visiting multiple projects that were part of the completed HLF Scapa Flow landscape partnership scheme. OHBS members realised voluntary work with Scapa Flow Visitor Centre, Lyness, Hoy, exchanging knowledge and expertise in hands on conservation of boats. OHBS volunteers supported my project which is now approaching completion. Outputs include conference presentations already delivered at the Sharing Cultures conference in Barcelos, Portugal 2017 and the Association of Critical Heritage conference, China 2018. These projects focus on the role of intangible heritage and invaluable traditional skills held by communities of practice. OHBS provided an example of good practice in safeguarding local heritage in rural contexts'.
Eirini will be making available links to her work as the thesis approaches completion during 2019 and has expressed the wish to keep in touch with our ongoing work.