The Orkney Historic Boat Society (OHBS) was formed in 2013 with a clear vision to raise awareness and knowledge of Orkney's maritime heritage. This was to be achieved through the preservation of traditional boatbuilding skills and saving a unique collection of boats that were either built in Orkney or that contributed to Orkney life throughout history.  The preservation of traditional boat building skills became the priority at a time when Orkney's last professional wooden boatbuilder was approaching retirement.  This initiative comes to fruition in August 2018 when Jeff Mackie becomes self employed as a traditional boatbuilder / restorer.
The current priority for OHBS is to establish a boat haven/museum in which the collection can be conserved and accessed by the public.
The Boat Haven/Museum
OHBS are in the process of securing a suitable site on which to establish a haven/museum in Stromness because of its rich maritime heritage stretching back many centuries.  Stromness remains a centre of maritime significance today with a ferry link to the Scottish Mainland (Scrabster) operating from the harbour, together with a substantial number of fishing boats, dive support boats, and vessels servicing the renewable energy sector. In recent years Stromness has become a port of call for small cruise ships. Visiting yachts from around Britain and abroad berth at the harbour's marina.
The proposed Boat Haven, in addition to being of interest to the large local maritime community, will provide an attraction for tourists.
The Boat Haven will aim to provide people with a range of volunteering, learning and skill development opportunities which will be relevant for many different groups in the local community, including the socially excluded. As the haven/museum develops there will be employment opportunities.
Since its establishment in 2013, the Society has undertaken a range of work, including:
Restoration work on a number of boats in the Orkney Islands Council's collection, displayed at the Scapa Flow Visitor Centre, Lyness, Hoy where there is  no further capacity for additional boats.

A programme of traditional boat acquisition and restoration;

Research into and development of the Boat Haven/Museum concept;

Research into the boatbuilding heritage of Orkney, including collecting relevant documents and artefacts, and recording interviews with retired Orkney boatbuilders.

The development of a Traditional Orkney Boatbuilding Craft Fellowship in conjunction with Historic Environment Scotland (HES)

Fundraising from the local business community in support of the Craft Fellowship initiative
OHBS created the job description and helped supervise the two-year Craft Fellowship with HES - essentially a boatbuilding apprenticeship. The stages in the Fellowship training programme were as follows:
1.   A one-month introduction to boatbuilding at Ian Richardson's boatyard.
2.   Training at the International Boatbuilding Training College (IBTC), Lowestoft for 47 weeks commencing in September 2016 which led to the City and Guilds 2463 Level 3 Diploma.
3.   A further year training with Ian Richardson to complement and re-enforce skills learned in Lowestoft.
4.   Completion of projects including a new build Westray skiff, mast and spar making, clinker and carvel planking repairs and engine bed preparation.
5.   To develop transferrable skills from liaison with marine engineers, marine electricians and glass fibre specialists.
6.   Contributing to the day-to-day running and management of a small boatyard.
7.   To develop an understanding of the network of specialist providers UK wide, e.g. timber yards, marine chandlers and sailmakers, suppliers of specialist fixings, etc.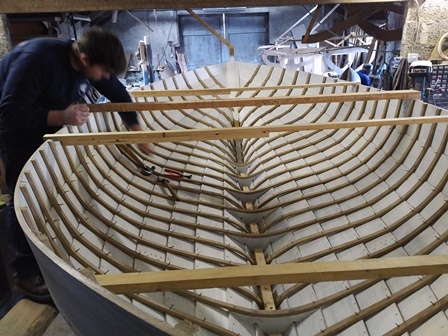 Southampton Boat Show 2018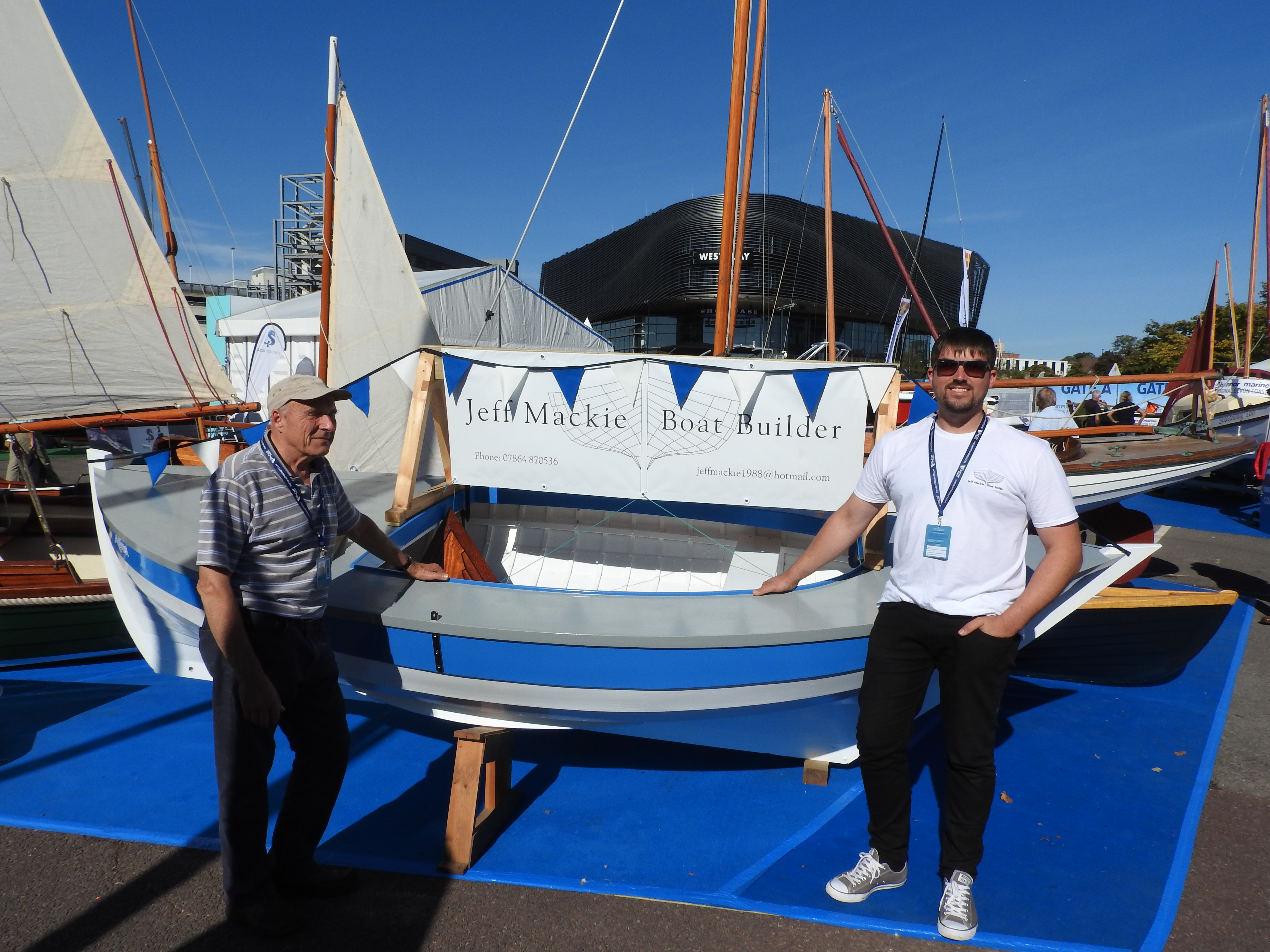 Jeff Mackie and Ian Richardson trailed the recently completed Westray skiff Ailsa to Southampton and then collected an elliptical stern yole, built by Ian seven years ago for display 'On sale'. These traditional boats sat side by side on the wooden boat display attracting a great deal of interest and, on the last day, resulting in the sale of the yole.
Ian celebrated his retirement from full time boatbuilding with this year being his last presenting a boat at the show.  Jeff applied to become a member of the professional group the Wooden Boatbuilder Trade Association and plans to be a regular attender on the small wooden boat display at Southampton.  
Upon return to Orkney Jeff and Ian are working at Ian's yard in Stromness. Ian's latest new 19' counter stern yole is nearing completion and will be heading for the Suffolk Rivers next year. Jeff's first commercial project sits beside Ian's newbuild – a local working boat in for new gunwales and foredeck. Shipwrighting jobs are booked in to the new year. Another new build order is keenly awaited!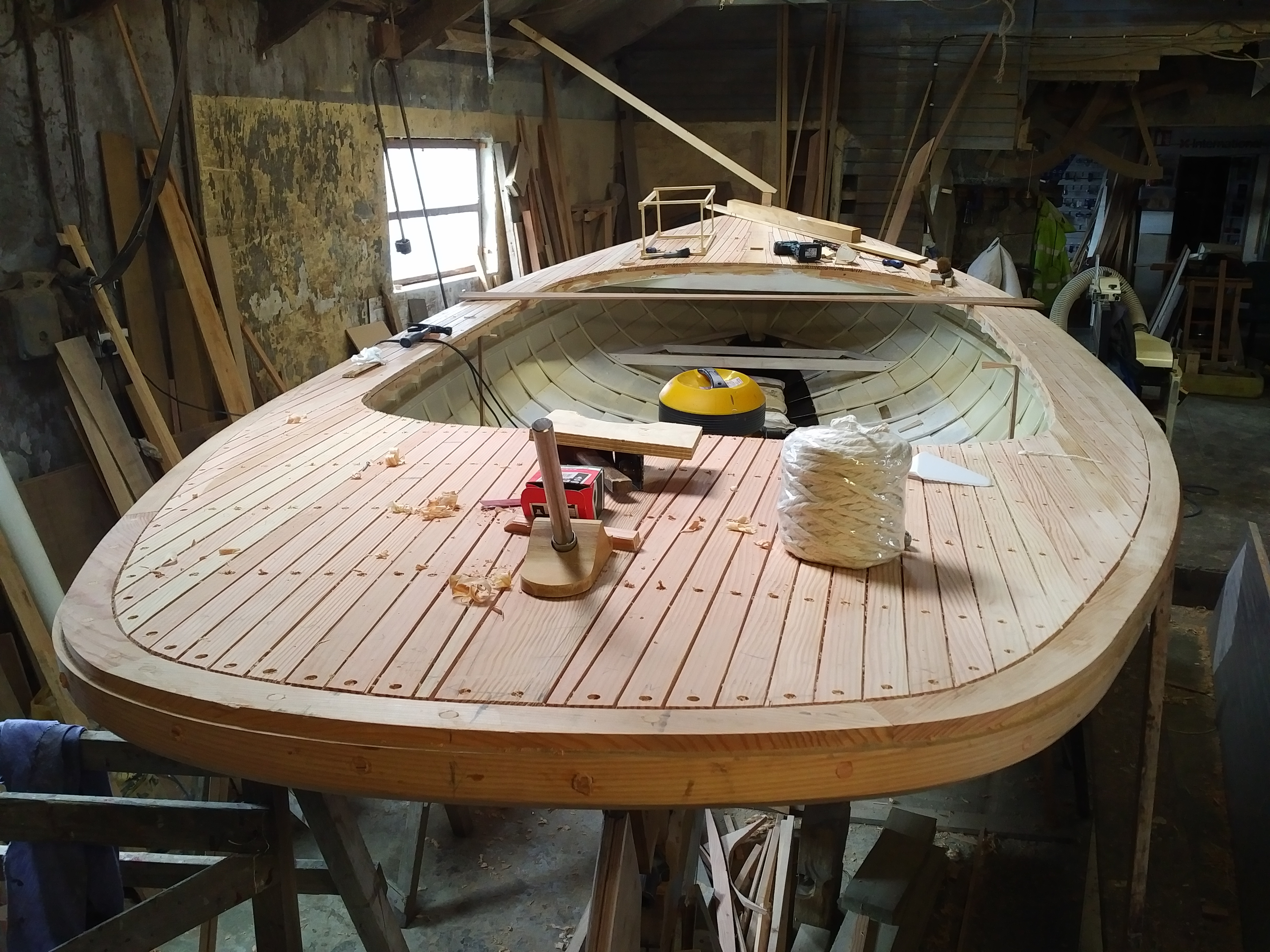 OHBS acquisition programme is based on collecting boats of:
•    Orcadian heritage;
•    Orcadian provenance with marine architectural, military or historic interest;
•    Orcadian provenance with recreational/leisure heritage;
•    Non-Orcadian provenance, but with related heritage.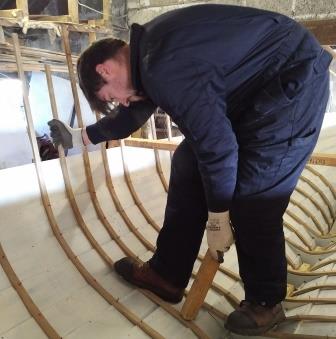 •    Stromness Flattie  (C1895, the oldest surviving Stromness Dory)
  *   Stromness Flattie / Dory (C 1920)
•    Pearl K150  (C1926, North Ronaldsay Praam dinghy)
•    Tystie  (C1960, Orkney dinghy 12')
•    Tern  (1896,Stroma Yole 19')
•    Falcon (1927,Swona dinghy 19')
•    Shownia (1939,Shetland model 20')
•    Whitewings (1937,Orkney yole 14')
•    Bulldog (C1927,Orkney yole 19')
•    Cingallee (C1905, World War 1 vintage fleet launch, 28' carvel hull)
•    Doris (C1930,Orkney South Isles sail and motor yole 18')
Sirius (1955,Snipe class racing dinghy)

Hide, Neolithic replica ex BBC 2016
Several boats are currently under consideration for permanent acquisition or "loan" to the collection.
OHBS members are collaborating with other heritage based organisations throughout Orkney and Shetland in "New Connections Across the Northern Isles" a project coordinated through a partnership between The Orkney Museum; Shetland Museum and Archives; The Intercultural Research Centre (IRC), Heriot-Watt University and the University of Highlands and Islands (UHI) Institute for Northern Studies. Through hands on workshops and virtual networking OHBS members are sharing learning and expertise towards co-curating a virtual museum of aspects of the maritime heritages of the Northern Isles – to be launched in May 2019. The virtual museum will include new films covering the work of Jeff Mackie, during his OHBS / HES Craft Fellowship, and footage of OHBS volunteers refurbishment of Pearl which along with Ailsa will be included as one of the digital exhibits. Orkney Museum and Heritage selected their yole Daisy to be included in this pilot Virtual Museum (VM) display. Daisy is an early 20thC yole from Longhope, Hoy which was refurbished by OHBS in 2016/7.
OHBS involvement with this VM project is also contributing to research into how people in Orkney and Shetland connect around their maritime heritage and how this might contribute to learning for sustainability. A further outcome of this research is the prototyping of a maritime heritage forum for the Northern Isles.
This work is being facilitated by Catherine (Cait) McCullagh, MSt(Oxon), FSA Scot, SGSAH Applied Research Collaborative Studentship PhD Researcher at Heriot-Watt University, collaborating with the UHI Institute for Northern Studies and Shetland Museum and Archives. Cait chaired two Co-Curation seminars in Kirkwall during September before heading back to Shetland for similar events there. All contributors have been tasked with completing their VM entries by mid- December and the virtual display will be launched during 2019.