About the Huff of Arklow 
Huff of Arklow is a rare Flying 30' ocean racer designed by Uffa Fox and built in Arklow, Southern Ireland in 1951. She was the first masthead rig sloop, and the first ocean going yacht designed to plane, based on Uffa Fox's highly successful 'Flying Fifteen' dinghy.  She is built on two moulded skins of mahogany with the outer skin running fore and aft, whilst the inner skin runs diagonally. This gives the vessel its great strength.  Huff of Arklow was also noted for her speed.  On her trip to Iceland in 1960 she recorded a speed of 23 knots and, for that voyage she was awarded the Faulkner Cup, which she won again in 1962 for her trip to the Azores. 
Classic Yacht TV believes Huff of Arklow is part of an important renaissance in yacht design that occurred after the Second World War.  Her underwater profile is an early example of the interlude between long keel designs that were becoming less prominent in the forefoot (in their evolution) AND fin and skeg designs.
In 1999 Huff of Arklow was bought by EISCA (Eyemouth International Sailing Craft Association Ltd) in Cremyll, Cornwall and was restored over the winters since 2009 with the help of a £40,000 grant from the Heritage Lottery Fund.  She was maintained by EISCA whose aim was to preserve traditional boats that shaped the evolution of yachting - Huff's restoration to her original specifications was a natural step in their goal to share the historical importance of her design and her designer within Britain's maritime history.
----------
Restoration - Cremyll Keelboats
In 2011, 'Cremyll Keelboats', a Rame Peninsula based charity set up to train young people in the art of seamanship and restoration work, applied for funding to carry out a comprehensive and sympathetic restoration of Huff of Arklow.  They successfully achieved accreditation from the Heritage Lottery Fund and started work in 2012.  Significant work was undertaken restoring Huff back to her original design and making her safe to sail.
The charity also successfully applied to the Future Jobs Fund, a Labour government scheme to ease young people into employment.  Four trainees helped refasten the vessel's hull over a six month period.
In September 2014, Huff of Arklow slipped back into the water on the River Tamar near Plymouth ready to go sailing again after a remarkable restoration.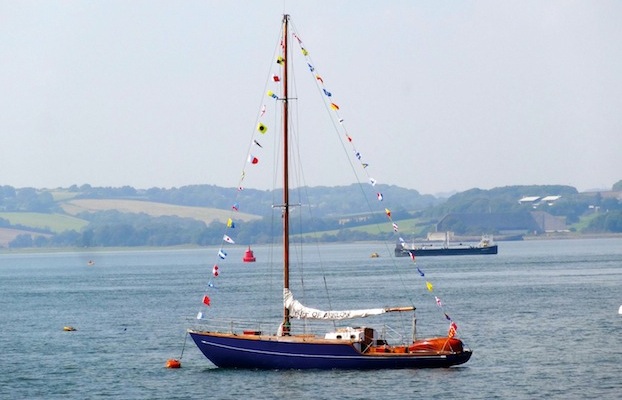 ----------
EISCA 
Sadly, EISCA went into receivership in 2017 and their public exhibition of boats had to close to the public.  As a result, Huff is currently under administration.  In summer 2019 it was reported that she was moved out of Mashfords Marine Services in Cremyll, Cornwall and is currently for sale located near Weston-super-Mare in Somerset.
----------
NEW CONSERVATION PROJECT - LATEST NEWS
June 2020 - These images show the latest progress of the conservation project - caulking of the deck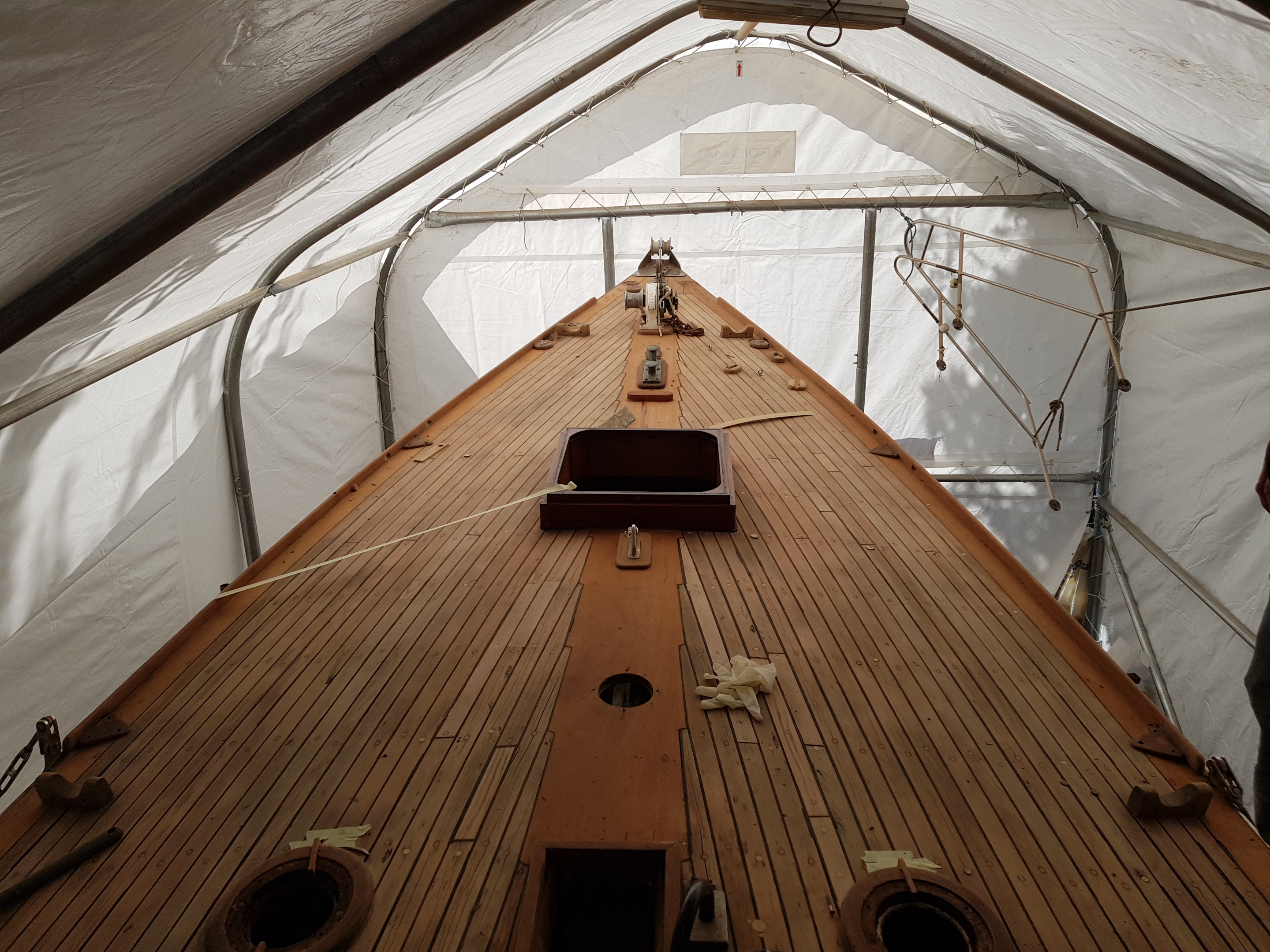 May 2020 These images show the ongoing restoration of Huff of Arklow - nearly at the varnishing stage!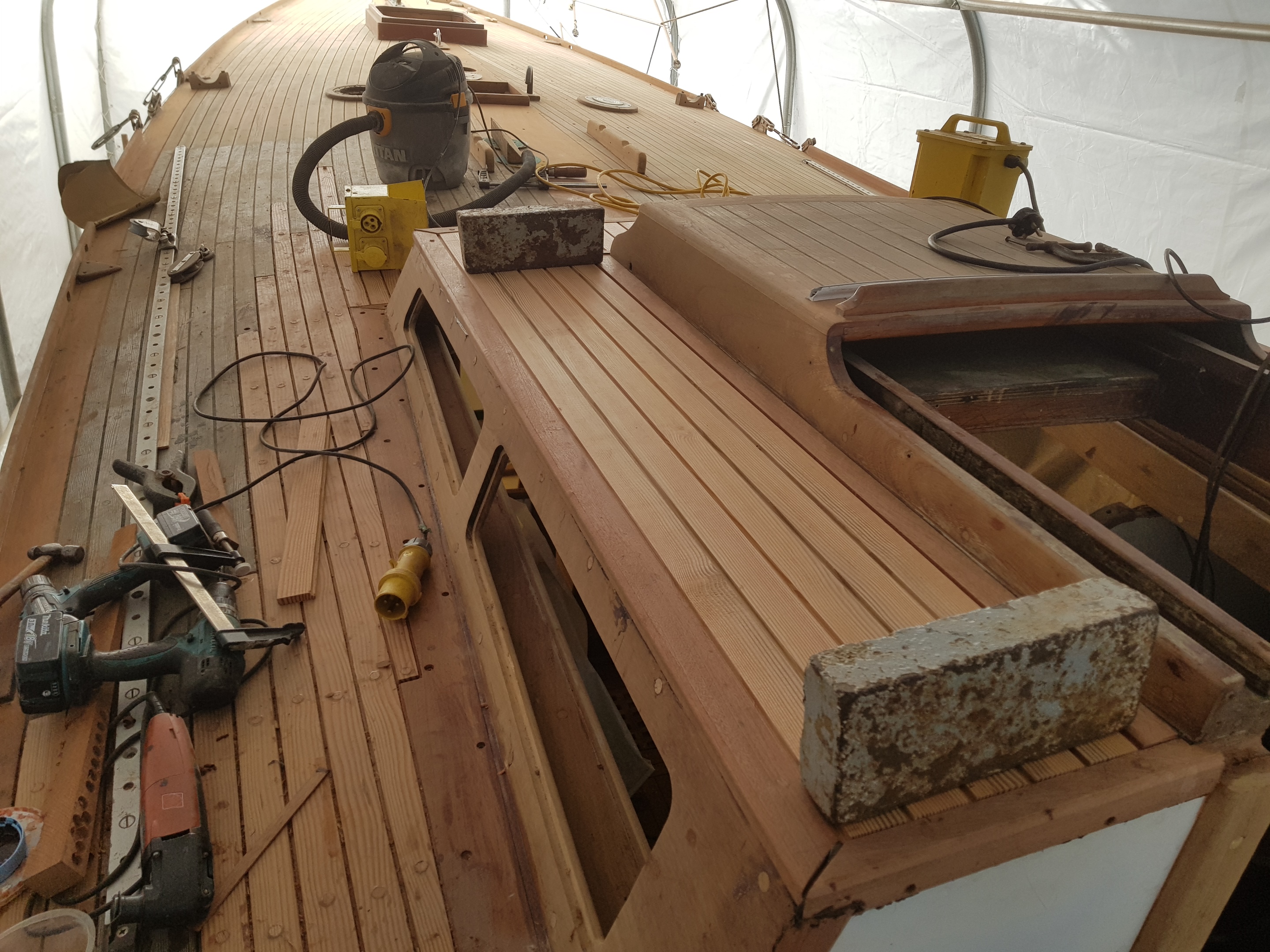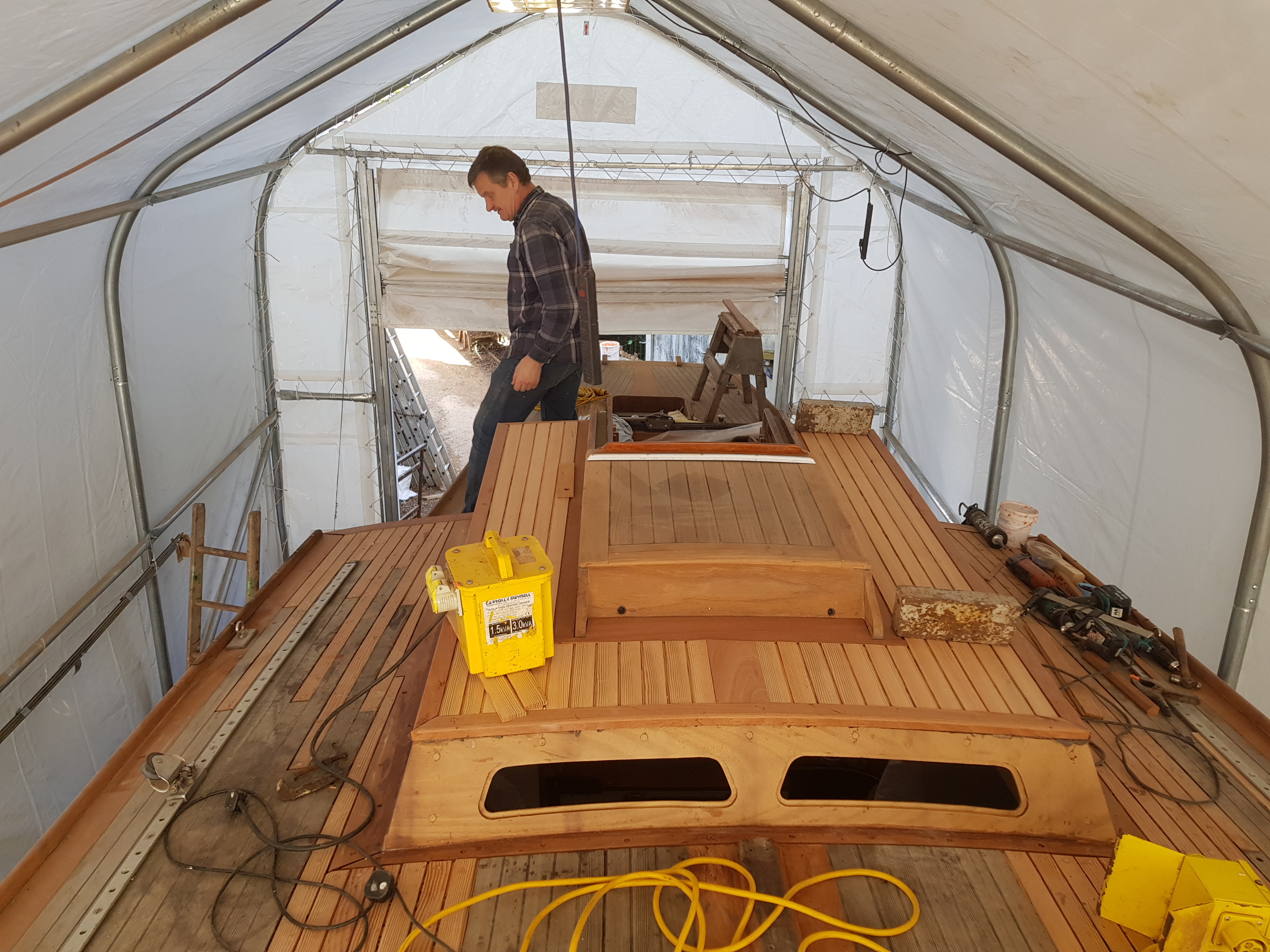 February 2020
Restoration of Huff continues at Mark Rolt's yard in Bristol.  A new dog house is being constructed and Mark has put the first 2 coats on the hull - reverting to the original colour of white.  Although the deck was very well fixed, the problem was water ingress into the end grain of the plywood sub deck and bulkhead.  The starboard side appears to not be so bad and the beams etc are alright, but the plywood has been shot away.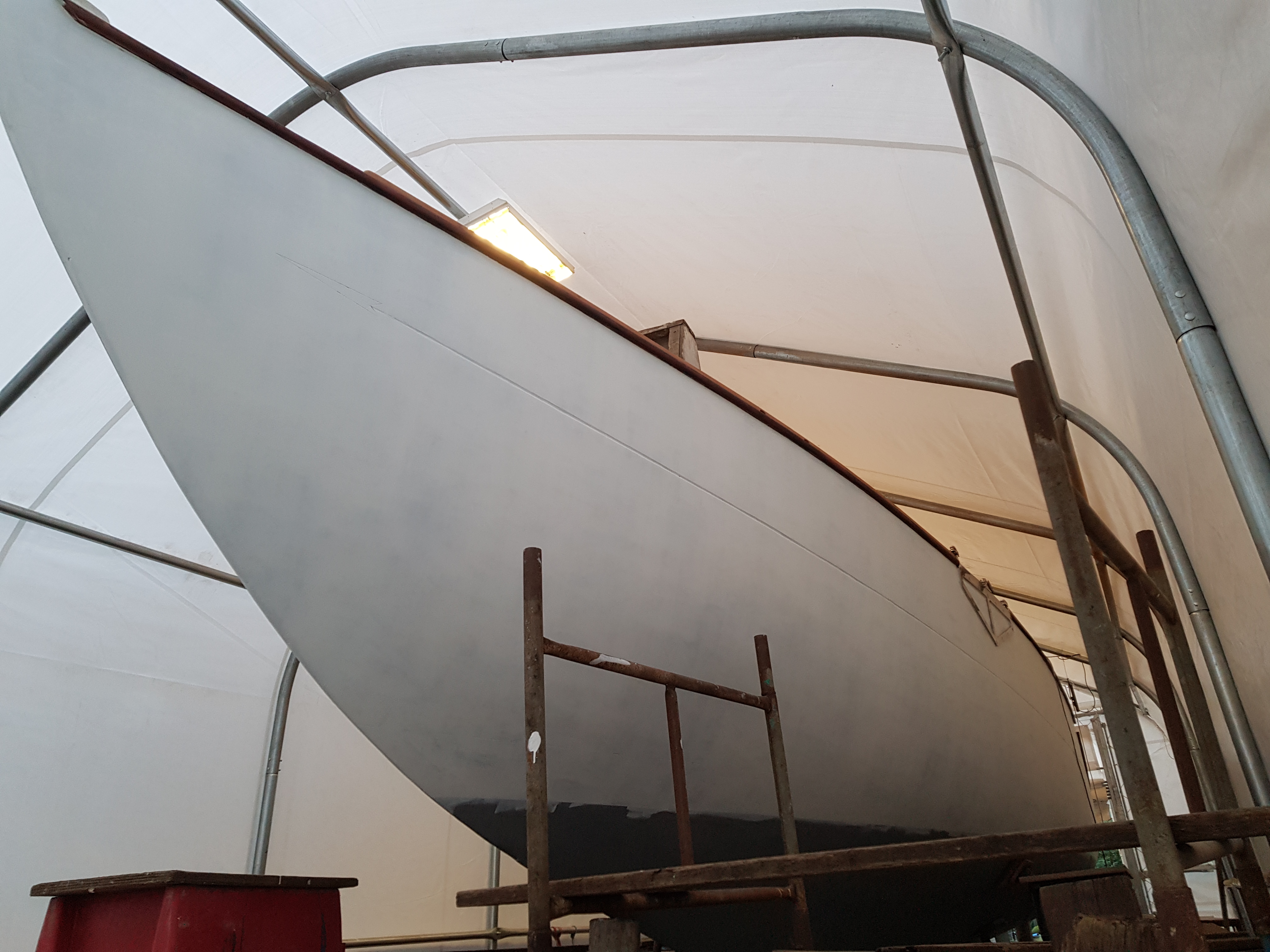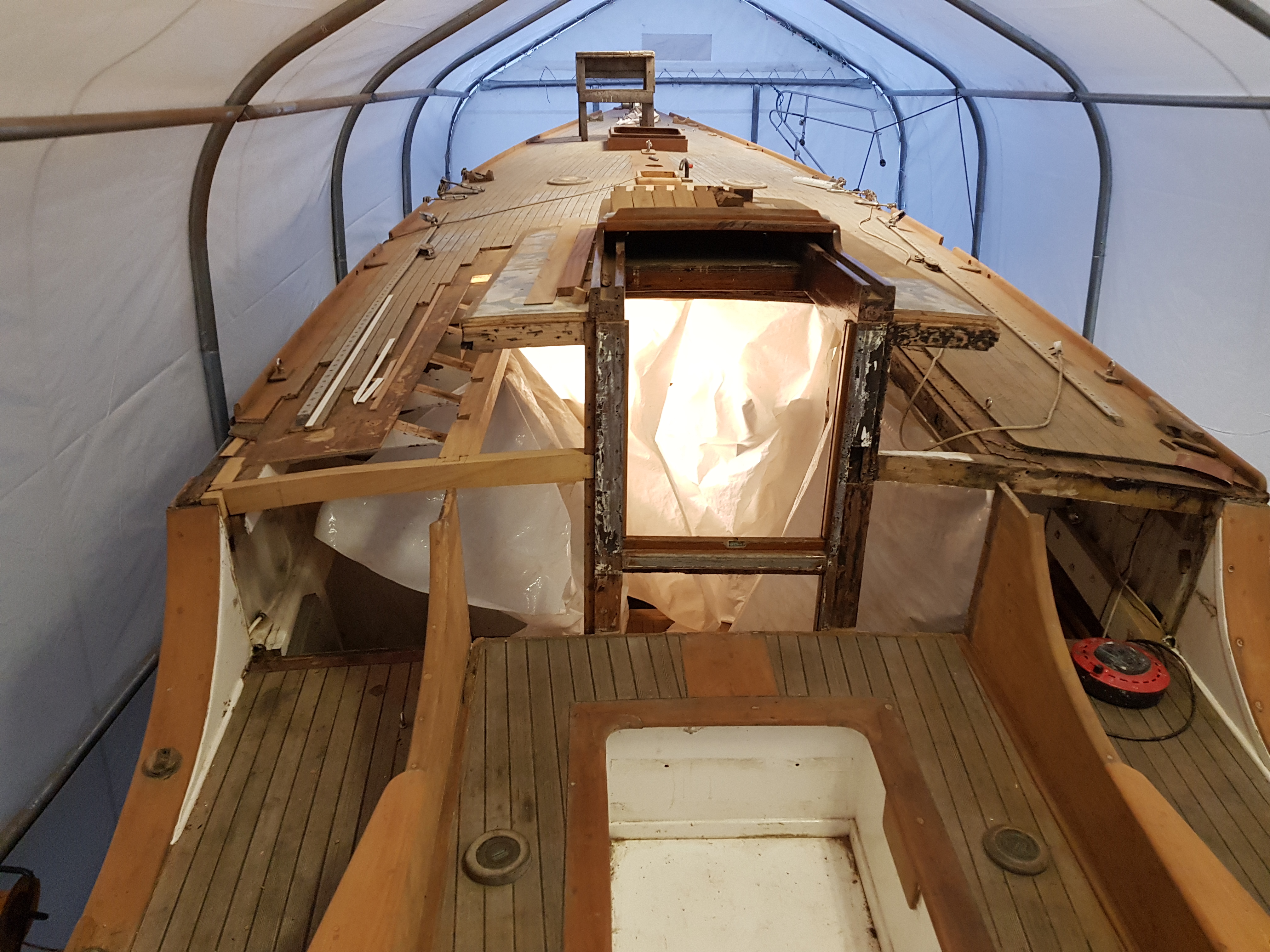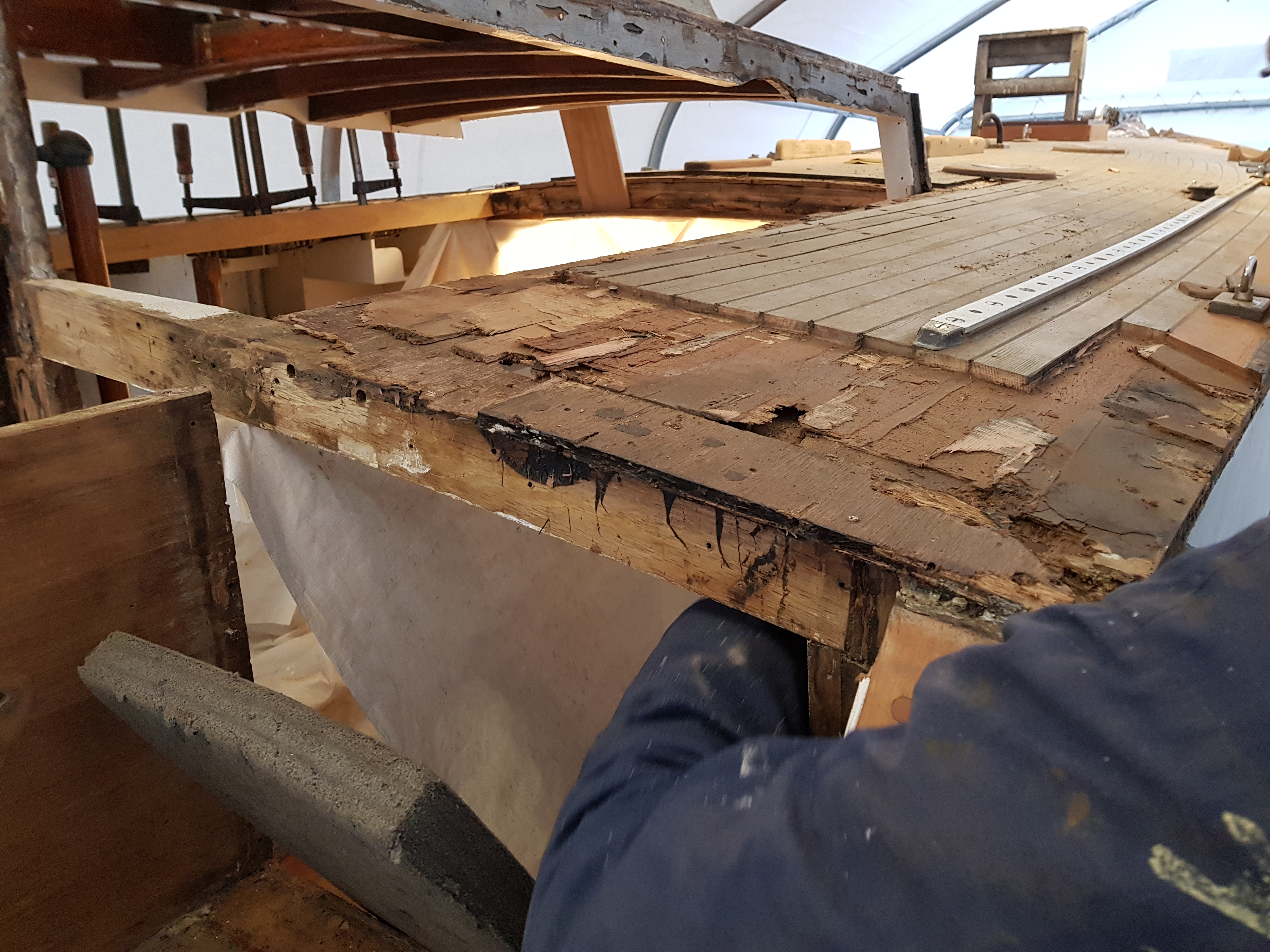 Mid-January 2020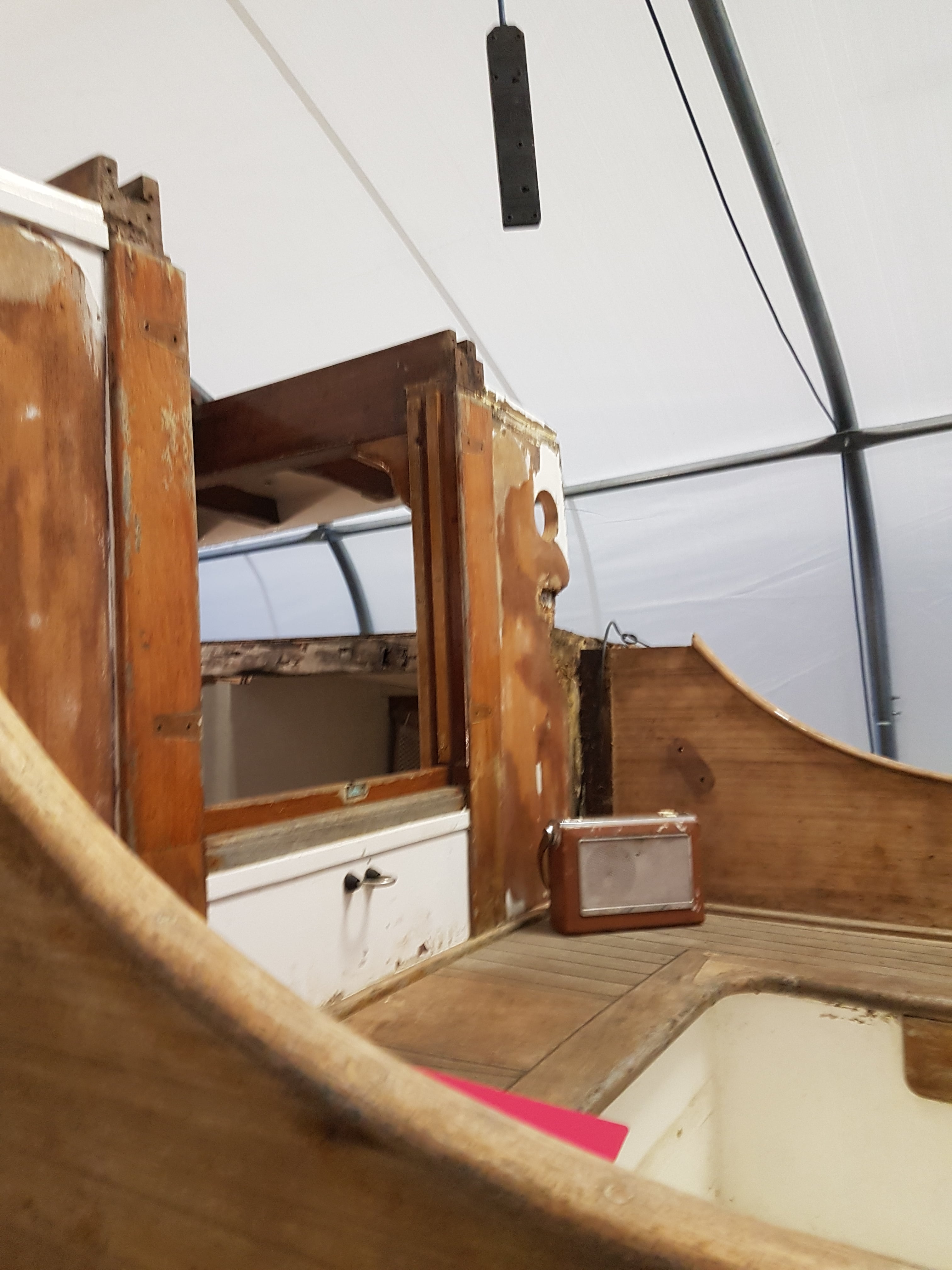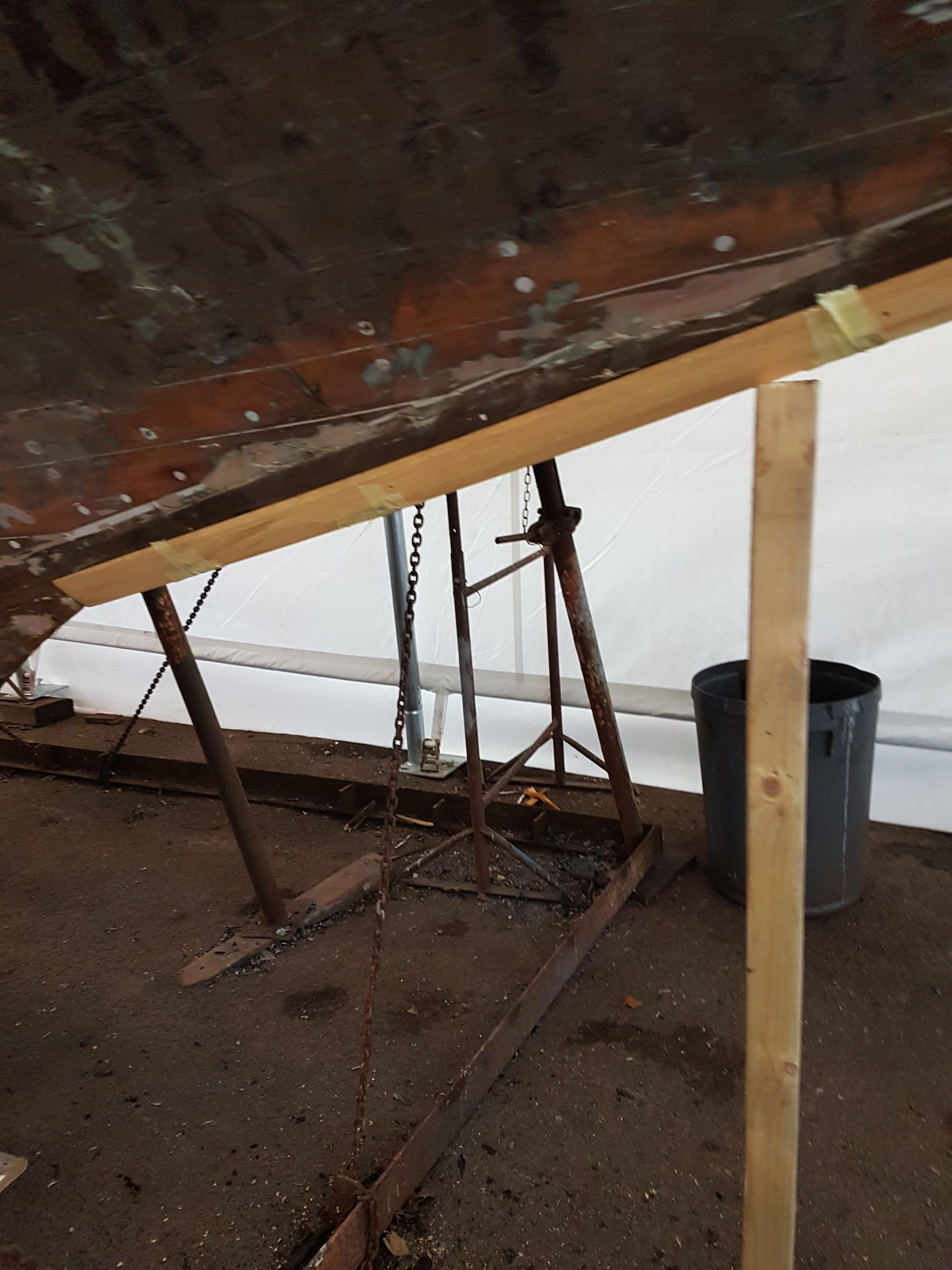 The team at Mark Rolt's yard in Bristol are still identifying the work which needs to be done; the major work is going to be replacing the doghouse which was completely rotten and Mark is designing a new doghouse which will be a bit more aesthetically pleasing. 
They have removed the epoxy filling from the keel under the bow and are scarfing in new timber. 
The boat was re-wired using domestic wiring and this will be replaced by marine quality wiring. 
They are removing the stanchions to give a sheerer line and less windage.  The pulpit will be kept.
Early January 2020 it was reported that Huff of Arklow was presently being being recommissioned at Mark Rolt's yard in Bristol, probably requiring a 2 year re-restoration project (having been abandoned since 2018) and likely to be owned by a charitable trust when her transfer of ownership has been completed. 
The team were awaiting delivery of the mast and dory which have become separated from the vessel.