About Trinity Buoy Wharf
With the banks of the Thames River in London being increasingly covered with high rise luxury housing, Trinity Buoy Wharf and its buildings stand as unique survivors and reminders of an era when London and its maritime shipping, trade, commerce and shipbuilding industries were at their height, being the greatest in the world.
Built and operated by the Corporation of Trinity House from 1803 to 1988, the fine buildings over a 185 year period were used to train lighthouse keepers and to repair and maintain lightships, seamarks and buoyage along the Thames from London to the Suffolk and Kent coasts. More recently turned into a centre for art, culture, maritime history, education and creative businesses, the wharf acts as a beacon within the local community whilst spreading art and culture far and wide.. 
The vessels
The rich maritime, industrial and social history of Trinity Buoy Wharf; its buildings, training lighthouse and the Thames, River Lee and their banks nearby, the Wharf aims to bring to life in a range of new displays over the next few years. In conjunction with the SS Robin Trust they also hope to bring together a heritage boat collection of vessels directly associated with London and the Thames, its ports, rivers and shipbuilding heritage. These are mostly larger steel steam and motor vessels and are at high risk of being lost.
Several vessels have been identified and are either on static display, on temporary moorings or are in the process of being transferred over subject to mooring availability.
The following vessels currently form part of the collection:
Steam Coaster designed to carry auxiliary sail, built 1889-90 by Mackenzie & McAlpine & Co at Orchard House Yard, Bow Creek, 100 meters from Trinity Buoy Wharf and fitted out at East India Dock alongside.  Internationally recognised as being the sole survivor of a class of cargo vessels numbering several thousand built over a 100 year period.
Fitted with a triple expansion engine and boiler by Gourlay Bros of Aberdeen, Robin was built for Robert Thompson, London, but sold to A C Ponsonby, South Wales in 1890.  Sold 1892 to West of England & France Steam Navigation Company, then within few months on to Alexander Forrester Blackater of Glasgow.  Sold 1900 to A.Blanco y Cia and renamed 'Maria' and sailed to Spain. Sold 1913 to Hijos de Angel Perez y Ca.  Sold 1935 to Mr. Diaz Romeral of Castro Urdiales.  Sold 1965 to Eduardo de la Sota Poveda, Bilbao.  Major rebuild and refit in 1965 and final cargo delivered 1974 and then laid up for scrapping.
Rescued by the Maritime Trust and steamed back to UK in 1974 and on display as St. Katherine's Dock Boat Collection, London from 1980 and opened to view.  Collection closed 1986 and Robin moved to South Quay, West India Dock and then West India Quay, London.  David & Nishani Kampfner set up Trust and took on ownership from 2002. HLF award in 2008 lead to cosmetic restoration and lifting onto new pontoon.  Robin and Pontoon Robin II moved to Royal Docks, London in 2011 and moored up opposite ExCel Centre.
Trinity Buoy Wharf and SS Robin Trust work in partnership from 2017 to ensure survival of the ship and find a new permanent home for her display.
Explore SS Robin
SS Robin is made up of four water tight sections; the bow and forward accommodation, hold space, boiler and engine room and aft accommodation.  Subdivided within these or housed above on deck are cabins, tanks, stores, washrooms, galley, shaft tunnel and mess facilities.
Using the latest technology in a pioneering project, SS Robin has been the first large historic ship to be laser scanned and virtually recreated online by OXVR a company specializing in 3D point cloud imagery.
Rotate and explore the ship in three dimensions and see below to learn more about the ship's layout and function here.
M.T. Knocker White
Thames steam tug, built in 1924 by T. van Duivendijk, Lekkerkerk, Netherlands with triple expansion steam engine and boiler. Supplied as S.T. 'Cairnrock', for Harrison's Lighterage and Coaling Company, London and possibly used at Dunkirk in WW11. She later passed into the ownership of W. E. White & Sons, Rotherhithe and in 1962 was renamed and converted to diesel power with the installation of two Petter engines, with alterations to funnel, fiddley and wheelhouse. Used for moving barges between ships and warehouses on the Thames and for towing larger vessels on coastal runs. Sold 1982 and sent for scrap soon after. Rescued in 1984 by Museum of London Docklands who displayed her outside their museum after partial restoration. Transferred to Trinity Buoy Wharf October 2016.
M.T. Varlet
Thames 'Tosher' Motor Tug of the 'Jubilee Class' built 1937 by James Pollock Sons & Co Ltd, Faversham with 2 stroke, 2 cylinder oil/Diesel engine by H. Widdop & Co of Keighley, Yorkshire. Built for the London lighterage company Vokins & Co and used in West India Docks towing up to twelve barges at a time. Also used in Royal Docks and on River Lea and some London Canals. Requisitioned by Admiralty for fire-fighting 1942 to 1946 working up Thames as far as Henley in conjunction with the 'Massey Shaw' Fire Boat. Sold 1971 to Thames and General Lighterage Co and then onto to Albert Coffey of Ilford for use on the Thames. Sold to Keith Morez who used her to tow barges to his breakers yard at Dartford.  Retired early 1980's.
Purchased by Museum of London Docklands 1986 from Michael Grover and following refits and restoration in 1987 and 1994-5 remained in working condition until 2000. HLF grants in 1996 and 2004 for hull surveys and painting. Transferred to Trinity Buoy Wharf, November 2016.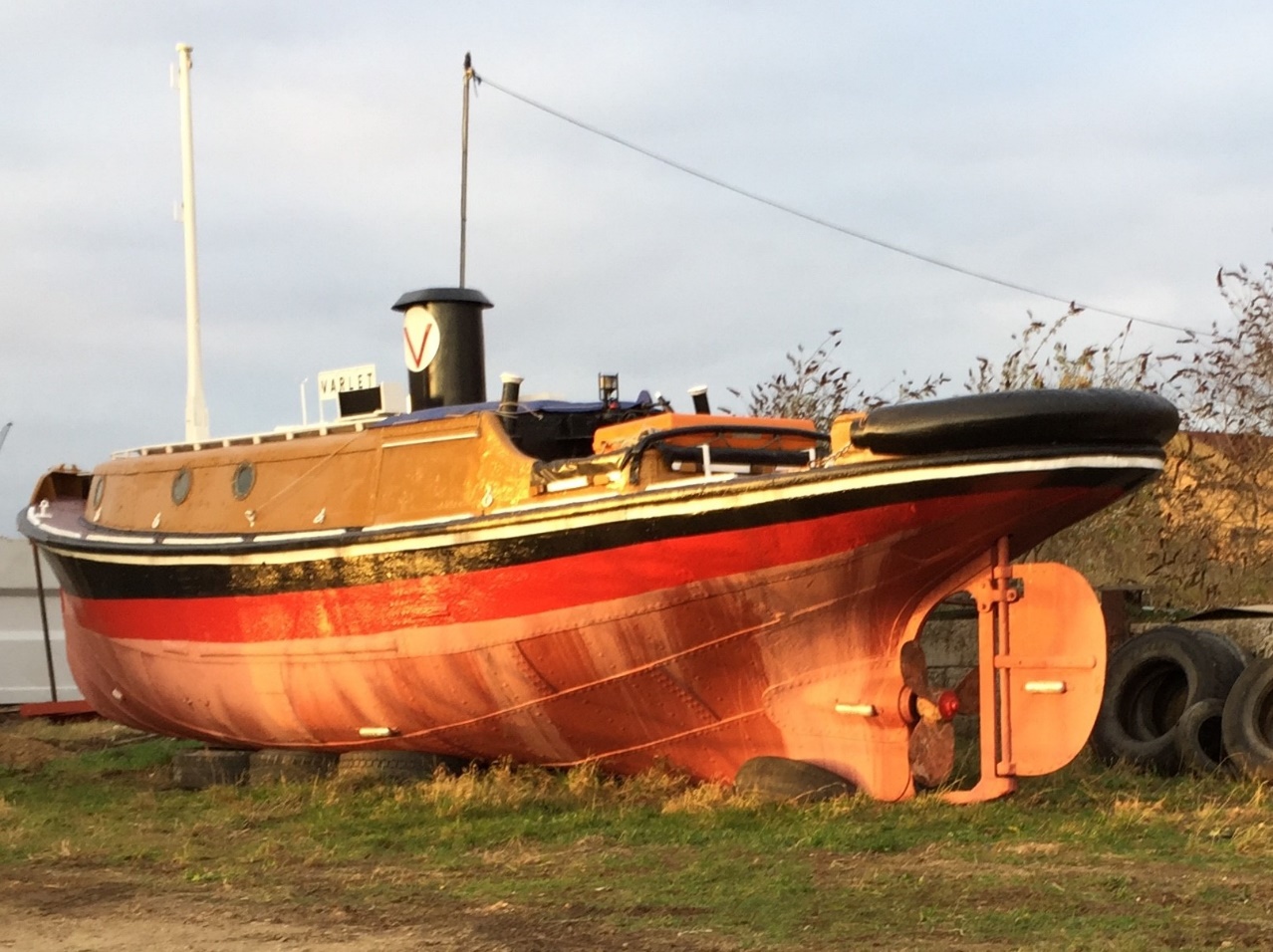 Diana
Riveted steel/wrought iron Thames Lighter built c'1890 by London builders unknown. Typical of many hundreds of 'dumb barges' used on the Thames, canals, tributaries, docks and Port of London for the transport of cargo, aggregates and supplies between wharves, warehouses and ships. Usually towed singly or in large groups by river or dock tugs, they were also hand rowed by one man going with the tide, this is known as 'barge driving' and is still celebrated in the annual Thames Barge Driving Match.
Lightship LV95
Lightship built in 1939 by Philip and Sons of Dartmouth for Trinity House and used mainly at their South Goodwin station on the Goodwin Sands and at other stations including Inner Dowsing off the coast of Norfolk. She is 1 of 3 built to the same design; 93 in Victoria Dock and 94 in Rotterdam. She was the first UK Light Vessel to be converted to solar power in the 1990's to allow for automatic unmanned operation and was in service until 2003 following a complete refit in 1999 in which all her original machinery and crew accommodation were removed. Sold at auction by Trinity House to the owner of Port Werburgh marina on the Medway she was later sold on to Ben Phillips who converted her to a floating music recording studio and based her at Trinity Buoy Wharf from 2008.
Find out more about Trinity Buoy Wharf
Latest News
April 2021 Patrick Grant, the Savile Row tailor and judge of TV's 'The Great British Sewing Bee' helped to launch The Prince's Foundation's fashion and textiles education programme for London secondary school pupils.  The programme of workshops at Trinity Buoy Wharf is part of a larger education initiative run by The Prince's Foundation at Trinity Buoy Wharf, which will also feature training in other traditional craft skills such as stonemasonry, pargetting and thatching.