About the SS Great Britain Trust

Brunel's SS Great Britain tells the incredible story of one of Britain's greatest engineers and one of the most important ships in maritime history.

The Trust's vision is to protect the legacy of Brunel and the SS Great Britain and inspire engineers and entrepreneurs of the future.

In 1970, the SS Great Britain Project brought the rusting shell of the SS Great Britain home from the Falkland Islands, braving 8,000 miles of stormy sea, in an attempt to save it from ruin and keep its story alive.  That 'project' became the SS Great Britain Trust, and today they continue to care for the ship and Brunel collections for the good of everybody, for all time.

Brunel's SS Great Britain is now Bristol's number one visitor attraction, with two museums and the lovingly restored Victorian ship, a leading research centre, a wedding venue and a purpose built conference facility. 

The SS Great Britain Trust is a member of the Association of Independent Museums, Association of Leading Visitor Attractions and UKinbound.  The Trust has won more than 50 awards including 'Permanent Exhibition of the Year' Museums + Heritage Awards 2019; 'Best UK & Ireland Tourism Project' British Guild of Travel Writers Awards 2018; 'Europe's Most Welcoming Museum' EMYA 2019.
Here we feature the Trust's Corporate Academy and Communities Programme (please scroll to find):
CORPORATE ACADEMY


Companies who join the Brunel Institute Corporate Academy (BICA) support comprehensive education programmes that bring learning to life for more than 20,000 children each year.
The SS Great Britain Trust has extensive links with local schools and runs exciting activities and hands-on workshops which support the national curriculum. More than this, the Trust provides additional support such as free days out for children from areas of educational deprivation and intensive support for promising pupils throughout their secondary school years.
BICA members work closely with the Trust. They feed into the programmes, share knowledge and expertise, inspire young people and open the door to future career opportunities. 
There are annual networking events and all companies are generously acknowledged for their support. 
The Trust would like to thank the following BICA members for their generous support:
Babcock International Group
BMT Defence Services
HP Inc.
Renishaw
Rolls-Royce Plc
Wessex Water
Stannah
To find out more about the Brunel Institute Corporate Academy please email the Development Team or call 0117 926 0680.
COMMUNITIES PROGRAMME
The Trust employed a Communities Officer in 2017.  In the first year, meetings were held with community groups and other cultural organisations, to learn from good practice and identify opportunities for collaboration.  The Trust also ran some pilot events, including family-friendly events in libraries and consultation visits with groups of residents.

Based on the learning from the first year, the Trust developed a dedicated Communities Programme, focused on three areas of the city: Hartcliffe, Southmead and Lawrence Hill. The programme aims to build relationships with communities in Bristol and make the site more accessible.  In addition to continuing to run activities in libraries and at community festivals, the Communities Officer has developed partnerships with a range of organisations to engage residents and deliver projects.
October - November 2019 Welcome Weekends

In September 2019 the SS Great Britain Trust launched 'Welcome Weekends' to offer free visits to residents from areas of the city who might experience barriers to visiting (Lawrence Hill, Hartcliffe and Southmead).
Through the communities programme, the Trust has organised a range of activities and projects to engage people in these areas with the stories of the ship.  From launching rockets in Hartcliffe, to walking the routes of the ship on a giant world map at Southmead Festival and making Victorian toys in Junction 3 Library.  As the culmination of this, the Trust has invited families to discover Brunel's SS Great Britain and enjoy a great day out over their Welcome Weekends.
Three Welcome Weekends took place for residents in each area, who could visit SS Great Britain for free using a Welcome Weekend flyer.  Flyers were distributed through local libraries, primary schools, children's centres and community groups.  Over the three weekends, they had over 1,100 people visit, many for the first time. The feedback from attendees was very positive and many of the comments received reflected how much more there was to do than people had realised:
"3 adults and 4 children aged 1-9 and we all loved it, the restoration is incredible and the layout and all the exhibits kept us interested and entertained for the whole visit."
"Didn't realise how much there was to see…It's brilliant, lots to see and do, plus interactive displays for children"
"Haven't visited since primary school. Thought it wasn't something I would of liked to see…Amazing. Definitely more interesting than I thought. I loved how close up you can get to things."
----------
September - November 2019 - Community Learning Project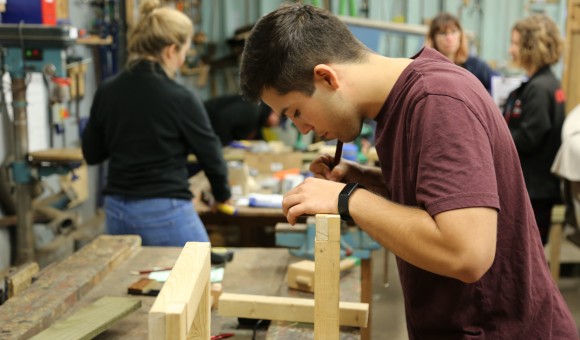 The Trust developed a partnership with Bristol Community Learning, who work with adults who have few or no qualifications.  Workshops and visits are offered to learners on relevant courses and in September, the Trust hosted an adult learning course on site.

Eight learners from across Bristol participated in a nine-week, carpentry course, developing their skills and building crates to help decorate the dockyard.  
In the first week, learners found out more about Brunel's SS Great Britain and had a guided tour of the ship. They also heard about the Trust's volunteer programme and the different roles they offer. 

Richard, the Development Tutor at Bristol Community Learning, said: "It's really exciting to be able to organise these kinds of courses for people. A lot of the courses we run are in schools and children's centres and it's something different for people to be able to contribute to the SS Great Britain and to be able to see how their work will contribute to the site."

Bristol Community Learning help adults with few or no qualifications to gain skills and build confidence, so they can find more learning opportunities or work. You can find out more about the courses they run here.

The feedback from the course was very positive and the Trust are planning another course in February 2020. One of the learners on the course has gone on to become a Communities Volunteer and support the Trust's outreach.
----------
November 2019 - Afrika Eye Festival poet in residence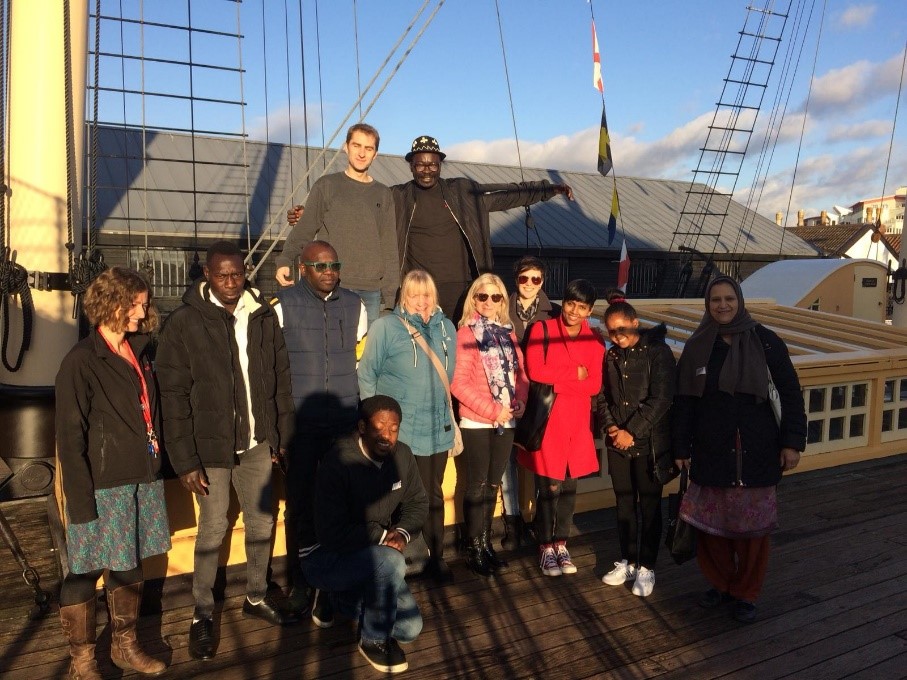 Through the Communities Programme, the Trust met with Boat Poets, a talent development agency and identified an opportunity to host a poet in residence on board the ship. This took place as part of 2019's Afrika Eye festival. The SS Great Britain hosted writer and performance poet, Saili Katebe (The Blissful Nomad), for a week-long residency, culminating in an evening featuring spoken word and dance performance.

During the residency Saili Katebe engaged with the history of the ship, specifically the experiences of emigration and transition which she represents. He also worked with the Communities Officer to run two poetry workshops on board with a youth group and a refugee ESOL group from Lawrence Hill. The refugee group wrote a blog about their experience, sharing the poem Saili helped the group to create.
Saili Katebe is a Wiltshire based writer, workshop facilitator and performance poet. Usually writing under the pen name "The Blissful Nomad" he is a keen explorer of the possibilities that language and arts have to offer.  In love with rhythm and rhyme he uses the page and the stage to share his exploration of the lived experience through language and story.
Watch Saili performing his poem 'After '70', written as part of his residency here.
----------
Dementia Friends at SS Great Britain
Between October 2018 and September 2019, the SS Great Britain Trust has created over 100 staff and volunteer Dementia Friends, through running information sessions. The Communities Officer was trained by the Alzheimer's Society as a Dementia Friends Champion and has been delivering information sessions, where participants learn about dementia and the small ways they can help.  This is helping the Trust take the first steps towards becoming more accessible for people living with dementia.  The sessions support staff and volunteers to think about how the Trust welcomes and engages people, which helps to benefit all visitors.

Mike, Education and Community Volunteer at the SS Great Britain Trust said: "Having watched my father suffer a rare type of dementia, I found the course helped me to understand my past experiences. The training has given me an invaluable insight into how people living with dementia experience certain situations – this has been extremely helpful while engaging with visitors through my volunteering role."

Tony Hall, Chair of the Bristol Dementia Action Alliance commented: "The SS Great Britain has taken tremendous strides to become more welcoming and inclusive. Creating over 100 Dementia Friends amongst its' staff and volunteers is brilliant and helps us in Bristol DAA to make Bristol the Dementia Friendly City of the UK."

The Trust is now building relationships with organisations in the city who support people with dementia.  An interactive session for people with dementia and their carers was delivered at a Memory Café in Withywood, including objects, smells and costume to connect participants with stories from the ship.

Dementia Action Week takes place annually in May.  The week unites people, workplaces, schools and communities to take action and improve the lives of people living with dementia. Visit the Alzheimer's Society website for resources to help your organisation to get involved.
Find out more about the SS Great Britain Trust here
-------------------------------------------
Latest News
March 2022 ss Great Britain's Iron Island experience has been shortlisted for Temporary or Touring Exhibition of the Year (Budget under £80,000) at the Museums + Heritage Awards 2022.  Full story
November 2021 ss Great Britain's education conservation and public engagement programmes take another step forward with the charity receiving funds from the Culture Recovery Fund.  Full Story.
July 2021 A new immersive experience, Iron Island, will open in the SS Great Britain dry dock over summer 2021.  

June 2021 SS Great Britain Trust have launched a new visitor attraction enabling viewers to see behind the scenes at the Grade II listed Albion dry dock.  
May 2021 A public fundraiser combined with an Arts Council grant have enabled SS Great Britain Trust to purchase a rare 19th century painting of the ship by a Bristol artist. The Trust have also replaced their huge fan - which dehumidifies the dry dock and stops the iron hull from rusting - with new, high tech, energy efficient fangrid technology. Full story
April 2021 The SS Great Britain Trust has been awarded £440,000 from the second round of the Government's Culture Recovery Fund.