About PS Waverley
Named after Sir Walter Scott's first novel, Paddle Steamer Waverley was built on the Clyde.  Waverley's keel was laid on December 27, 1945 but due to material shortages after the war, she was not ready for launch until October 2, 1946.  It wasn't until the following year on January 20, 1947 that she was towed to Greenock for the installation of her boiler and engines.  Finally she made her maiden voyage on June 16, 1947 and started what was to become a very long career.
Waverley was originally intended to sail only between Craigendoran & Arrochar in West Scotland. She now sails right round Britain offering regular trips on the Clyde, the Thames, South Coast of England and the Bristol Channel with calls at Liverpool & Llandudno.
Waverley is the world's last sea-going paddle steamer. In 1975, at the end of her working life, she was famously gifted for £1 to the Paddle Steamer Preservation Society. Waverley Steam Navigation Co. Ltd, a charity registered in Scotland, was set up to operate the ship.  Waverley then began a second career as one of the country's best-loved tourist attractions. Since she has been in operational preservation she has been awarded four stars by Visit Scotland, an engineering heritage award, and has carried over 6 million passengers from over 60 ports around the UK.
2003 saw the completion of a major restoration project, which returned Waverley to the original 1940s style in which she was built. This was made possible with major grants from the Heritage Lottery Fund and the PSPS.  Contributions also came from Glasgow City Council, Scottish Enterprise Glasgow, the European Regional Development Fund and local authorities.
2017 marked 70 years since Waverley's maiden voyage on 16 June, 1947.
---------------------------------
The Waverley Academy
The Waverley Academy seeks to engage students in a unique way, provide them with hands-on experience and inspire them to progress careers in the marine industry. The Academy serves to preserve traditional skills which were once in abundance in the West of Scotland, along with providing training suitable for a 21st century environment.
The Academy comprises four distinct parts:
- the Deck Training Academy
- the Engineering Initiative
- fairly extensive Volunteer programme in which many volunteers learn new skills
- development of a Schools programme,which offers a package which can easily be incorporated into the Curriculum for Excellence.
Since the Academy's launch, Waverley welcomed two Officer cadets onboard the ship and provided essential training and valuable sea time to enable them to progress their career at sea.  Through the winter seasons they have worked in partnership with the Weir Group who have placed apprentices on board. Each apprentice was given exposure to a broad range of marine engineering disciplines and have been provided with a strong foundation for their future careers.
This initiative is not a new one. Since the early 90's the Waverley organisation has been training people in a range of maritime skills. More than 100 people have benefited and many of the graduates of this training programme can now be found in senior roles across the industry in all corners of the world.
All this has been achieved by using their own funds, however the cost of training has increased significantly over the years and having pulled resources together and officially launched the Waverley Academy, they are seeking funding to support this initiative.
Future participants will gain significant training on an iconic vessel that holds an important place in British maritime history, and learn from highly experienced professional staff and volunteers.
-----------------------------
Latest News 
May 2021
Waverley leaves Dales's dry dock at Greenock after her extensive refit. Read more.
£350,000 has now been raised from individuals towards Waverley's COVID-19 Relief Appeal. The Paddle Steam Society send their most sincere thanks to everyone that donated and contributed to the appeal, which has enabled the refit works to be carried out.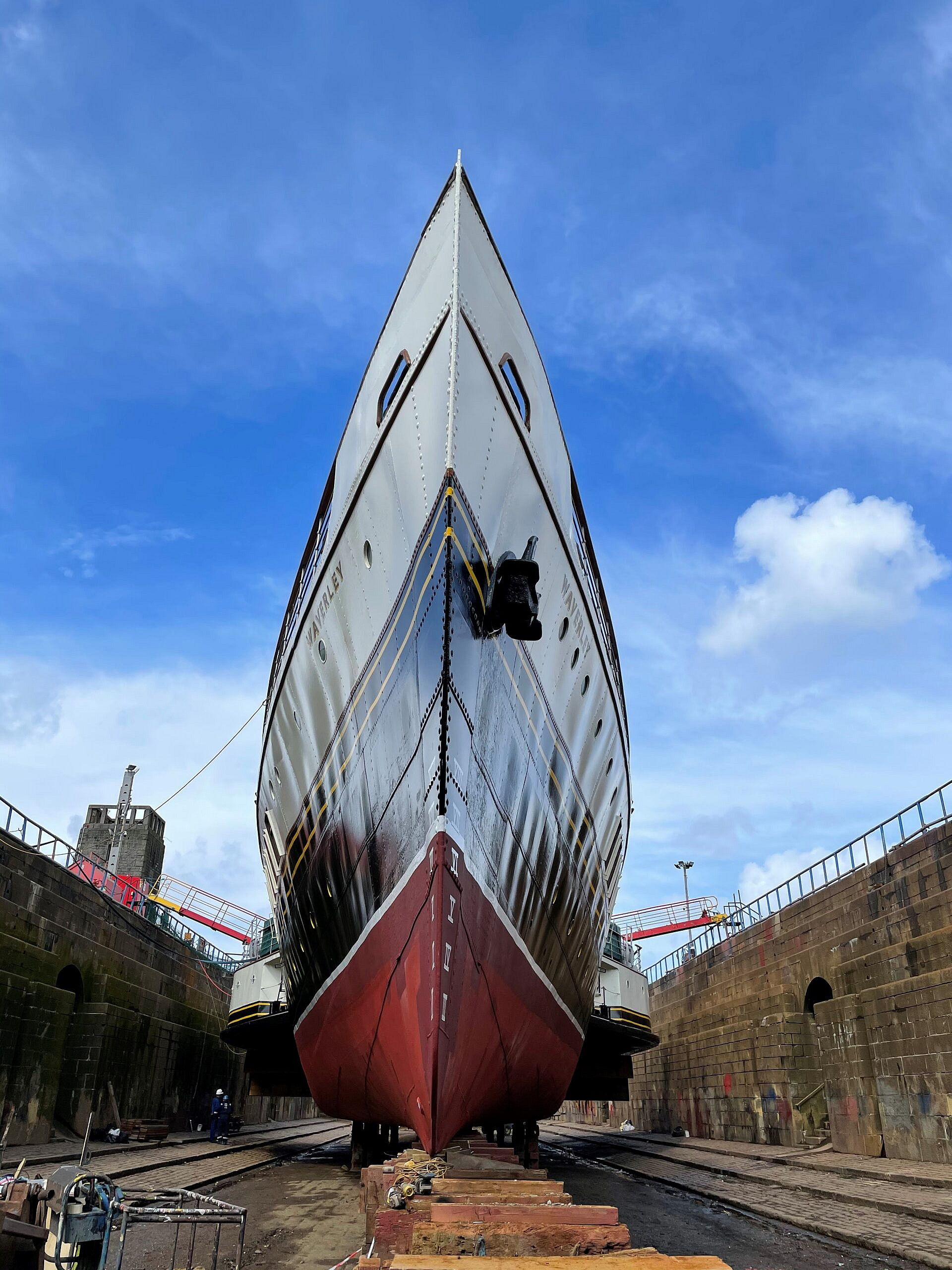 Waverley will begin passenger sailings for the 2021 season around the third week in June on the Clyde. Subscribe to Waverley's e-newsletters to get details as soon as they are released via the website: waverleyexcursions.co.uk.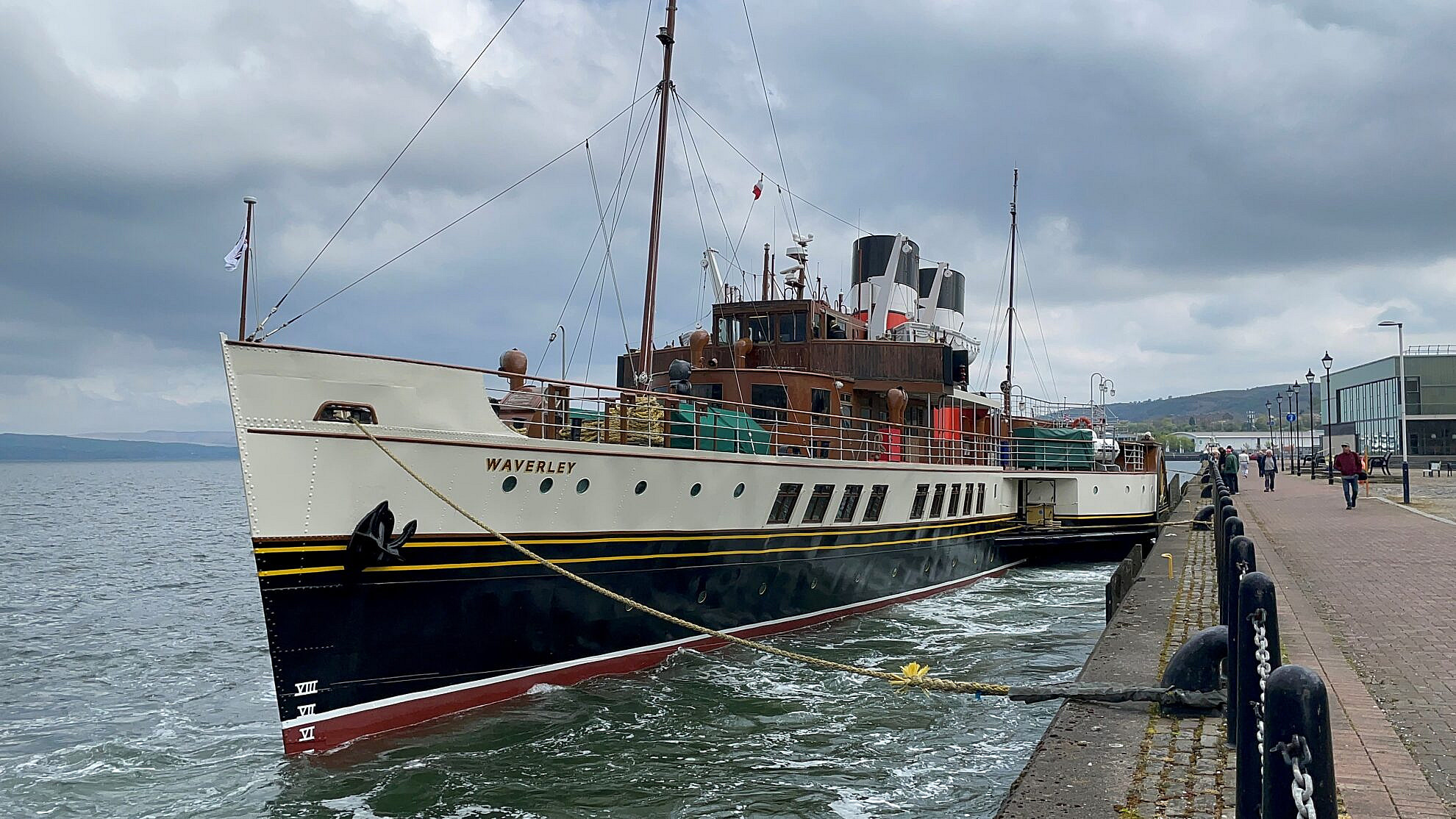 April 2021 Waverley steams to Greenock for annual dry docking - and COVID appeal reaches £330,000. Read more
August 2020 


Waverley Excursions has announced a two week programme of sailings on the Clyde, from Friday 21st August until Sunday 6th September 2020.  This marks Waverley's return to passenger service after an absence of nearly two years and is not to be missed!  
June 2020
Waverley Boiler Refit Progress Report - the aft funnel has been lifted into place!  
May 2020 Support Waverley through regular giving: earlier in 2020 there was a re-launch of the 'Friends of Waverley' scheme to create a way for regular donors to give a small monthly donation to help safeguard the ship. All Friends of Waverley will also receive a biannual "The Funnel" e-newsletter giving updates and reports on Waverley and what it takes to keep her paddles turning.  The team deeply appreciates all donations to help safeguard Waverley as they work to preserve a unique pierce of our maritime heritage allowing future generations to experience Waverley. 
April 2020

Waverley's new boilers arrive! 
April 2020

Waverley was moved from her berth in Greenock's James Watt Dock to Garvel dry dock on 2nd March for a 23 day docking. The length of the docking being due to the tug which was sharing the dock rather than the extent of work required on Waverley.  The original intention had been to dry dock Waverley in April, but owing to some emerging steel work replacement in the lower boiler room the dry docking was advanced to allow work to be completed before the new boilers were installed.  
January 2020
On 18 December 2019, the Boiler Refit Appeal reached its target of £2.3million.  The appeal attracted donations from over 8,000 individuals, the Paddle Steamer Preservation Society, several trusts, organisations and the Scottish Government.  Ongoing support will be required in the months ahead and to maintain Waverley in service.  
The ship will move to Greenock for work to begin mid-January, expected to take around four months.  
Waverley will return to service for summer 2020 once a major refit to install new boilers and electrical equipment is completed.
Summer 2019: Save the Waverley Boiler Refit Appeal
Waverley urgently requires two new boilers to produce steam to driver her triple expansion engine that turns the ship's paddle wheels.  Without these Waverley will never sail again.  An appeal has been launched to raise the funds required to replace the boilers, boiler room equipment and re-commission her for the 2020 summer season with an appeal target of £2.3million.
All online and postal donations will be recorded on a Donor Wall aboard Waverley.