Details
Vessel type
Survey Vessel
Available for excursions
No
Construction
Builder
White, J Samuel & Co Ltd, Cowes, Isle of Wight
Primary engine type
Diesel
History
History
WATERWITCH, a HAM class inshore survey vessel, was built by J Samuel White of Cowes between 1957 and 1958. She was commisioned as HMS POWDERHAM (M2720). LOA 106ft, MB22ft, 6ft 6in DR. 120 disp, 150 disp laden. Original armanent was 1 x 40mm Bofors and 2 x 120mm Oerlikon guns. Main engines are twin Davey Paxman YHAX, V12 diesel of 550shp. Carries 15 tons of fuel giving a range of 1200nm at 10-12knots. Naval complement 15/22 officers and ratings.
After a period of Operation Reserve and Special Trails Unit (1960/1) she was in service with the Forth Division Royal Naval Reserve (1962/3). She returned to STU (Portsmouth) until 1964 when she underwent conversion at Chatham to survey vessel and was renamed WATERWITCH.
Manned by a civilian crew of the Port Auxilliary Service she operated as part of the South Coast Survey Until until 1974. After refit she was allocated the pennant M304 and took part in the 1977 Silver Jubilee Fleet Review at Spithead. In 1980 she was renumbered M272 and again operated on the south coast until she replaced HMS DEE as tender to Liverpool University RN Unit, where she remained under the White Ensign until paying off in March 1985. She was laid up at Camber Dock & Portchester Creek until being towed to Goole in 1991, where she was found in decrepit condition. After being made seaworthy she sailed under her own power to the Tyne to be prepared for her role as a Motor Training Vessel by the volunteers of PROJECT M2720.
Sources
Project M2720 Newsletter, April/May Volume 1, 2000
Project M2720 Newsletter, May/June Volume 1, 2000
Fricker, A & Holtham, D, FSL WATERWITCH - Craft Report, World Ship Society SCHRG
Key dates
1957

Built by J Samuel White at Cowes as an inshore survey vessel

1958

Named HMS POWDERHAM and allocated Pennant No. M 2720

1960

In commission with 50th Minesweeping Squadron then laid up in Operational Reserve

1961

In service with Forth Division of Royal Naval Reserve

1963

At Portsmouth for Special Trials

1964

Converted at Chatham to Inshore Survey Vessel and renamed WATERWITCH

1974

Refitted at Portsmouth and allocated pennant M304

1977

Took part in Silver Jubilee Fleet Review at Spithead

1985

Paid off at Portsmouth and officially decommissioned

1986

Sold to Pounds Shipbreakers and Shipowners of Portsmouth

1993

Renamed Old peculiar and moved to Goole Ship Breakers Yard

1997

Arrived at Albert Edward Dock, North Shields for conversion to Motor Training Vessel

2006

Possibly broken up - reported in 2013, but unconfirmed
More like this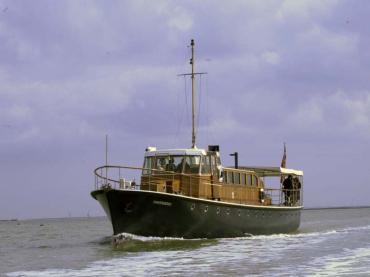 Registered, built 1955 by Tough Bros, Teddington
Registered, built 1968 by Groves & Gutteridge Ltd, Cowes
Registered, built 1958 by Brooke Marine, Oulton Broad, Lowestoft