Previous names
1934

-

1939

Ems

1939

-

1972

F.K.0.1

1972

Duke of Normandy II
paula.palmer
Details
Subfunction
Customs Vessel
Vessel type
Customs & Excise Launch
Available for excursions
No
Construction
Primary engine type
Diesel
History
DUKE OF NORMANDY was built in 1934 for the German Customs service and was originally called 'Ems'. She was used for transporting Customs officers to the Guard ships moored in the mouths of the four river estuaries, the River Ems being one of them, where she worked out of Harem.
On the outbreak of the Second World War, she was taken over by the German Navy and in 1942 was renamed 'F.K.01', short for Hafenshutz Flotille Kanalinseln (Harbour Protection Flotilla, Channel Islands) and operated out of St Helier, Jersey.
After WW2 and the liberation of the Channel Islands on the 9th May 1945, 'F.K.01' was taken over by the War Department as war reparation, for various duties around the Channel Isles with long spells where she was laid up in St Helier Old Harbour. Considerable repairs to the 375 h.p Deutz diesel engine were carried out at this time. On the 8th September she was sold by a Senior Contract Officer to the States of Jersey to replace their steam tug 'Duke of Normandy', built in 1903.
In 1974, she was sold by the States of Jersey and bought by J. Robinson of A.D.Moffat Ltd (or Robertson Marine Services) in Glasgow before being sold the following year to the British Waterways Board where she was used on the Caledonian Canal to tow the gate-lifter barge around.
In 1992 she was bought by owners based in Crinan, Scotland, and then in 2018, having been sold to a further private owner, she relocated to the River Weaver.
Key dates
1934

Vessel built in 1934 for the German Customs service

1942

Vessel renamed F.K.01

9th May 1945

F.K.01 taken over by the War Department for various duties around the Channel Isles

8th September 1945

Vessel sold to the States of Jersey

1974

Vessel sold into private ownership and was based in Scotland

1975

Vessel bought by the British Waterways Board and worked on the Caledonian Canal

1992

Vessel sold into private owners based in Scotland

2018

Vessel bought by new owners and based on the River Wear
More like this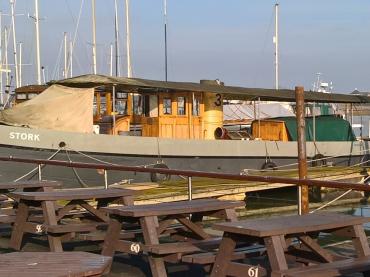 Registered, built 1926 by Vosper, Portsmouth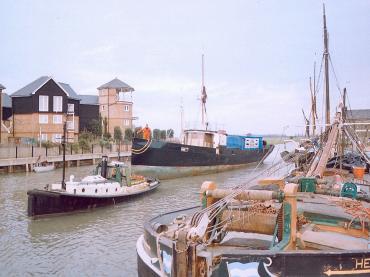 National Historic Fleet, built 1901 by Cox & Company, Falmouth