About the project 
The Shipshape Heritage Training Partnership 2 (SHTP 2) Project was a UK-wide training programme delivered by National Historic Ships UK (NHS-UK) in partnership with nine heritage organisations: Trinity Sailing Foundation (Year 1 only), Excelsior Trust, the Scottish Fisheries Museum, Sea-Change Sailing Trust, Dauntsey's School, the National Museum of the Royal Navy, Pioneer Sailing Trust, Falmouth Pilot Cutter (Year 2 only), and Cutty Sark – Royal Museums Greenwich.
The project has also been supported by the Funded by the National Lottery Heritage Fund to the sum of £434,400 as part of its 'Skills for the Future' programme, the project was set up to:
Prevent the loss of the traditional skills and techniques involved in conserving, handling and maintaining historic vessels
Encourage young people from different backgrounds into the maritime heritage sector
Bridge the gap between those operating historic vessels and those working in museums
From 2018-2021, SHTP 2 delivered 16 bursaried training placements of 12 months duration across museum and traditional vessel partner sites. The project provided trainees with the opportunity to learn either the specialist skills used in operating and maintaining historic sailing vessels, or the conservation techniques and terminology related to museum shipkeeping.
SHTP 2 is the second training programme of its kind, following the success of the first scheme (SHTP 1) which ran from 2014-2016/17. Both projects addressed the skills gap in the maritime heritage sector around maintaining and operating historic vessels using traditional techniques and materials passed down from previous generations. As a result of both training programmes, 26 young people aged 18-30 have gained the experience and skills necessary to join the maritime heritage workforce.
Project Evaluation 
The following report looks at what the project has achieved and shares lessons learned for future projects:
 SHTP 2 Evaluation Report                    Impact and Outcomes Leaflet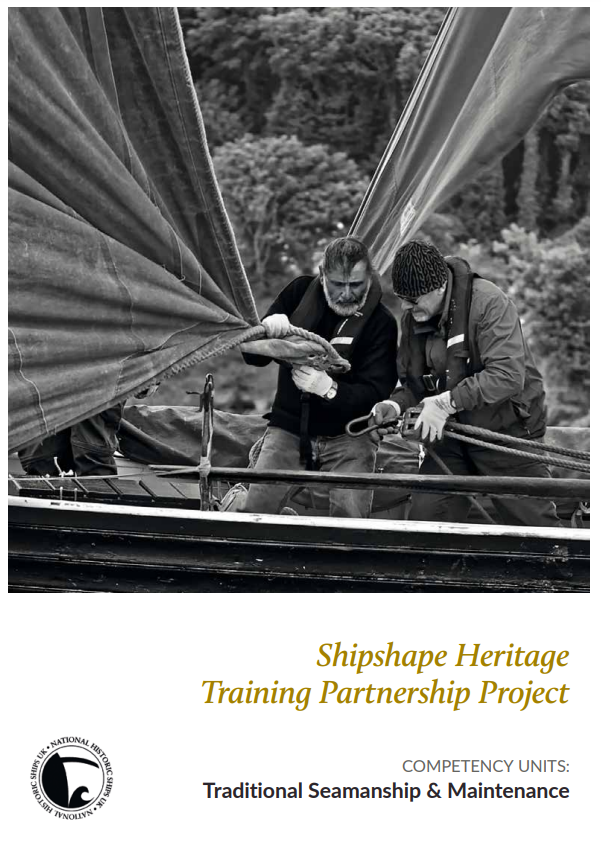 Competency Workbook                        Training Plan and Supporting Documents
Learning Films
Over the course of the programme, NHS-UK produced a series of learning videos that can be shared with the wider sector to highlight traditional skills and historic vessel conservation beyond the project. The following films were developed from the 2019 masterclass delivered by Tom Cunliffe to our Year 1 trainees. They explore the different types of rig configurations our trainees would encounter on placement, along with traditional navigation techniques. 
Watch the Understanding traditional rigs masterclass.
Watch the Understanding traditional navigation masterclass.
Online Forums 
In October 2021, the project team hosted a two online forums via Zoom with guest speakers to explore how NHS-UK can support diversity across the sector, as well as share knowledge and experience of traditional skills training. You can watch the forums via the links below, and download our written summary with top tips. 
Watch our Diversity and Inclusion Forum
With guest speakers:
Chrissie Clarke, Head of Diversity and Operations/Secretary to the Maritime Skills Commission, Maritime UK
Linda Fitzpatrick, Curator, The Scottish Fisheries Museum
Hannah Hurford, Chief Communications Officer at EcoClipper and SHTP 2 Year 1 trainee
Watch our Skill Training Forum
With guest speakers:
Roger Crumpton Trustee & Secretary, Pilgrim Heritage Sailing Foundation
Barbara Bridgman Director, Lynher River Barge CIC
Felicity Less Operations Manager, Pioneer Sailing Trust