About Gweek Classic Boatyard
Gweek Classic Boatyard is a traditional Cornish boatyard offering a full-services based in the upper reaches of the beautiful Helford River.  With a rich maritime history, it's situated in the heart of the picturesque village of Gweek.
The Boatyard was acquired by new owners in July 2017 and has since undergone serious improvements on-site. They are currently undertaking restoration work on the Customs House and Long Barn on the boatyard, where they'll be offering luxury accommodation from spring 2021.
As well as storage for over 250 vessels, both hard-standing and undercover, cranage for boats up to 25 tonnes, they can undertake modern and traditional yacht repairs and restorations. There are a number of skilled contractors working on site to help with all aspects of restoration work including
The yard is also happy to offer the facilities for owner projects and owner fit-outs.
In April 2019 the boatyard launched Constance Cruises, luxury catered cruises on the Helford River aboard their restored Victorian launch Constance. More information can be found at www.constancecruises.com
----------
Boatbuilding
Gweek Classic Boatyard has a long history of craftsmanship, with a tradition of many fine boats that have been built and repaired on-site that is continued by their skilled contractors today.  They have expert boatbuilders, carpenters and finishers on-site to help with any projects, including shipwright Andrew Massey, Duncan Skingley, Susie Ferris, and Chris Hardman Jones.
They're always on the lookout for more talented boatbuilders and craftsmen. They have space available to rent now: if you'd like to enquire please contact them.
----------
Boatbuilds
Fire Dancer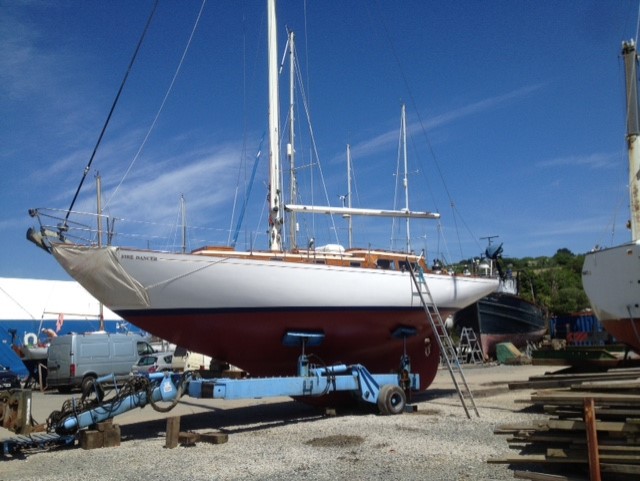 Fire Dancer was refitted by on-site boat builder Andrew Massey and his team.  They also converted her from a tiller to a wheel. Paintwork was completed by Suzi Ferris. Before going back in the water she'll have a coat of anti-foul and will be ready for launch early March.
Gig Build by Peter Martin
The yard is currently hosting experienced gig builder Peter Martin, who is undertaking a pilot gig build with help from his grandson and friend.  Peter was born in Falmouth, Cornwall: he left school at 15 and worked on the Fal pleasure boats and oyster farms before taking an apprenticeship in boatbuilding at Mylor Dock Yard.  After gaining a five-year apprenticeship as a shipwright, he moved to the Ocean Youth Club at Ponsharden to help build their new Robert Clarke design 72ft ketches.  It was here that he worked with Ralph Bird whom he had known since the early '60s through rowing.
Having worked in various boat yards, Peter moved to the Isles of Scilly in 1987 after meeting his Scillonian wife through gig rowing.  Fiona is niece to the late Tom Chudleigh, who built the first gigs in the 20th century.  Peter and Fiona moved back to the mainland in 2014 and made Gweek their home. 
Having spent most of his life rowing skiffs, coxed fours and gigs, and latterly coxing some championship crews, Peter was asked to build a gig for Mount's Bay Rowing Club.  Peter has so far built twelve gigs, including four for Mount's Bay, four for Scilly and two for Holland.  He had also over time repaired and renovated all of the old, original Scillonian gigs.
Ben Harris
Ben Harris has moved into the green shed at Gweek to begin a new build yacht project: a 34ft gaff rigged cutter yacht, inspired by the Falmouth Quay punts, built with traditional methods from wood, much of it sourced, sawn and seasoned in Cornwall.  It is a collaborative design and build with Jack Gifford, Naval Architect, and the owner Simon Wisker who will be working part time on the build.  Ben moved to Cornwall in 2005 to study and train in boatbuilding and has been building boats and sailing ever since.
St Michael's Mount Water Taxis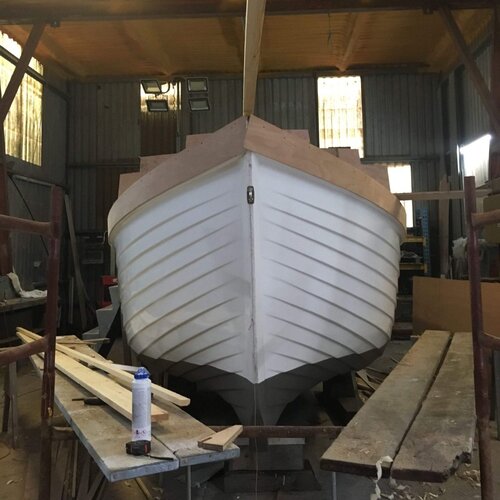 Boatbuilders Chris Hardman Jones and Duncan Skingley are currently working on a project of five water taxis for St Michael's Mount. If you are in the yard, pop into the tin shed to see the progress!
----------
Constance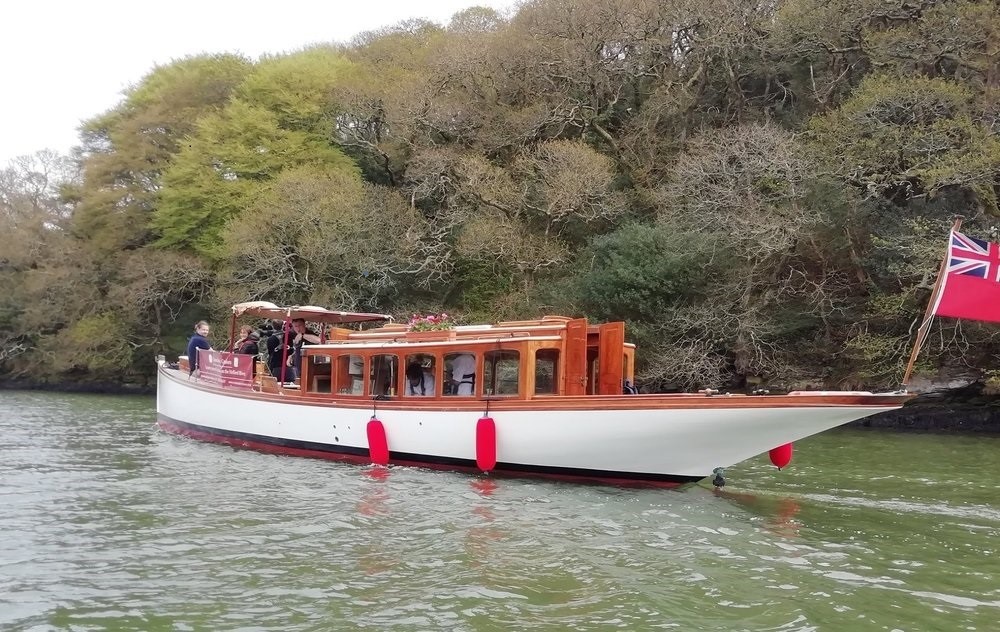 Constance is a historic saloon launch, built in 1895 by Henry Guy of Cowes, Isle of Wight.  She was sold to Gweek Classic Boatyard in March 2019 and after undergoing retoration work, was offered for charter from April 2019.
Constance can carry up to 10 guests with two crew members onboard at all times and undertakes river cruises on Helford River with lunch, afternoon tea and dinner.
----------
NEWS
September 2019 
- Planning for the Long Barn and Customs House conversion has been approved. The buildings will be converted into holiday lets later this year.
- The Boatyard will be supporting two apprentices at the boatyard in partnership with Cornwall Apprenticeship Agency: an Apprentice Yard Hand and Business Administration Apprentice. Please share with anyone you think may be interested!

- Andrew Cox Marine will be joining the contractors working at Gweek specialising in marine engineering and electrical services; for enquiries email info@andrewcoxmarine.co.uk.
- French interns: once again the team will be welcoming two young French interns to the boatyard in September. The two young people who worked with us last year were a resounding success and we look forward to continuing this project.
Find out more about Gweek Classic boatyard here.