What is 'Cargo 2020'?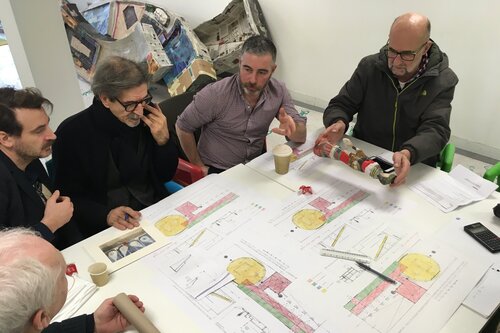 The Cargo 2020 international and intergenerational project is produced and promoted by 1st Framework the arts and educational charity.
The first framework of Cargo 2020 project presented an international, inter-generational collaboration inspired by French Artist Dominque Pinchi and his remarkable seven-metre sculpture 'The Shield of Achilles', as described in Homer's epic poem 'The Iliad'.  This was exhibited in Venice during the Biennale 2019 at the Thetis Culture & Ecology Centre.
The symbols on The Shield represent the key elements required for future protection of a balanced harmonious civic society; including dancing groups, farmers, crops, cities at war, at peace, justice, the moon, stars, constellations, sea, justice and many other visual metaphors.
What is the connection with SS Robin?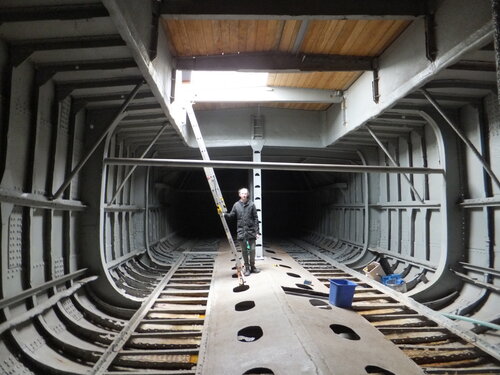 Artist Dominique Pinchi installed his intricate seven-meter sculpture (which took two years to build) in the vast cargo hold of the historic steamship SS Robin, which is currently moored in London's Royal Victoria Docks.  Dominique's sculpture demonstrates his interpretation of the themes contained within The Shield of Achilles.  
School children in London-Venice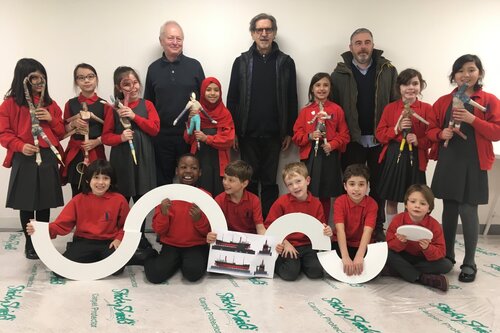 In London, working in the same studio as Dominique, local children have been interpreting the themes described by Homer contained within The Shield as they produce their own, smaller shields to be exhibited alongside Dominique's.
In Venice, children from mixed nationalities have been working with Dr Hesperia Illiaou and MA students from The European Institute of Design to create similar shields which will be presented in Venice on the historic ships 'Nuovo Trionfo' in front of St Mark's Cathedral.
From January to April 2020, children based in Newham and Tower Hamlets schools have been focusing on the metaphors and themes, creating their own 'Shields' poems, dances and songs in response to their experiences.
Workshops & Discussions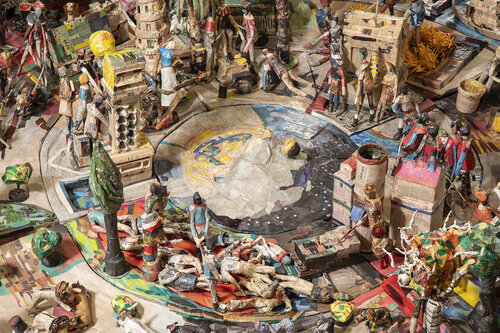 All the Shields, poems and songs will be brought together and displayed/projected on plinths and screens in the vast cargo hold of SS Robin in May 2020.
Workshops and discussions will take place in SS Robin's visitor centre to accompany the exhibit.
Project support
The SS Robin Trust are grateful to the following for their support of this pilot initiative and hope to be able open more of SS Robin and its pontoon in the future:
The British Museum
Correr Museum
D'Arzena Heritage Centre, Venice
Nuovo Trionfo heritage vessel, Venice
Prof. Hisperia Iliadou
Europa Nostra Industrial Heritage Committee
Council of Europe
Trinity Buoy Wharf (a Shipshape Network South East project)
London Sea Shanty Choir