Details
Vessel type
Sidewinder Trawler
Available for excursions
No
Construction
Builder
Brooke Marine, Oulton Broad, Lowestoft
Primary engine type
Inboard diesel
History
History
MINCARLO, a near/middle distance side-fishing trawler, was built by Brooke Marine at Oulton Broad in 1962. She fished until 1975 and then two years later in 1977 she was converted for service as a rig stand by vessel.
In 1984 her name was changed to PUTFORD MERLIN, but she undertook the same duties. At 28 years old, she became redundant once again and was eventually saved from the scrap yard. Putford Enterprises sold her to the Lydia Eva Trust in 1991 to ensure her preservation as a classic Lowestoft trawler of the 1950-60s.
MINCARLO is believed to be the last side winder fishing trawler to be built in Lowestoft, with immense importance to Lowestoft's Fishing Heritage and off shore oil industry history.
Sources
Classic Boat: Mighty Zulu, January 1997
Key dates
1961/2

Vessel built by Brooke Marine, Lowestoft, Suffolk

1977

Vessel converted for service as a rig stand by vessel

1984

Vessel name changed to PUTFORD MERLIN

1991

Sold to The Lydia Eva Trust, which then became The Lydia Eva & Mincarlo Charitable Trust
Grants
September 2014

A Sustainability Award of £1000 for work on the mizzen mast, was made from the Strategic Development Fund of National Historic Ships
More like this
Registered, built 1960 by Cook, Gemmel & Welton Ltd, Beverley
Registered, built 1960 by Richards Ironworks Co Ltd, Lowestoft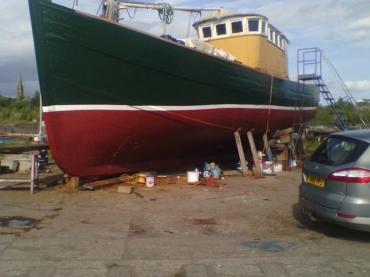 Registered, built 1967 by Noble & Co, James, Fraserburgh