Details
Available for excursions
No
Construction
Builder
Warrens Shipyard, New Holland
Primary engine type
Inboard diesel
History
Significance
What is the vessel's ability to demonstrate history in her physical fabric?
SPIDER T is a Humber sloop built in 1926 that has been reconstructed (with the exception of the insertion of port holes and widow lights) to her original hull form. She is used for charter work which has required considerable adaptations to her interior, but these have been carried out to an extremely high standard with the cargo hold altered to period Edwardian accommodation. Care has been taken to ensure that conservation work uses traditional methods and like-for-like materials wherever possible to maintain the significance of the vessel. For example, the vessel had not been fully rigged since 1939 but, in 2007, new sails were commissioned from a traditional sail maker to re-create the 1920s' sails of tan sailcloth. The vessel retains her engine to allow greater operational scope, but the wheelhouse structure has been made demountable to permit tiller steering as in the original specification if required for heritage purposes. Modern navigational aids and passenger comforts have been installed, but these have been carefully situated to make the least impact to the vessel's overall significance.
What are the vessel's associational links for which there is no physical evidence?
The Humber sloop, developed from the 18th century single-masted square-rigged Humber keel was designed to make passages between the Humber ports and inland along the rivers Trent and Great Ouse, carrying cargos such as coal, phosphates, cement and bricks. As a Humber sloop built for this increasingly competitive market in the early 20th century, SPIDER T was the pride of her fleet and is now a rare representative of this form of Britain's industrial and maritime heritage. She came second in the Humber Regatta only a few weeks after she was launched. Today, she maintains her connection with the firm that built her, being visited by Peter Warren in 2009, whose father and grandfather built SPIDER T at Warrens Shipyard in 1926, to a design by his uncle, Frederick Warren. Eighteen working drawings of the vessel survive and are now held by the current owner. SPIDER T still operates on the Humber today; a visual reminder to the public of her significance as a heritage asset for this region. She also demonstrates wider elements of national significance, contributing to the Second World War effort as a motor vessel transporting munitions. In later life, she became a Rotherham Police community project vessel, earning the organiser the British Empire Medal. SPIDER T is one of three surviving Humber sloops and eight Humber keels included on the National Register of Historic Vessels.
How does the vessel's shape or form combine and contribute to her function?
SPIDER T was designed with a heavily built iron hull, with 3/8 inch plates below the waterline and alternating 5/16 inch and 3/8 inch above. She was flat-bottomed to take the ground and had a deep hold to maximise the space available for carrying cargo. Fully rigged, SPIDER T now combines the external characteristics of a typical working boat, whilst offering a heritage experience in terms of Edwardian style down below.
Source: Hannah Cunliffe, Policy & Project Manager, National Historic Ships 06 January 2011. Updated 21 December 2017
History
SPIDER T is an iron-hulled Humber sloop, built for Captain Tomlinson. Originally fully masted, she is fitted with a Gardner diesel engine 200 hp. Prior to this, a 21 hp Lister engine had been installed in 1939 following a government grant. She was the pride of the fleet. SPIDER T was rigged similar to the other Humber sloops of the period which had a mainsail and a foresail; SPIDER T now has has a mainsail, foresail, jib and a topsail. These sloops were built at the end of the sail powered era in the hope that new, more capable vessels, suitable for coastal waters, inland rivers and canals, would bring fortune to the shipyard, but unfortunately no more vessels of this type were ever made. SPIDER T was given a government grant for an engine in 1939, de-rigged and re-registered as a motor vessel for the war effort and then carried on working up until 1970 when her owner died and she was sold at auction. It is believed that Captain Tomlinson's widow purchased her back again, but she eventually became derelict and sank. She was then raised and re-fitted with some structural repairs, earning the organiser the British Empire Medal for her use as Rotherham Police community project vessel. She later fell into disrepair and became derelict again and was fully stripped out, ready to be cut up and broken, when the current owner purchased her in 1998 from the Sobriety Centre, Goole.
Read article by Matthew Finn of his experience sailing on board SPIDER T in June 2014. Source: vessel owner.
Sources
Towpath Talk: Traditional skills revived on historic sloop, February 2011
Key dates
1926

Built by Warren's Shipyard of New Holland for Captain Tomlinson of Thorne

1926

Entered the Humber Regatta and came second

1926-39

Carried cargoes of bricks, grain and other goods

1939

De-masted and fitted with an engine to support the war effort

1939-70

Continued carrying cargo

1970

Bought by Capt Tomlinson's widow

1972

Sunk, refloated and used for a Rotherham Police Community project

1990-94

Laid up in Goole Dock and became a half-submerged wreck

1994

Bought by private owner and sailed to Keadby

1994-2006

Complete restoration carried out

2005

Became a National Historic Fleet vessel

2008

Damaged in a collision with RMS SNOWLARK on the Keadby and Stainforth Canal

2008

Given a grant of £1,500 by the National Historic Ships Strategic Development Fund

2009

Invited to take part in a display for the Rotterdam Haven Museum

2011

Gained the runner's up slot as National Historic Ships Flagship of the Year

2011

Took part in the Arbroath Sea Fest

2012

Took part in the Queen's Diamond Jubilee Pageant on the River Thames

2012

Vessel owner appointed as an ambassador of the Sailor's Society Charity
Grants
April - January 2011

Awarded £250 from the Strategic Development Fund of National Historic Ships for runner up Flagship of the Year Award 2011

Financial year April

A Sustainability Grant of £1500 towards the cost of stern posts was made from the Strategic Development Fund of National Historic Ships

2007

A Sustainability Award of £3000 was made to SPIDER T from the Strategic Development Fund of National Historic Ships towards the cost of new sails
More like this
Registered, built 1907 by Warrens Shipyard, New Holland
National Historic Fleet, built 1914 by Scarr, Joseph & Sons, Beverley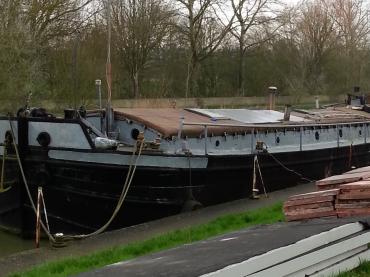 Registered, built 1898 by Scarr, Henry Ltd, Hessle