Details
Function
Passenger Vessel
Vessel type
Car and passenger ferry
Current use
Commercial Activity
Available for excursions
Yes
Construction
Builder
Ferguson Ailsa Ltd, Ayrshire
Primary engine type
Inboard diesel
History
MV GLENACHULISH is the last manually operated turntable ferry in the world. She is in regular service between Easter and October and is maintained by the Isle of Skye Ferry Community Interest Company, which holds a Loadline Exemption certificate from the MCA. In 2010 the company spent £60,000 overhauling the keel and hull.
Once a common sight throughout the Highlands, 'wee ferries' were the road links before the building of bridges. The GLENACHULISH ferry was built in 1969 to work the crossing at the head of Loch Leven between Ballachulish (Argyll) and North Ballachulish (Inverness-shire) on the main (A82) west coast road between Glasgow and Inverness. The GLENACHULISH was in service until the Ballachulish ferry closed in December 1975.
In 1983 she came to Glenelg, the closest landmass to the Isle of Skye, to ply the Kyle Rhea Narrows, the oldest and fastest ferry route to the island. This is where Vikings crossed the surging straits coping with the eight knot current, and drovers brought herds of Hebridean black cattle to swim across from Kylerhea on Skye to Glenelg and continue their way south to market - a head count of some 8,000 beasts per year. There has been a car ferry service here since 1934, although there was an extended break through the Second World War when access to local waters was restricted due to their importance as a centre for naval operations.
In 2006 when the owner operator retired a community interest company was set up to purchase and operate the ferry. The Isle of Skye Ferry CIC is a Social Enterprise set up to safeguard the historic ferry route from Glenelg to Skye. The company works to secure this economic lifeline in the interest of the local community.
In June 2022, MV GLENACHULISH was awarded the title of NHS-UK's Operational Flagship of the Year.
Key dates
1969

Vessel built by Ferugson Ailsa Ltd in Troon, Scotland

1983

Moved from operating at the head of Loch Leven to Glenelg

2006

Upon the retirement of her owner, Isle of Skye Ferry Community Interest Company was formed by local residents to buy the ferry and run the service

2022

Received the 2022 Operational Flagship of the Year Award from National Historic Ships UK
More like this
Registered, built 1959 by Yorkshire Dry Docking Company, Hull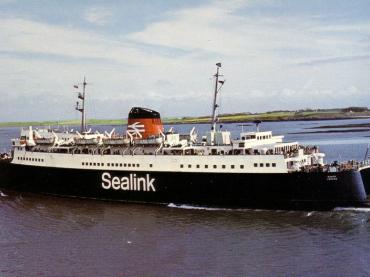 Archived, built 1965 by Swans, Newcastle