Details
Function
Passenger Vessel
Vessel type
Experimental Hovercraft
Available for excursions
No
Construction
Builder
Saunders Roe, Cowes, Isle of Wight
Hull material
Other metal
Primary engine type
Gas turbine
History
THE PRINCESS ANNE is a Mountbatten Class Saunders Roe (Nautical) 4 (SRN4) fully amphibious hovercraft, built in 1968. She was launched in 1969 along with her sister craft, 'The Princess Margaret' to serve on the English Channel between Dover, Calais and Boulogne. Her naming ceremony took place in Dover and she was christened by her namesake, HRH the Princess Royal.

Only 6 SRN4's were ever built but the ANNE was only one of two to ever be lengthened and upgraded to a Mk3. This gave her a total solid structural length of 54m with a beam of 28.5m.

She holds two Guinness world records, one for being the largest commercial hovercraft ever built and one for setting the cross-channel fastest crossing time of 22minutes in September 1995. She could carry up to 427 passengers and 55 cars at speeds in excess of 65kts.

Originally, she operated under British Rail's company called SeaSpeed until the merger between this company and a rival called Hoverlloyd in 1981 when they rebranded as Hoverspeed. The craft continued in service until October 2000 when it was retired from the fleet and moved for storgage to Lee-on-the-Solent in Hampshire.

In 2006 a private buyer bought the craft for her mechanical spares and she deteriorated rapidly over the next decade until in 2016 the Hovercraft Museum Trust were able to save her from being scrapped after a high profile campaign in the media. She is now on long term loan from the owners of the site, Homes England, with a view to full ownership taking place shortly.
Sources
Fast Ferry International: Hovercraft Museum Seeks Permanent Home, pp29-31, December 1993
Heron, Liz, The News (Portsmouth): Crowds in hover heaven, pp12, 29 May 1999
Key dates
1965-03-01

Order is signed off for 2 Mountbatten Class SRN4 hovercraft

1968-01-22

Construction begins at Saunders Roe, East Cowes on the Isle of Wight

1969-02-22

Launch Day and start of Sea Trials

1972-02-01

Conversion to Mk2

1978-11-01

Conversion to Mk3

1995-09-14

Fastest crossing of the English Channel recorded by Guinness World Records on the 10am service (22mins Dover to Calais)

2000-10-01

Withdrawn from service

2002-06-01

Final engine run by Hoverspeed engineers before engines were removed

2016-08-14

Saved from demolition by the Hovercraft Museum

2018-02-01

Sister craft The Princess Margaret is demolished, the Princess Anne is now the only SRN4 in the world. ('Sure' broken up in 1989, 'The Prince of Wales' gutted by fire in 1991, 'Sir Christopher' broken up in 1998, 'Swift' broken up in 2004)
More like this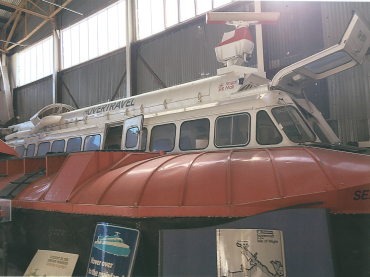 Registered, built 1964 by Saunders Roe, Cowes, Isle of Wight
Registered, built 1959 by Saunders Roe, Cowes, Isle of Wight