Details
Vessel type
Survey Vessel
Available for excursions
No
Construction
Builder
Groves & Gutteridge Ltd, Cowes
Primary engine type
Twin diesel
History
History
In the late 1950s a versatile replacement craft was being considered for PODSNAP, a survey vessel operated by the Hydraulics Research Station (HRS) in Wallingford. Along with the National Physics Laboratory (NPL) at Teddington, HRS was part of what was then the Scientific Civil Service, These two establishments often collaborated on projects; on this occasion HRS required a new survey launch, and NPL needed practical generic data for some studies of water craft efficiency they were undertaking. A collaboration was set up where NPL would design the lines and general arrangement of a craft, and HRS would fund the building and decide on her detailed layout. Once launched, NPL would carry out specialised trials to collect all the data they needed.
NPL appointed naval architect David Freeman to do the design work. Freeman spent a few days on PODSNAP to see what features should be incorporated into the new vessel. He was a member of the Cheverton Workboats team, which was well known for the very successful Champ design. At this time he was also involved with Freeward Marine, and was part of the team behind the Fairway Fisher family of motor sailors. The general design of the new launch progressed, with enhancements to suit survey operations. She had reduced accommodation compared to PODSNAP under the foredeck, a large wheelhouse/chart room with large windows, a raised bridge deck over a large storage hold, a tall mast to get navigation/signal lights at a sensible height over the sea, a derrick with electric hoist, and a large clear working area on after deck with transom stern. The power/speed and fuel capacity were all arranged to suit a work pattern similar to that operated by PODSNAP.
The building of SIR CLAUDE INGLIS started at Groves and Gutteridge, Clarence Yard, East Cowes in 1968, as vessel number 629. She was a 'one off'. When she was at the stage of a bare open hull, consisting of carvel Mahogany on Oak with Cascover Sheathing, and with deck beams only, she was transported to and tested at the Research facility in Teddington. The timber formwork was in the fabrication shop, ready for construction of the aluminium superstructure. The construction was supervised and inspected by a surveyor from the Air Ministry. At this time the Air Ministry were the standards authority for the many RAF marine craft still being built, and HRS was a government establishment.
SIR CLAUDE INGLIS was put into service in 1969. HRS Wallingford Civil Engineering & Environmental Hydraulics continued to use her until around 2009. She was sold to a small surveying firm based in Queenborough, and then briefly to another owner, until purchased by her current owner in August 2013. She is still Category 2 workboat coded and remains original in most respects, performing her tasks with grace and determination.
Key dates
1968

Built at Groves and Gutteridge, Cowes, isle of Wight

1969

Entered service with Hydraulics Research Station, Wallingford

2009

Sold to small surveying company in Queenborough

2012

Sold to new owner

2013

Sold to present owner and fully operational
More like this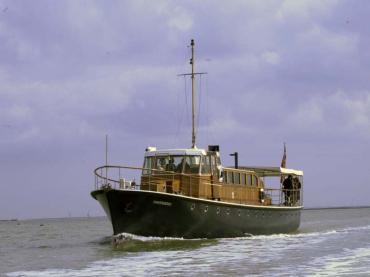 Registered, built 1955 by Tough Bros, Teddington
Registered, built 1958 by Brooke Marine, Oulton Broad, Lowestoft
Archived, built 1957 by White, J Samuel & Co Ltd, Cowes, Isle of Wight