Details
Vessel type
Norfolk Wherry Yacht
Current use
Ongoing conservation
Available for excursions
Yes
Construction
Builder
Collins, Ernest & Sons (Wroxham) Ltd, Wroxham
Primary engine type
Electric
History
History
Built in 1912 by Ernest Collins at Wroxham, NORADA is a wherry yacht of wooden construction. Her engine is electric and she is rigged as a single masted wherry. She was built for use as a charter vessel on the rivers of The Norfolk and Suffolk Broads and has been maintained in active service based at Wroxham.
She was used for charter until 1950 when she was sold to Mr Andrews who renamed her LADY EDITH. Sold again in 1964 to Barney Matthews, she had an extensive restoration between 1972 and 1982 and in 1984 became a charter vessel once more. As part of her 75th anniversary celebration in 1987 she reverted to her original name. In 2006 she was purchased by the Wherry Yacht Charter Charitable Trust with grant aid from the Heritage Lottery Fund and was restored to sailing condition including rebuilding the counter stern and tabernacle and was relaunched in 2012 She is now seen regularly on sailing on the Broads.
Sources
Brouwer, Norman J, International Register of Historic Ships, Anthony Nelson, pp164, Edition 2, 1993
Bowers, Peter, Norfolk Wherries, Norfolk Broads Authority, 1994
Classic Boat:Three of a Kind - Meet White Moth, Olive and Norada, April 2014
Classic Boat: Centenerians - Norada 1912: Wherry interesting, October 2012
Classic Boat: Barge and Wherries share £1 million HLF bid, June 2005
The Wherry Around the Wherry Sheds, 2000
Key dates
December 2009

Re-launched after full restoration July 2009. Internal refitting followed.

May 2011

A new permanent home was opened on the 19th April at Barton House in Wroxham. The building, part of a £1.5 million project, provides a base for undercover, year-round restoration and maintenance, and includes a slipway, workshop, office, storage and archive room. Source: Classic Boat magazine

8 July 2012

Vessel relaunched at Salthouse Broad: Source: Wherry Yacht Charter Charitable Trust, July 2012

May 2013

Vessel visited by NHS-UK team.
More like this
Registered, built 1915 by Collins, Ernest & Sons (Wroxham) Ltd, Wroxham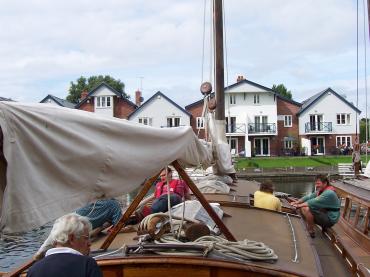 National Historic Fleet, built 1909 by Collins, Ernest & Sons (Wroxham) Ltd, Wroxham