Details
Function
Passenger Vessel
Current use
Ongoing conservation
Available for excursions
No
Construction
Builder
Denny, William & Bros Ltd, Dumbarton
Primary engine type
Steam turbine
History
History
Built in 1933 by W Denny Brothers of Dumbarton for Williamson-Buchanon Steamers (which were bought by the London Midland & Scottish Railway in 1935) and launched as QUEEN MARY, this is a steel hulled vessel built to carry mail and passengers out of the River Clyde to ports on the west coast of Scotland. She is powered by three steam turbine engines propelling triple screws. Her name was changed to QUEEN MARY II in 1935 to accommodate Cunard's newly built QUEEN MARY. During the Second World War, QUEEN MARY II was painted naval grey and maintained the Gourock to Dunoon service for over six years and also served as a tender for ocean-going vessels. Later she was operated by the Caledonian Steam Packet Co. Ltd, coming under the auspices of Caledonian MacBrayne in 1973. Withdrawn from service in 1977, she was bought by Glasgow City Council from 1978 to 1980 for a Clyde maritime museum project which was abandoned on financial grounds. She was moored at various London docks between 1981 and 1987 until purchased and converted to a bar and restaurant and moored by Waterloo Bridge in central London. Her machinery has been removed, although an original steam turbine with propeller stands in the lower deck cocktail bar.
In 2016, she was successfully towed back to the Clyde and is currently docked in Glasgow. Since rescuing the vessel from being scrapped, in 2015, Friends of TS Queen Mary have raised and invested £2million in the project to restore the vessel as a heritage destination and education centre, moored at Glasgow Science Centre on the River Clyde.
March 2022 update: Patron of Friends of TS Queen Mary the Princess Royal announced that instead of becoming a static exhibit, the ship will be restored to sail on the Clyde once more. It is planned she will return to sail in summer 2024.
We are currently seeking further information on this National Historic Fleet vessel. If you have any details about this vessel past or present, please contact us.
Sources
Brouwer, Norman J, International Register of Historic Ships, Anthony Nelson, pp170, Edition 2, 1993
Sullivan, Dick, Old Ships, Boats and Maritime Museums, Coracle Books, 1978
Ships Monthly: Dining Afloat: A review of Britain's floating restaurants, pp19-21, December 1990
Ships Monthly: Still in Steam: Queen Mary, pp30-33, September 1977
BBC News Online article: Princess Royal backs Glasgow's TS Queen Mary restoration https://www.bbc.co.uk/news/uk-scotland-glasgow-west-47515176 11 March 2019
More like this
Archived, built 1938 by Cook, Gemmel & Welton Ltd, Beverley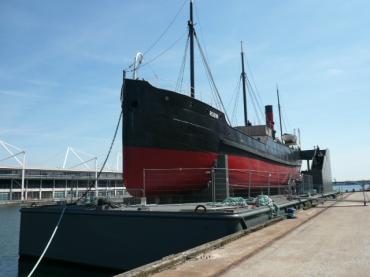 National Historic Fleet, built 1890 by Mackenzie, MacAlpine & Co, Blackwall