Details
Available for excursions
No
Construction
Builder
Thornycroft, J I & Co Ltd, Hampton
Primary engine type
Diesel
History
History
TAHILLA was built as SKYLARK by Thornycrofts at Hampton-on-Thames in 1922. She was commissioned by D Melville Wills of the Bristol tobacco family, to travel from there to his estates in Scotland. One of the Dunkirk Little Ships, she belonged at that time to W Egerton Wilson of Colwyn Bay in Wales, but was kept on the Thames.
After the war, she remained in Admiralty ownership until 1948 and then became a widely travelled and comfortable cruising ship. Eleanor Samuelson owned her throughout the 1960s when she came to know the French canals well and the current owner, who had business interests in the South of France, found TAHILLA there in the mid-sixties and used her as a floating office. He had to rebuild the coach roof over the engine compartment and the after-deck and, fifteen years later, bought her back home where she is now used as a family cruiser in the Solent.
Although this vessel is on the National Historic Fleet, we are currently lacking information on this particular vessel. If you have any information on this vessel past or present, please contact us.
Sources
Brann, Christian, The Little Ships of Dunkirk: 1940-1990, Collectors Books Ltd, 1989
ADLS News: Fleet news, Spring 2015
Classic Boat: Tell Tales: Dunkirk trust down, not out, August 2000
Classic Boat: The Little Ships Prepare to Revisit Dunkirk, May 2015
Classic Boat: St George's Crossing, August 2000
Key dates
1922

Built by Thornycroft at Hampton on Thames for D. Melville-Wills

1940

Requisitioned by the Admiralty and took part in the Dunkirk evacuation

1948

Released from Admiralty service. Owned by W Egerton-Wilson of Colwyn Bay

1960s

Owned by Eleanor Samuelson and cruised extensively through the French canals and Mediterranean

1969

Bought by current owner and based in the Solent

2012

Vessel selected for Queen's Diamond Jubilee Pageant on 3 June 2012
More like this
Registered, built 1938 by Saunders Roe, Cowes, Isle of Wight
Registered, built 1933 by Dickie, A M & Sons Ltd, Tarbert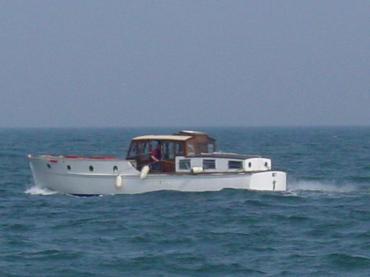 Registered, built 1935 by Launch & Boat Co, Southampton