About the Britannia Sailing Trust
The Britannia Sailing Trust, is a Scottish registered charity founded in 2014, which is dedicated to advancing Britain's maritime heritage, raising awareness of the fragility of our oceans and providing experience of traditional sailing and maintenance of a historic vessel through the restoration of the class 1 smack Britannia.
Britannia was one-hundred-years old in April 2015 and she is the last of her kind. She has had a varied and interesting life and you can read more about her on the Trust's History page.
The purpose of the Britannia Sailing Trust is to repair this beautiful and unique vessel in order for her to sail again, campaigning in the twenty first century to protect the oceans that are our planet's lifeblood.  Built more than a hundred years ago, she has seen many changes and had different roles, but her future role may be the most vital.  By preserving Britannia, the Trust aims to offer training and work experience for individuals to learn how to sail and maintain a traditional sailing boat, part of Britain's Maritime History.  
Funding
The Trust welcomes any contributions which will help us to save this historic vessel.  All labour, skilled and otherwise is voluntary; admin costs and overheads too are covered, so every penny they raise will be spend directly on the vessel.
The team are very grateful to all the Friends of Britannia who are regularly contributing money which pays for their annual revenue costs.
They have an award from from the Association of Industrial Archaeology which will go towards Britannia's rig, and work on that has already started.

See here for more details on how to donate directly
Collaborative working
Britannia Sailing Trust is working collaboratively with another Shipshape Network maritime heritage project in Bideford, the SS Freshspring Trust, and is helping them make a mast from a tree donated from the local Clinton Estates.  Before Christmas 2019, a tree was selected, felled and cut into the square before being transported to Freshspring where volunteers will be taught how to transform it into a new mast.
This relationship between two maritime heritage projects is of great benefit to both, sharing experiences and connections.  Britannia Sailing Trust attended a meeting of the Devon and Cornwall Industrial Heritage Network and have offered to host the next Spring meeting, which brings together an assortment of heritage projects such as canals, steam railways and working museums.  Through this connection they had a visitor from the editor Vintage Spirit magazine who published an interesting article about the team's progress with Britannia in their Nov 2019 issue. 
Volunteers
The Trust has established a really solid group of committed volunteers and have also made important connections within the local community of Winkleigh, which in the latter part of 2019 resulted in the establishment of the Winkleigh Environment Group, set up by one of their volunteers and coordinated and facilitated by Chair, Vicki Samuels.  Winkleigh Parish Council proclaimed a climate emergency and with the Trust's help will be working towards 'Plastic Free Community status in association with Surfers Against Sewage'.
The team are always happy to welcome volunteers, young or not so young, and we would also be grateful for any donations that will them move the rebuild on, saving them precious funds. 
Timber, particularly oak, or elm, hand tools or power tools to add to their 'Volunteers Tool Chest' - started by one of their supporters, John Clayton - are also gratefully received.
----------
Latest News
January 2022 - It's all hands on deck as work begins on a complicated and substantial deck rebuild, whilst volunteers help to caulk the hull. This and more in The Britannia Sailing Trust's latest newsletter. Read here. 
July 2021 The Britannia Sailing Trust have recruited three new volunteers! Full story
November 2020 The Britannia Sailing Trust have been awarded £61,000 from the Government's Culture Recovery Fund, which will enable the team to speed Britannia's conservation by hiring extra skilled labour and help them to achieve their aim of launching Britannia in the next year or so.
January 2020 Tracy Edwards, MBE, becomes Patron of the Britannia Sailing Trust. 
2019 Update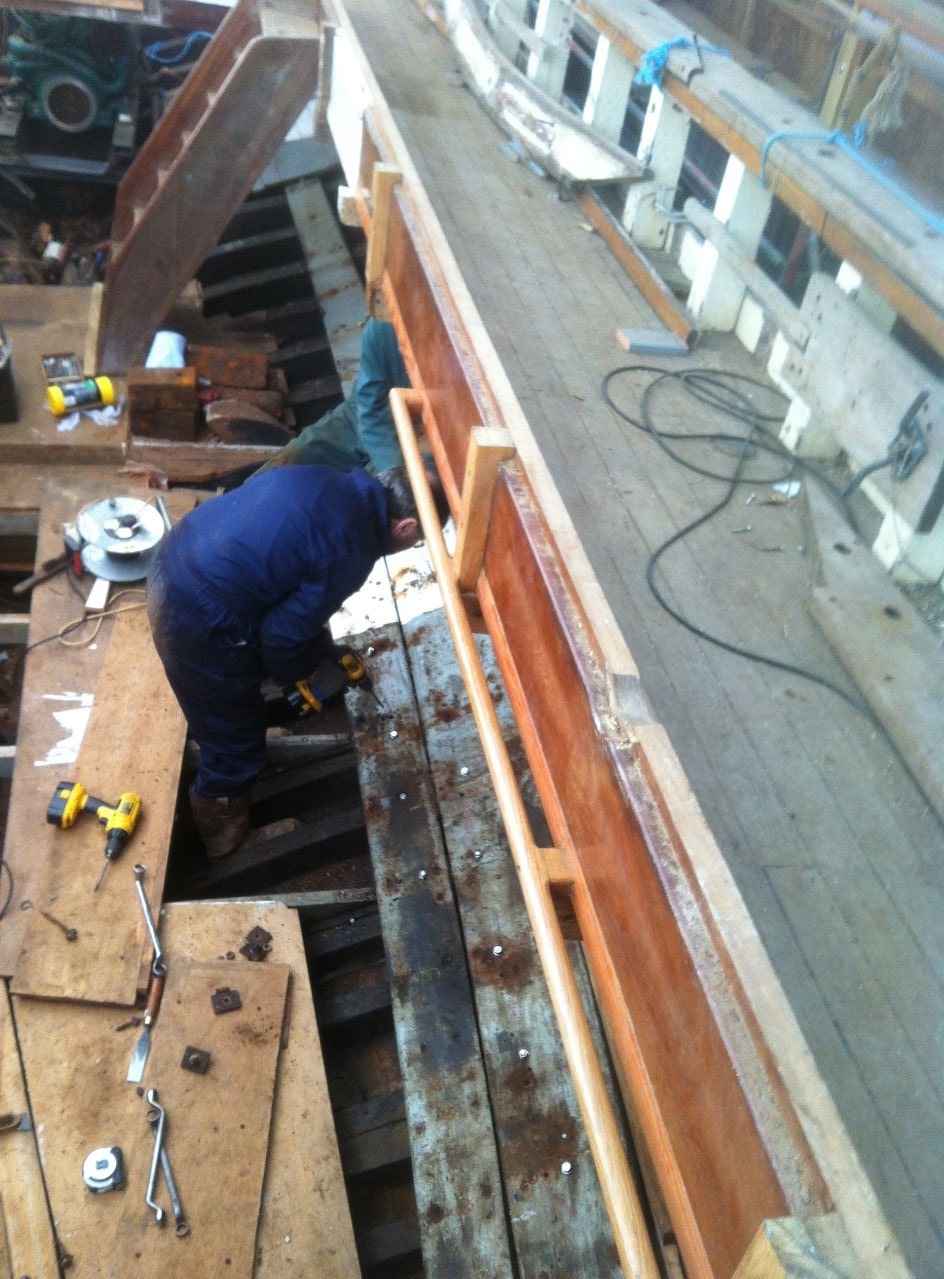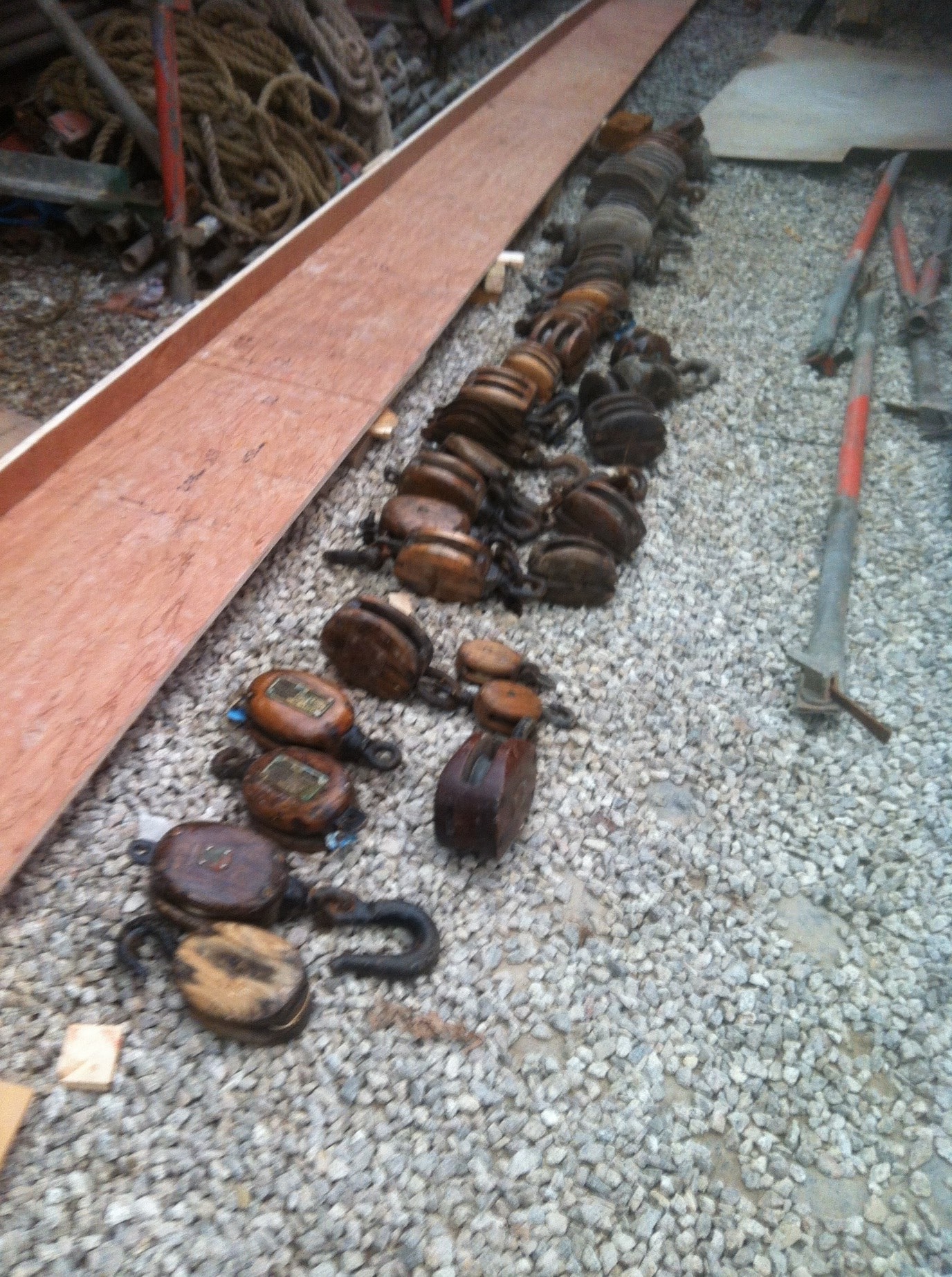 The team were delighted to report that they achieved all the tasks they set themselves for 2019, including taking the lines off the boat which was an interesting exercise that they have never had the opportunity to do in the past.  This was necessary in order to achieve an accurate calculation of the internal ballast required to ensure stability when she is sailing.  
They have completed the first phase of their 3 year planned Project and with the necessary funding in place, (always a challenge!) they are on track to achieve the second phase, which is shipwright work on the hull and deck, making her seaworthy, beginning the fitting out and completing the spars and rigging.
All the old fittings have been removed, ballast removed, cleaned and painted, ready to be re-installed.  Work has commenced on refurbishing the wooden blocks taking the running and standing rigging.  Bilge stringers have been refastened.
August 2018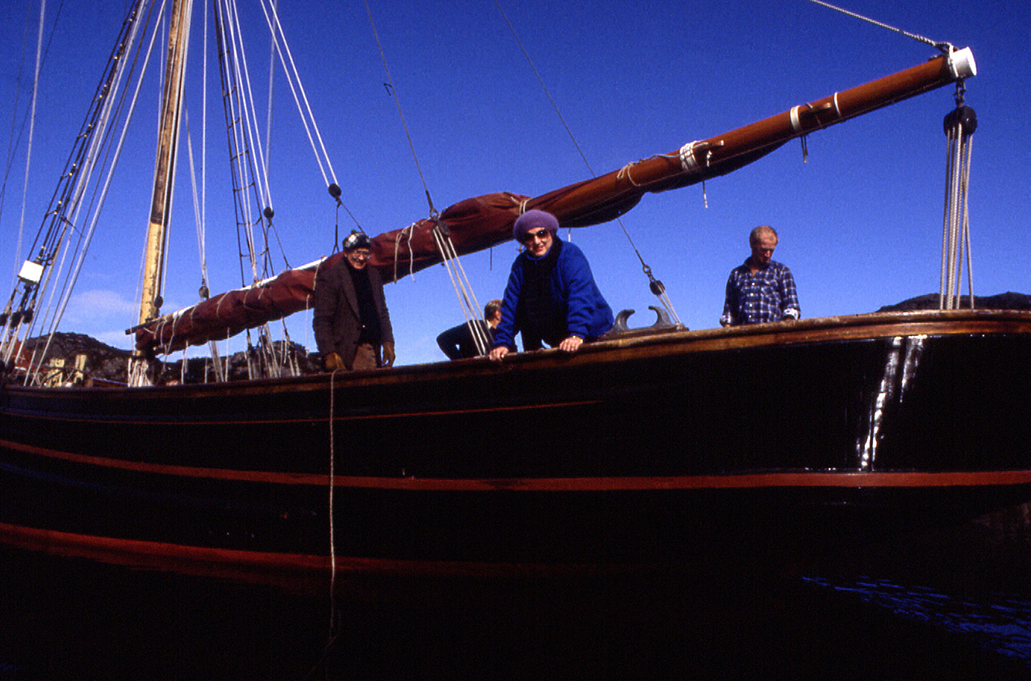 The 'Big Shed' which houses Britannia is now complete!  This means that work can start in earnest on Britannia herself now, ahead of their planned schedule - it's been a long five years since September 2013 when the team first saw her in Brixham harboud and made up their minds then to rescue her, to getting her here to Winkleigh and building the facilities which will ensure that work can be carried on all year round in a safe, sheltered environment.
Find out more about the Britannia Sailing Trust here.
Find out more about our other Shipshape Network South West Projects here.