About the Pilgrim Heritage Sailing Foundation
The Pilgrim Heritage Sailing Foundation was formed in 2017 as a registered charity to take on the preservation, operation, maintenance and protection of the heritage sailing trawler Pilgrim of Brixham BM45.
Pilgrim was built at the yard of J.W. & A. Upham in Brixham in 1895 and is the oldest surviving sailing trawler that was built and rigged in the port. She was one of several hundred Victorian sailing trawlers that worked out of Brixham in the late 19th century.
The history of Pilgrim is a fascinating story of endurance and survival that sees her approaching her 125th anniversary still sailing in the traditional manner and out of her home port. That survival is due in no small part to the incredible work of the Pilgrim Preservation Project (PPP) which was a private not-for-profit company. PPP was instrumental in her restoration and return to sailing. That restoration was only possible with massive support from the Heritage Lottery Fund and many others who contributed time, money and energy to the project.
In 2018 the shareholders in PPP transferred the vessel and assets of the company to the newly formed charitable Foundation to provide the best possible platform for her long term preservation and operation.
Pilgrim today
Every year Pilgrim sails the coasts of Devon and Cornwall and across to the Channel Islands, Brittany and out to the Isles of Scilly. Her programme includes day sailing experiences as well as weekend adventures, short breaks and complete holidays. She is licensed by the UK Maritime and Coastguard Agency for fifteen passengers and crew and is original above decks and fitted out to contemporary standards below decks. There is passenger accommodation for up to 12 in two cabins plus modern heads, showers and a well-appointed galley. Cruising itineraries can be tailored to suit youth groups, family and corporate charters as well as a public programme of sailing adventures to suit all tastes and durations. Guests are always encouraged to get involved and help sail Pilgrim guided by our mixed professional and volunteer crew.
Foundation volunteers
The volunteer teams work together year round to support the sailing and restoration programmes:
The sailing team led by Director Lynda Davison work together to help crew Pilgrim and to provision, clean and manage turnarounds. With a busy May-September sailing programme this is always a 'big ask' of the volunteer sailing team. Most of the turnarounds are in Brixham but some are in Falmouth to support our Isles of Scilly cruises and participation in the Falmouth Classics Regatta.
No matter what the task, the maintenance team are the people who keep Pilgrim in good repair.  They make their own masts and spars in our Brixham workshop which they share with another heritage sailing trawler Vigilance. The maintenance team also look after the rig, sails and all of the boats timbers, mechanical and electrical systems.  They only use professional contractors when the skills required are unique to the requirement and not within our volunteer group. 
The events team look after public access activities like Open Days, School Visits and Fundraising functions.  Every year they stage a sequence of Open Days so Brixham locals and Torbay visitors can come aboard and learn about Pilgrim's story and her capabilities. There is also an education programme working with local schools to create an understanding of Brixham's fishing community heritage.
The three teams are complemented by individual volunteer activity in areas like charity management, reservations, finance, marketing and social media.
Current projects
In 2019 they crafted and fitted a new bowsprit and fitted a protective shield to the hull to prevent anchor damage.  Their new skipper, Richard Smith, who joined in March, has spent the season getting to know Pilgrim and their cruising waters. He has proved very popular with guests as is evidenced by the excellent reviews they have received throughout the season.
They have produced a new Tour Guide publication for visitors to Pilgrim and are in the final stages of completing a new website which will feature their 2020 programme.  They have also launched a new volunteer crew recruitment and training programme which features attendance at Freshers' Fairs at both the University of Plymouth and the University of Exeter.
While all that has been going on they've moved office and are now based at the Brixham Laboratory of the University of Plymouth at Freshwater Quay in Brixham.
Pilgrim's conservation
In 1999 an agreement was reached between Pilgrim's then Danish owner and some enthusiasts from Brixham to create a company to facilitate the return of Pilgrim to Brixham for restoration,  She was 104 years old and in a poor state of repair. The owner, Johan Skibdahl, gave up his ownership in exchange for shares in the company.
A group of experienced people was assembled to form a crew to bring her back.  She was not fit to sail and had no main mast.  The passage back to Brixham from Denmark was made using her engine.  After passing through the Danish archipelago they transited the Kiel Canal and made their way along the Dutch and English coasts until they finally returned her home to Brixham.  It was the first time she had been back in 87 years. 
In 2003 Pilgrim was taken to be dry-docked in Tom's Yard in Polruan, Cornwall to have a steel shoe fitted to her keel and new rudder and propeller.  Unfortunately, on the passage back to Brixham the propshaft failed and she was towed in by Torbay Lifeboat!  Although early repair and restoration work continued it became clear that a major survey was required to establish her long term viability and to identify and schedule the work needed.  Throughout this period fundraising activities continued at a pace.
During 2004, Pilgrim was taken to Mashford's Yard in Torpoint, Plymouth to be protected and to wait for the raising of sufficient funds for a full marine survey to be commissioned.  The following year the company was awarded a £50,000 "Project Planning Grant" by the Heritage Lottery Fund (HLF).  This enabled the survey to be done and for a conservation specification and schedule to be drawn up.
At the same time one of the current Trustees, Rod Coveney, began the herculean task of preparing and submitting an HLF grant application for a major conservation project.  The company amended its constitution to become "not for profit" to meet the qualification criteria for an award.  After a huge amount of work, a full grant of £950,000 was awarded in 2008.  A further £450,000 was still needed to be raised through fundraising and 'in kind' volunteer labour.  That Autumn, she was moved to Butler's Yard in Old Mill Creek, Dartmouth and beached to await the remaining funds.  The HLF agreed to break down the grant into three parts permitting work to start on each stage when sufficient match funding was in place.
The company was also delighted to receive further funds from South Devon Coastal Local Action Group to help fund her engine room.  Pilgrim then moved into a floating dry dock where she was stripped for work to commence in earnest. During 2010 the keel and ribs were replaced and the hull was fully restored under close scrutiny of an HLF and National Historic Ships UK conservation monitor.  Finally, in 2011 the Maritime and Coastguard Agency certified the restored, bare hull, to enable it to be taken back to Brixham for completion of the rig and fit-out.
Work on the rig and fit out continued until 2013 when Pilgrim was successfully registered with the Registry of Shipping and Seamen, MCA Coded to Category 2 to carry 12 guests and 4 crew.  This was the culmination of a massive volunteer effort over an extended period of time.  It was estimated that in excess of £700,000 worth of volunteer labour can be attributed to the restoration at this point.
That year, Pilgrim participated in the Brixham Maritime Heritage Regatta and they were privileged to welcome Prince Charles on board for presentation of the King George V Perpetual Cup. This was presented to the port of Brixham by his Great Grandfather for an annual competition between the sailing trawlers. Pilgrim was 118 years old!
In 2014 Pilgrim was the proud recipient of "Restoration of the Year over 40 feet" by Classic Boat which recognised that the rig and deck was "as close a feasible to original build". She has been busy sailing throughout each summer season ever since.
Future challenges
2020 is the Foundation's 125th Anniversary and they have a busy season of cruises and events planned.  During the 2019/2020 winter they will undertake training and refit activity in Dartmouth and haul Pilgrim out at Polruan in Cornwall for some essential maintenance.  There are considerable challenges to maintain the charity's activities and they have to strive to create a sustainable long term financial basis for future operations.  There is a continuing requirement to plan, resource and undertake regular refits consistent with our long term preservation obligations and their operating requirements.  At the same time, they have to continue to develop their governance and management while addressing issues of volunteer recruitment, training, retention and succession.
For further information contact:
Pilgrim Heritage Sailing Foundation
01803 858148
info@pilgrimofbrixham.org.uk
www.pilgrimofbrixham.co.uk
----------
Latest News
July 2020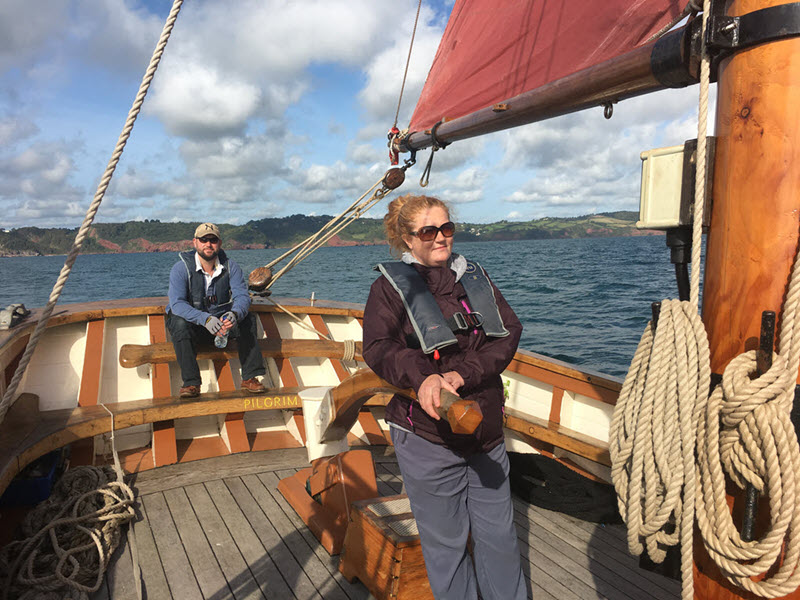 Pilgrim can now sail and they need you to come too; they are planning trips to commence mid-August and run through September. 

February 2020
What is believed to have been Pilgrim's first lift in her lifetime happened at Tom's Yard in Polruan in Cornwall in early February.  Conventional practice is to slip or beach Pilgrim when she needs maintenance below the waterline.  Neither of those approaches are ideal for work to be done, especially if she is beached, as the tide returns twice every day and limits the work that can be done.

This year Pilgrim needs to have her shafts removed for inspection and some hull caulking is required.  The team are regular visitors to the yard of C. Toms and Son Ltd in Polruan on the south coast of Cornwall.  They now have an amazing 200 ton boat lift with 9 computer controlled strops which enable them to manage the load on each strop.  That means that even wooden boats like Pilgrim can be lifted without undue stress on their keels.
For Pilgrim it also means she can be placed level on her keel in a dry area and that makes the working environment much safer and more practical.  It's believed to have been Pilgrim's first lift in her lifetime as the team has no other record to suggest she has ever been craned out of the water.  Before her restoration in 2009/10 that would have been very risky due to the fragile nature of her timbers.
The lift went smoothly thanks to the professionalism of Paul Toms and his team.  They lifted her out and manoeuvred her in the yard with 'inch perfect' precision and we can now get on with our essential maintenance.  She was due to be out of the water for 10 days but owing to the adverse weather conditions forecast, they undertook the passage to Cornwall early.  The yard lifted her out to keep her safe from Storm Ciara.
Pilgrim expects to be back in her home port of Brixham before the end of February to finish her winter refit and to undertake crew training.  The sailing season for her 125th Anniversary year starts on April 10th.
January 2020
It's their 125th Anniversary year (yes, 1895!) and our amazing volunteers are busy sprucing up Pilgrim for an exciting 2020 heritage sailing season.  Why not go sailing with them and join the celebrations?  Their 2020 sailing programme is available here.