About 'Spirit of Adventure'
Launched in 2020, 'Spirit of Adventure' is a project that hopes to give more than 350 disadvantaged children in Plymouth an exciting and unique opportunity, and a crowdfunding page has been launched to help make it a reality.
As part of the Mayflower Ocean Festival (planned for 2020 but delayed to 2021), the Spirit of Adventure project gave children and young people from Plymouth the chance to enjoy hands-on adventures aboard traditional sailing ships.
Spirit of Adventure 2 was launched in May 2022.  During the week, 150 children enjoyed a day of hands-on sailing adventure with one of four sailing organisations  (read more).
Spirit of Adventure aims to connect young people with the Mayflower story, and with the ocean.  The project is aimed at disadvantaged children, including children who are living in poverty, children in care and young carers, who have not had the chance to go sailing before.  
Sarah Gibson, Chief Executive of Plymouth Waterfront Partnership BID (PWP) which is running the crowdfunder said: "Even though Plymouth boasts an enviable waterfront location as Britain's Ocean City, many of our children and young people are disconnected with the ocean. Some of them will never have even been to Plymouth Hoe or visited the Barbican, let alone been on a sailing boat. 
"The schools we're working with are located in some of the most deprived areas of the city. These children deserve to feel their own spirit of adventure, to test their skills as team players, as sailors and citizens of Britain's Ocean City.
 "We're thrilled to be working on this project – and when better to do it than during this extra special Mayflower 400 commemorative year. I really hope local people and businesses will get behind the project to help make it happen." 
PWP have teamed up with The Island Trust, Sailing Tectona (a Shipshape Network Project), the Lynher Barge (also a Shipshape Network Project), and the Bounty Project to run the adventurous sailing sessions. The four organisations have seven vessels between them, which will undertake daily voyages in Plymouth Sound during the Mayflower Ocean Festival. 
Each day, groups of children will work together as a team, hoisting the sails and sailing the boats themselves with support from expert staff. They will build communication, social and cooperation skills and feel a sense of responsibility and achievement, giving a much-needed confidence boost and memories to last a lifetime. 
 In order to make the project a reality, PWP need to raise £50,000. This will pay for all safety and boat costs, as well as transport, refreshments and resources for the young people.
You can support this project by donating online at www.crowdfunder.co.uk/spirit-of-adventure
----------
What do they hope to do and why?
With your help, 360 young people aged 10 years and upwards will each have a full day's voyage experience as part of the Mayflower Ocean Festival in May 2020. 
Many of these children will never have seen Plymouth Hoe, never visited the Barbican and certainly never imagined a sailing boat or travelling on one. 
The young people who will benefit, with your help  
There are currently over 400 children in local authority care in Plymouth as well as over 200 care leavers.  These children have had some of the most difficult starts in life leading to poorer life chances including educational attainment and mental and physical health.
They will work closely with Children's Social Care and Barnardo's to ensure that as many children as possible are able to work towards more positive life destinations by taking part in this project.
"Before sailing I never had any dreams to become anything.  I did not think about tomorrow, did not care about the future.  But now everything has changed.  When I am out on the water it is just the best feeling in the whole world.  I now have a reason to work and get my education.  I think all children should be able to experience the sea and being on the water."
Joe, a 15 year-old in foster care who has sailed with the Island Trust.
They'll also work the following schools who have high numbers of disadvantaged children, including children who, when not at school, are caring for an adult family member on a full time basis.
The Cathedral School of St Mary, Stonehouse 
High View Primary School, Efford 
Drake Primary Academy, Devonport 
Holy Cross Catholic Primary School, Prince Rock 
Keyham Barton Catholic Primary School, Keyham 
Knowle Primary Academy, Ernesettle 
Laira Green Primary School, Laira 
Lipson Vale Primary School, Lipson 
Marine Academy Primary School, St Budeaux 
Victoria Road Primary School, St Budeaux 
Montpelier Primary School (young carers), Beacon Park 
Compton CE Primary School (young carers), Compton 
These children all deserve this wonderful opportunity to experience something really special, to see the Hoe, not just by walking on it, but by seeing it from the ocean.  They deserve to feel their own spirit of adventure, to test their skills as team players, as sailors and citizens of Britain's Ocean city.  They deserve that uniqueness of time for themselves to be excited, to relax, to feel the water beneath them and the exhilaration of wind in the sails.
The Spirit of Adventure project will be something they remember for the rest of their lives. Please help them to make it happen.
The organisations involved:
The Island Trust, transforms lives through day sailing and residential sail training voyages on board its fleet of three traditional sailing boats. They address the inequalities in access to the benefits of sailing activities by removing the financial and social barriers to participation. The Island Trust takes referrals from school and community groups, special schools and youth clubs. 
The Bounty Project was launched by professional yachtsman Conrad Humphreys in 2017 following his recreation of the famous voyage of Captain William Bligh after the infamous Mutiny on the Bounty, who along with 18 men successfully navigated 4000 miles to safety from Tonga to Timor across the South Pacific Ocean. The Bounty Project now brings that story to life for schools and teachers as a living history programme, linking core subjects in the national curriculum to central themes around resilience, creativity and mindset. 
Sailing Tectona aims to inspire people, of all ages and from all backgrounds, to make positive change in their life after participating in a traditional sailing adventure. Sailing their two wooden boats Tectona and Olga for a day or a week long voyage, on the open sea, provides the perfect opportunity for people to step out of their comfort zone. By overcoming challenges, they grow in confidence, develop resilience and achieve things they never thought they could. 
The Lynher Barge CIC delivers education and training on the Plymouth waterways using Lynher, a Tamar sailing barge originally built in Calstock in 1896. The 18ft broad beam and stable hull displacement allows for people of any ability to crew the barge with the 60 tonnes volume cargo hold providing a warm and comfortable living space. The setting is designed to help young people to communicate and live together, encouraging teamwork and the thrill of shared adventures. 
The Vessels  
If they're successful in their fundraising, young people will have opportunities to sail on board one of these fantastic tall ships or heritage yachts.
Johanna Lucretia - The Island Trust  
Johanna Lucretia is currently the only UK flagged topsail schooner in sail training.
Johanna Lucretia is rigged traditionally, with lots of sheets (ropes) to pull for everyone on board and a wide array of sails means that there is plenty for everyone to get involved to sail the boat well.
Pegasus - The Island Trust
Pegasus is based on the designs of the famous Bristol Channel Pilot Cutters. Designed by Ed Burnett and built by The Bristol Classic Boat Co. She is elegant, luxurious and fast.
Moosk - The Island Trust
Moosk is the oldest vessel in the Island Trust fleet, a gentleman's cruiser, she is beautiful and fast. Moosk races competitively in both Small and Tall Ships Races and achieves a very high ranking.
Bounty's End - The Bounty Project 
Bounty's End is a replica of the open launch that Lieutenant William Bligh and 18 loyal crew-mates were cast adrift in after their Mutiny on the Bounty.  She was built for the Channel 4 recreation of the story, Mutiny, where nine people set out to survive the same ordeal as Bligh, by navigating 4000 miles across the South Pacific Ocean to Timor.
Local Plymouth sailor, Conrad Humphreys was the professional skipper onboard for the voyage and afterwards bought Bounty's End from Channel 4. 
Tectona - Sailing Tectona 
Tectona is a wonderful old wooden boat, built solidly of teak, she is extremely seaworthy, so seaworthy that in the past she safely sailed across the stormiest of oceans. The layout of the sails means that she's easy to handle and perfect for learning.  She has a hand worked windlass for pulling up the anchor, which can only be done as a team.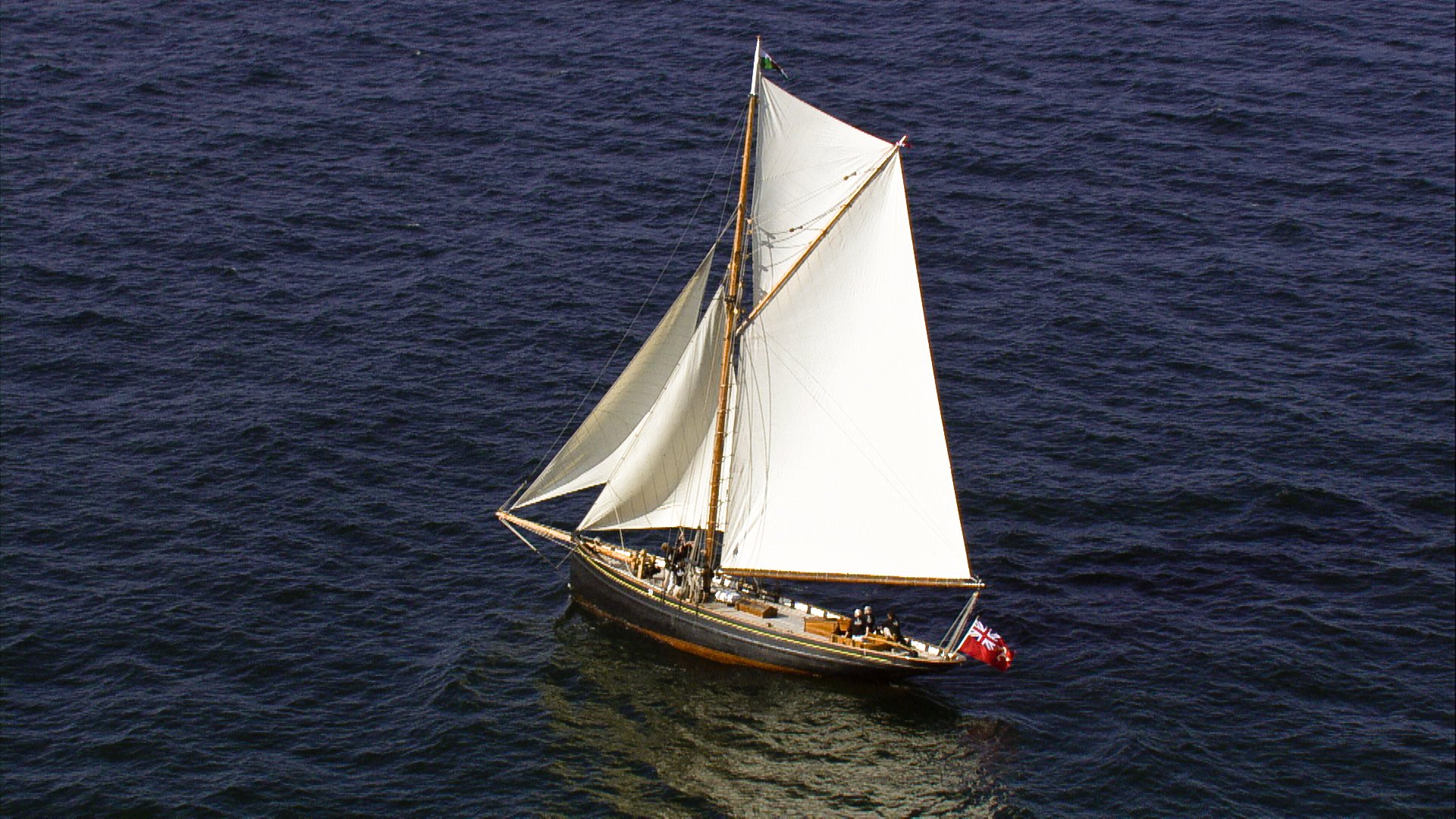 Olga - Sailing Tectona 
Olga is a beautiful original Bristol Channel Pilot Cutter - built for racing out to big ships back in 1909. This means that she is sleek and fast even though she is over 100 years old!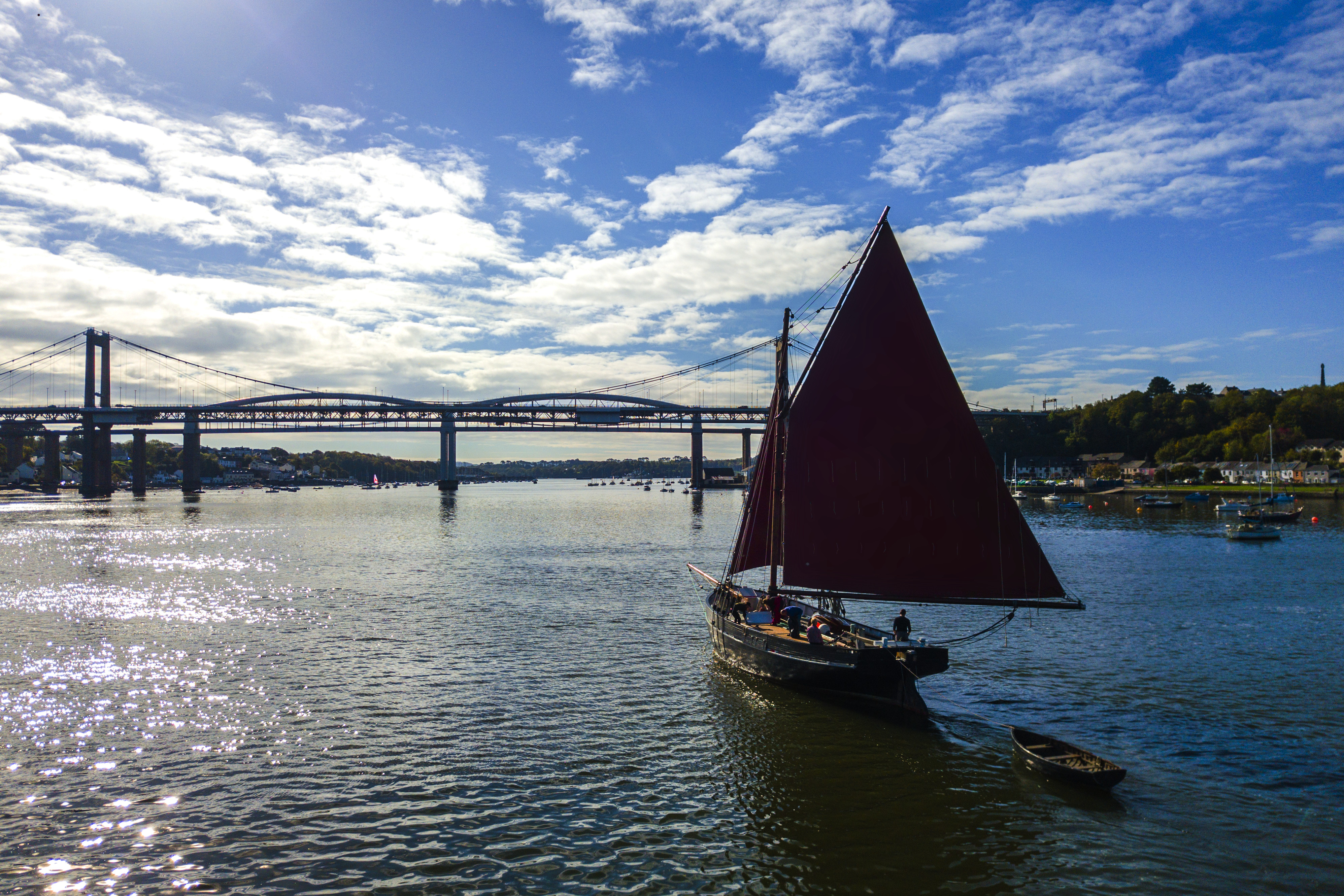 Lynher Barge - Lynher Barge CIC 
Lynher is a Tamar sailing barge originally built in Calstock in 1896 to transport produce along the Plymouth waterways.  Nowadays Lynher offers education and training to the Plymouth communities with a particular focus on teaching young people about the heritage of the waterways, touching on subjects such as tides, weather, local history and intertidal biodiversity.