About Windermere Jetty Museum
Windermere Jetty is a spectacular museum on the shores of Windermere that reflects industry and engineering in the Lake District National Park.  It is part of Lakeland Arts, one of the most significant arts and heritage organisations in the North of England, with a national and international reputation for the quality of its historic buildings, museum and gallery collections, and programming.
A working destination, committed to conserving, saving and sharing its internationally important collection of historic boats, it also showcases the sights, smells and sounds of life on the lake.
Within this new museum, one of the first contemporary buildings to be constructed on the shores of Windermere in decades, are steam launches, sailing yachts, motor boats and record-breaking speed boats, all exhibited in the boathouse, on the water, and in their exhibition galleries.  Live conservation workshop will be open every day, where you can see this collection as they are painstakingly restored.
Hear tales of workers and boat owners, their lives and adventures, and discover the fascinating developments in design and technology that drove boat-building in the Lake District.
Boat Collection
Windermere Jetty's collection is unique.  It is one of the world's most important collections of boats related to a single location.  Originally brought together by George Pattinson, a private collector of steam launches who founded Windermere Steamboat Museum in 1977, the collection now comprises 40 vessels that tell the story of boating on Windermere from 1780 to the present day.  Over half of their collection is on display.
Their collection includes some of Lakeland's finest examples of boatbuilding, including SL Dolly, one of the oldest mechanically powered boats in the world; Margaret, the oldest sailing yacht in the UK; world record breaking speed boats; Esperance, one of boats that inspired Captain Flint's houseboat in Arthur Ransome's 'Swallows and Amazons', and even Beatrix Potter's rowing boat.
The collection includes every type of wooden boatbuilding construction, and as such it captures a wealth of traditional boatbuilding techniques that have been developed over hundreds of years. It charts the development of boat design and innovations in engineering.  Many of the boats were made by local boatbuilders, and so its story is also one of Lakeland life and local history.
Conservation Workshop
Conservation is at the heart of everything that they do and their dedicated workshop allows you to see their team of expert boatbuilders at work.  
Watch live conservation through the workshop windows, learn about the six-step process for restoration in their displays, or speak to a member of their boatbuilding team to have your questions answered.
Heritage Boat Trips

You can book a Heritage Boat Trip on the lake on board Osprey, one of the Museum's fully-restored Edwardian steam launches.  
Osprey was built in 1902 in Bowness and is the first steam launches to take to the water at Windermere Jetty, sister ship to Swallow, also part of the Museum's collection.  Built originally for private use, from 1948 the boat spent many years in service as a passenger vessel for the Bowness Bay Boating Company.
Osprey was originally restored to steam by the old Steamboat Museum.  The steam boiler was manufactured and installed in the early 1980s.  The steam boiler was manufactured and installed in the early 1980s. Prior to that, the boat may have run on petrol.
Its original steam plant was scrapped early in the last century, replaced by an internal combustion engine.
The vessel's engine is a genuine Sissons of Gloucester Compound, manufactured early in the last century. This engine may have been used as an exhibit in a science museum and the later installed in SL Water Viper.
As a result of her life in service Osprey needed quite a lot of restoration and has had three replacement planks fitted on each side and a new stem built from locally sourced oak.
Conservators have also fitted additional strengthening to the hull to support the heavy engine and boiler, and a new propeller was cast from Osprey's sister boat Swallow.
The team has also re-tubed the boiler, replaced valves, injectors, manifold and copper pipework. The engine is conserved for operational use.
Replacement decorative features, flooring and linings were also crafted by our apprentice and conservation assistant and have been fitted to the interior of the boat.
All the teak surfaces have been protected with eight coats of traditional oil-based varnish.
In October 2017, Osprey's new boiler was installed and fitted to the steering, marking the final stages of restoration.
On 8 April 2019 Osprey enjoyed the honour of having aboard HRH The Prince of Wales during his visit to officially open the new museum. Whilst aboard he was also introduced to some of the team involved in restoring the boat to its former glory.
Osprey can either be seen on display in the boathouse at the museum or on the lake taking passengers for scenic boat trips.  
----------
Latest News
June 2021 Windermere Jetty Museum launches new digital interactive art game Run Tizzie Run: 

Replica 1920s rescue boat Canfly goes on display for the first time: Full story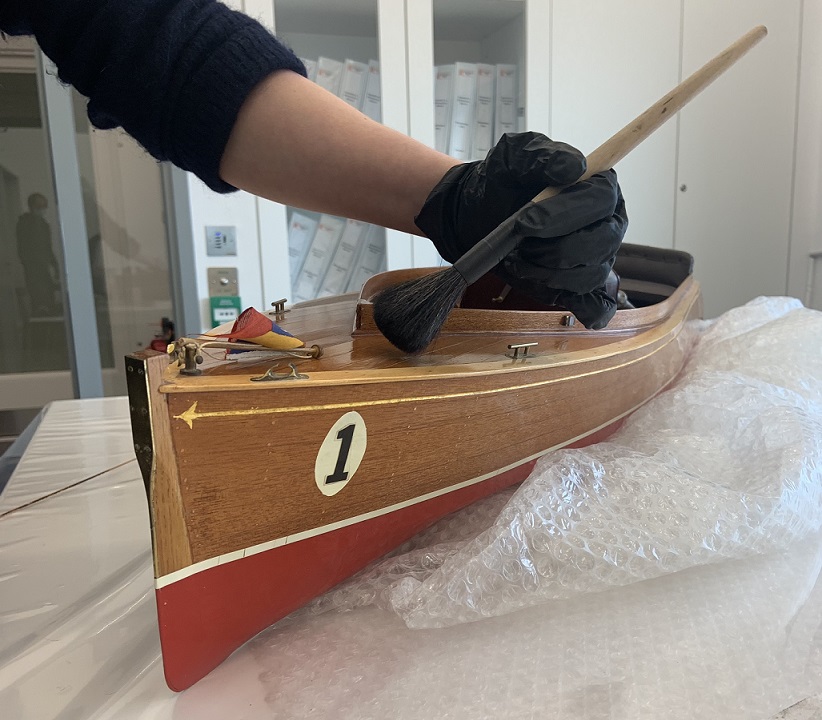 May 2021 Windermere Jetty Museum reopens on Friday 28th May with new immersive family experience Wrecked!  
April 2021 Windermere Jetty Museum acquires historic 'Windermere 17' yacht Merlin. 
April 2021 Although the museum remains closed, the cafe is open and you can now book a trip on newly-restored historic boat Penelope II
April 2021 Lakeland Arts, which runs Windermere Jetty Museum, has been awarded £405,920 from the second round of the Government's Culture Recovery Funding, the highest amount awarded to an organisation in the country. 
September 2020 Penelope II has taken her first dip after a 3-year conservation programme!  The launch went very smoothly and the team will be completing finishing touches and conducting sea trials in the next few weeks.

May 2020 With the conservation workshop closed and the Museum's boatbuilding team safely working from home, the team have reviewed some of the work that has been done on Penelope II during their first year of opening.  Find out more about the progress that has been made to restore Penelope II and discover some of the insight into the lengths they go to when conserving the historic fabric of these boats.


Even though they are currently closed, Lakeland Arts need to continue to support the community through arts, culture and heritage and to care for our collections and buildings.

If you can afford to make a donation or purchase a membership for yourself or someone else, you will be contributing to this work. Every donation of any size will make a difference.  If you're not able to donate, you can still help by continuing to like and share on social media.
February 2020 - Watch conservation boat builder Matthew Foot talk about progress on the conservation and restoration of Penelope II, the 1930s motor launch.  She's set to return to the water in the spring!  The front of the cabin has been installed, a key piece that the rest of the fit-out gets built around.